The Office for Inclusivity & Change (OIC) at the University of Cape Town (UCT) invites you to join the second instalment of the Inclusive Practice Speaker Series, featuring renowned human rights lawyer Ilze Olckers on Tuesday, 5 May.
Olckers's topic of discussion is "Transformation praxis in higher education: Institutional cultures as living curricula".
The Inclusive Practice Speaker Series is co-hosted by UCT's OIC, School of Education and Global Citizenship Programme; and the transformation offices and committees of the Cape Peninsula University of Technology (CPUT) and Stellenbosch University (SU).
The series brings together practitioners, scholars and civil society organisations to share leading practice that is provoking new ways of doing and thinking about transformation.
UCT hosted the first public seminar in the series with the University of KwaZulu-Natal's Professor Rozena Maart as the guest speaker, discussing "Reason and unreason: Pedagogies of the oppressed in the 21st century: Gender, philosophy, education and the law".
SU will host the second instalment.
Liberatory leadership
Olckers was a human rights lawyer during apartheid and through the transition to democracy. During this time, she also participated in the constitutional and other legislative drafting processes, as well as in policy and systems development of gender and race machinery in a post-apartheid South Africa.
In 1995 she co-founded UCT's Law, Race and Gender Research Unit (now known as the Centre for Law and Society). Since the 2000s, Olckers has been working as an independent law, race, gender and organisational development consultant, focusing on transformation issues in South Africa, most recently for Nelson Mandela University (NMU).
Olckers will share some of the learnings and reflections of facilitating a long-term, large-scale transformation process at NMU. She will share theoretical underpinnings, a complexity approach to organisational change infused with organisational and epistemological justice, and the social technologies that enable optimum conditions for radical systems change.
She will also introduce her "liberatory leadership" approach and will touch on the pedagogy of accountability.
This is an opportunity to collectively explore the multi- and transdisciplinary nature of transformation processes and praxis in the higher education sector, and to help frame the wicked questions that can lead us in our quest for just and inclusive practices.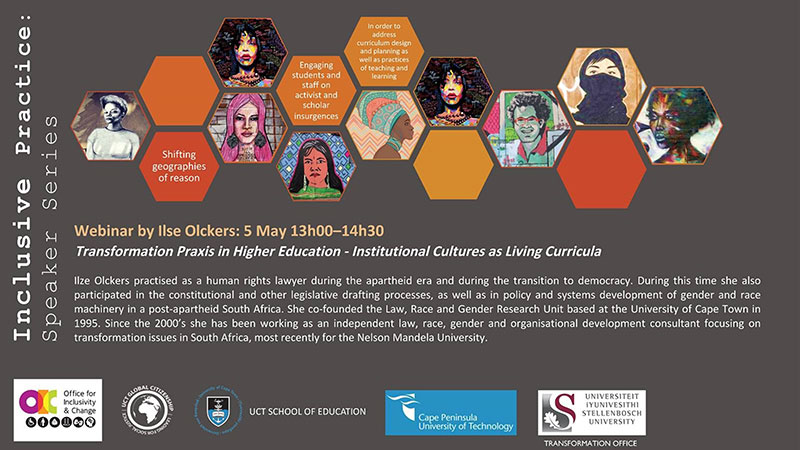 The details for the webinar:
Date: Tuesday, 5 May
Time: 13:00–14:30
Join the event on Microsoft Teams.
---
This work is licensed under a Creative Commons Attribution-NoDerivatives 4.0 International License.
Please view the republishing articles page for more information.
---