The University of Cape Town (UCT) will not tolerate gender-based violence (GBV) and violent sexual crimes on campus, and South Africa should not either.
That was Vice-Chancellor Professor Mamokgethi Phakeng's stern warning to the campus community ahead of a silent protest to condemn the scourge of GBV and rape, held on Friday, 2 August.
The protest was led by Phakeng and Deputy Vice-Chancellor for Transformation Professor Loretta Feris. It signalled the start of UCT's #JustNo campaign, a campus-wide initiative to raise awareness about GBV, rape and other violent sexual crimes that continue to plague the UCT community, the country and the world at large.
Supported by the Office of the VC, the Office for Inclusivity and Change, the Student Wellness Service, the Sexual Assault Response Team and the AIDS Healthcare Foundation, the silent protest was organised to demonstrate solidarity with victims of GBV, to help break the cycle of sexual violence and to communicate a single message to staff and students: "Enough is enough".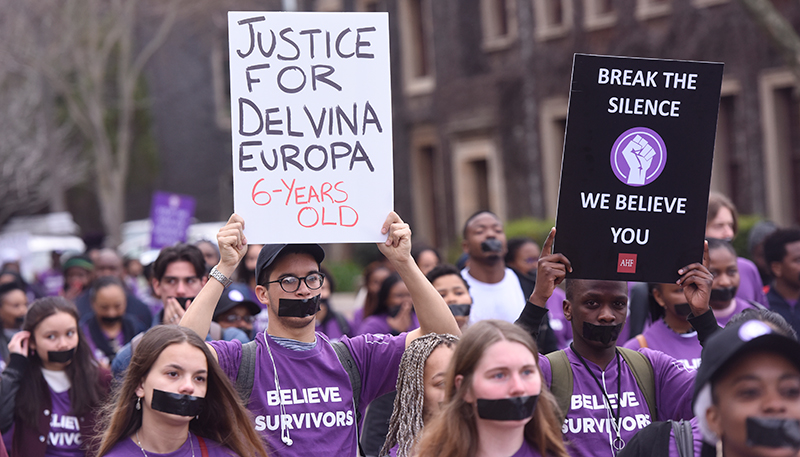 Addressing a packed Sarah Baartman Hall before the protest, Phakeng said, "We are gathered here for a tragic reason. A reason that should not exist, not at the University of Cape Town, not in South Africa, not anywhere in the world. Gender-based violence and rape culture do not belong here."
"We want to build a culture where our bodies, our sexualities and our identities are respected."
Building a new culture
She added that the protest aimed to reclaim GBV survivors' freedom, and said she hoped it would build a new culture at the university and in the country; a culture that fosters respect, trust and love.
"We want to build a culture where our bodies, our sexualities and our identities are respected, a culture where we don't have to be afraid to walk where we want to walk and to wear what we want to wear."
During her address she reflected on the death of Rhodes University student Khensani Maseko, who committed suicide last year after reporting to that university's authorities that she had been raped a few months prior.
There are many lessons the UCT community can learn from Maseko's death, Phakeng said.
"It doesn't matter that Khensani was not a UCT student. Her pain has travelled into our hearts. Sexual violence does not fade away like a bruise, it doesn't heal like a broken bone. That experience sinks in."
Hundreds of UCT staff and students joined the silent protest to denounce all acts of gender-based violence, rape and sexual crimes.
A place of healing
Creating a campus community where GBV no longer exists is the primary goal, but Phakeng said that that doesn't solve the wider societal problem. Many students come to UCT with scars created in communities with "the wrong kinds of role models".
"I want this campus to be a place where we can begin the healing that needs to take place across South Africa and Africa."
But together with staff and students, she said, she hoped to create a new UCT. She told the protesters that she wants the institution to be a place where survivors can heal and develop new ways of seeing themselves and others.
"I want this campus to be a place where we can begin the healing that needs to take place across South Africa and Africa."
The university has already instituted several changes to the way it responds to GBV on campus. This includes developing an accessible reporting system, informed by survivors' needs.
Change is under way
She commended the protestors for their participation in the march, which she said demonstrated that change is already under way at UCT. The campus community had realised that it is time to start doing things differently.
"GBV is a terrible reality on campus, as it is in society. It is an enormous challenge and affects the lives and wellness of our students and staff members profoundly."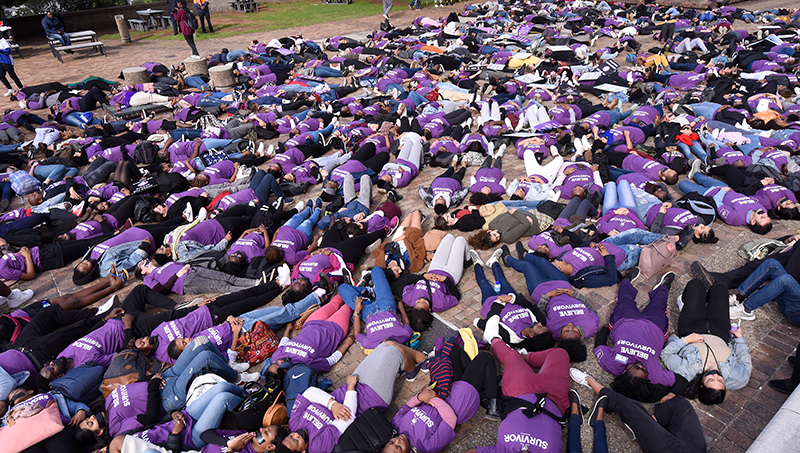 After Phakeng's address, and in an act of solidarity with survivors of sexual violence and all those suffering in silence, protesters taped their mouths shut and marched silently in a circular route around campus. The symbolic gesture demonstrated abhorrence of GBV, and the silence was a form of civil disobedience and non-violent resistance.
When the protestors returned to the steps below Sarah Baartman Hall, they participated in a die-in – another form of protest where participants lie down and simulate death. This act acknowledged those who have lost their lives through sexual violence. Thereafter, they removed the tape from their mouths and broke the silence with loud shouts.
The Office for Inclusivity and Change (OIC) has created an online portal where survivors and/or those close to them can report an incident of rape, sexual assault and/or discrimination. Students and staff are still able to access the OIC by visiting the office to receive individual support and referral information. Visit the case reporting website.
Anyone who needs immediate medical assistance or advice following a rape and/or sexual assault should call, SMS or send a missed call to the standby number: 072 393 7824. For telephonic counselling, please call one of the following options: Rape Crisis: 021 447 9762 or the South African Depression and Anxiety Group: 0800 24 25 26.
More information is available on the OIC's Survivor Support web page.
---
This work is licensed under a Creative Commons Attribution-NoDerivatives 4.0 International License.
Please view the republishing articles page for more information.
---