The University of Cape Town (UCT) campus can become a living laboratory for research on environmental sustainability while fulfilling its commitment to becoming a green campus, says Manfred Braune, the university's new director of environmental sustainability.
This new post will integrate all facets of governance and operations in environmental sustainability at UCT and is in the Office of the Vice-Chancellor (OVC), something Braune takes to heart.
"This says a lot about how UCT and the Vice-Chancellor value environmental sustainability," said the surfer and skateboarder who grew up enjoying the benefits of family trips to wildlife parks in the Lowveld; experiences that forged an appreciation of all things green – and the delicate checks and balances of the natural world.
All this coalesced in a strong interest in and passion for cutting-edge science and green technology.
Integration
UCT research into the environment and sustainability is renowned worldwide through key entities such as the Climate System Analysis Group, which consults to the United Nations, the Future Water Institute and the African Climate and Development Initiative.
But its own campus needs better integrated environmental management and care, Braune said. This concerns much more than waste management; it's also about water and energy efficiency, human health, green investment and good citizenship.
Braune's responsibility is to consolidate these aspects while also reducing UCT's carbon footprint. It's a complex task, he acknowledged.
First, a draft strategy will be developed for UCT, building on some of the commitments and progress made dating back to the Talloires Declaration in 1994. Second is to establish the undergirding governance, operations and resourcing plans that will enable the strategy to be effectively implemented.
"UCT has done some good work, but there is much more to do to improve its green campus credentials."
UCT has done some good work, but there is much more to do to improve its green campus credentials, he said. Waste recycling is a good example: Too often recyclables are contaminated with non-recyclables, waste infrastructure and support is lacking, and contractors leave their waste on campus. There are many other aspects that have potential for significant improvement or enhancement, including far greater water and energy efficiency.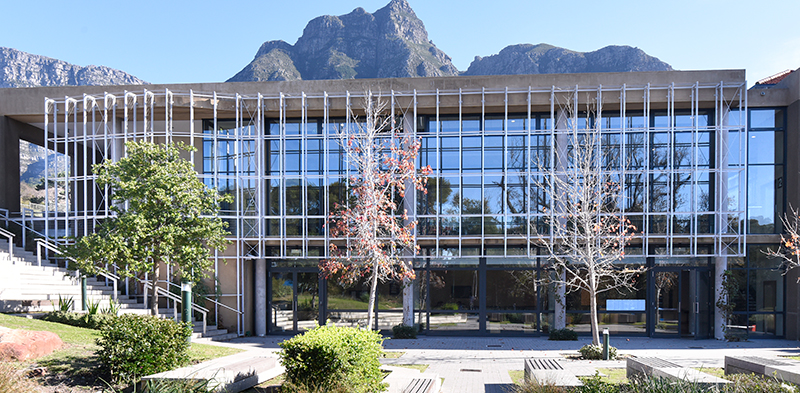 Holistic plan
Braune believes in a holistic, win-win approach, incorporating sustainability into UCT's teaching, learning and research – and into the development of graduates as innovative and committed global citizens, able to drive environmental sustainability in their workplaces.
"The strategy will look for and create opportunities for such initiatives."
His pedigree speaks to a deep understanding of the layers and lines connecting strategy and operations, the governance that drives this – and the large-scale communications needed to rally a diverse community around the task.
This stretches from hazardous waste management and water-efficient taps to the plastic packaging on bread delivered to residence kitchens.
He has first-hand experience of what is required. After studying electrical engineering at UCT ("I was fortunate to end up at UCT, when UKZN didn't answer the phone and UCT did"), Braune said that in his final year he grabbed the opportunity to marry his twin passions, science and technology, with sustainability and conservation.
His thesis in the late 1990s examined energy efficiency in commercial buildings, which was very cutting-edge in the South African commercial property sector at the time.
This was a way marker. After graduating he developed an energy efficiency proposal for a large retailer. They put it on the back burner. But when they adopted it five years later, their annual savings ran into millions.
"You need people that can come up with the solution – but you also need the leadership that can support those solutions," he said.
For the past 10 years he worked for an NPO, the Green Building Council, a small but impactful organisation that has been big on driving green change in the built environment.
Draft strategy
The draft strategy he is developing for UCT will cover five key areas: governance, operations, learning, research and stakeholder engagement.
Governance is the underpinning structure ensuring accountability for the strategy implementation. Already, several academic leaders have approached Braune to show their support and get involved, and the Properties and Services, and Student Housing & Residence Life teams are committed and engaged.
But governance also requires longer-term thinking, for example, around the university's investments.
"Are the pension fund and UCT investments going into environmentally responsible investments or not? Is there a shift? What about insurance? Does it take cognisance of climate change impacts? Governance structures are beginning to and will have to consider such things more and more," Braune cautioned.
Operations involves buildings, water and energy consumption, waste management, and so on.
A waste legal compliance audit is currently under way to peg UCT's progress and understand where the university is placed. It's not good news.
"There is a lot of room for improvement when it comes to waste. But we will improve."
Learning is an important facet. Here Braune is concerned with how aspects of environmental sustainability can be worked into faculties' academic curricula so that UCT's graduates can effect change in the workplace and in industry.
"The plan is that every student will at least have some basic level of environmental sustainability literacy when they leave UCT."
"The plan is that every student will at least have some basic level of environmental sustainability literacy when they leave UCT."
There is also a strong link to research where the living laboratory idea comes into play. Braune is looking to create a programmatic approach to incorporating environmental sustainability related research opportunities into campus facility projects.
"UCT's campus facility projects represent a bed of research opportunities; these should not be missed; and so creating the links between the sustainability office and the various departments and research institutes to explore such opportunities is essential."
Support and commitment
Managing the campus's waste is a large and complex issue. This year Braune will work closely with Properties and Services on drafting an integrated waste management plan, with input from various UCT stakeholders.
"Waste involves so many different stakeholders and supply chains, and as a result, effective systems are hard to put in place without every person on campus being committed and engaged: from the kitchen and catering and maintenance staff to academic and administrative staff, and even the vendors and retailers who come onto campus, as well as every student," Braune stressed.
"Success requires us all to play our part."
He said they will run a pilot project with new bins in a few locations and do surveys with various stakeholders to understand different attitudes towards waste, especially in the context of food and drinks.
Budget and resources
Much of their planning rests on the budget that will be proposed for 2020 to improve the waste infrastructure and grow the support staff.
"For UCT to be serious about waste management and environmental sustainability, the appropriate resources and training will be required," said Braune.
"It will also need departmental champions to drive it and accountability to rest in relevant people's key performance areas.
"It's going to take time and a lot of collaboration with different departments to get the message out there – and to change mindsets."
But Braune is upbeat about his role. Being in the OVC will make a huge difference.
"You won't find many of these kinds of sustainability posts in organisations, so it's quite unique and innovative that UCT is really spearheading and leading this as a university.
"In most other cases, it [environmental sustainability] is part of someone else's job: either the maintenance or the corporate social responsibility officer, where it can't get the attention it requires.
"I feel privileged to have been appointed to this position, and take this responsibility very seriously, and hope to make a big difference in this space. I'll be working closely with colleagues and students to make it happen."
---
This work is licensed under a Creative Commons Attribution-NoDerivatives 4.0 International License.
Please view the republishing articles page for more information.
---