As a single man, Aloy Gowne never imagined becoming a parent. It was only after he'd spent time as a volunteer in children's shelters that the idea came to him. He could make a difference, at least to one child.
"It seems like just yesterday," the University of Cape Town (UCT) stakeholder relations manager said of adopting four-year-old Oratile.
For as long as he can remember, his relationships with children have always been about nurturing.
"I grew up with or around family friends. There were always these young ones around me. That process of nurturing was always in the foreground."
Later, he started visiting shelters with a friend as part of a public relations and stakeholder relations project, becoming deeply committed to the children.
"Their circumstances were terrible, and you wondered, what's going to happen to them? It really got me down.
"I found myself dedicating time there, raising funds… It was heart-wrenching."
But one day he woke up and thought: I have the privilege and means, I can do something. Why not?
"That's when I started looking into the process of adoption. I'd never thought that it was possible for a single person to adopt, let alone a single man."
Initial sense of panic
He found the answer on the Western Cape government website: Constitutionally, almost anyone can adopt, whether widowed, gay, lesbian, married or single. So he approached a private adoption agency.
"I went with the hope they'd tell me I couldn't adopt!" Gowne said, amused by his initial sense of panic.
"It was such a big responsibility."
But after assessing him, their social worker said: "You're the ideal candidate."
"I'd never thought that it was possible for a single person to adopt, let alone a single man."
"It was the start of a process they said could take up to three years. I thought, that's fine, I can do all the things I want to do as a single person: bungee jumping, flying, skydiving…"
His application went in, setting off a thorough and exhaustive process of police clearances, psychoanalytical testing and home visits.
"My preference was for a boy: I thought a boy would be easier for me to manage. But a girl would have been fine too."
Four months into the process, he got the news: "I was told, 'Hey, we've identified a child for you'. He would be with me in two weeks."
And he hadn't yet bungee jumped.
The adoption agency rallied with parenting lessons, he learnt how to change a nappy and to understand how babies communicate their needs.
Picture perfect
First, he saw pictures of his boy, who was living with a foster family in Wellington.
"But they didn't do justice to him," Gowne said.
"I was anxious all the way back to Wellington to see the pics and then I drove back with them all over my car seat. I went straight to a shop somewhere to buy baby clothes."
Then came the day Gowne met his son. He visited the foster family the day before Oratile was due to be officially handed to him, to bond with him and ease the transition process.
It was love at first sight.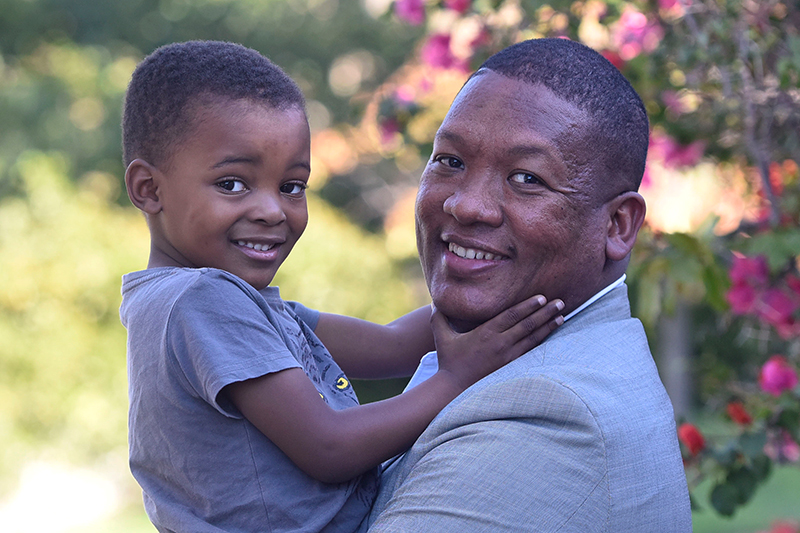 "I sat there and they brought me this little mouse. Even though he was nine months old, he really was tiny because he was a premature baby, only 1 200 grams when he was born. And he was just this beautiful little thing, soft as ever …"
"And then he fell asleep in my arms. I didn't know if that was a sign that 'this is it'."
"The first thing he did was grab my nose. And then he fell asleep in my arms. I didn't know if that was a sign, that ʻthis is it'."
He still has photos of "that magical day".
"He never cried once. I held him the whole time and when he woke up I bathed him, still at the foster house. I stayed close by that night. The following day a friend came to drive us home."
Each year since, Gowne has celebrated those two days, 8 and 9 March.
"Those are my dates. I became a dad. Oratile has his own day, his birthday on 9 June. This is my day."
Navigating parenthood
Navigating life as an adoptive parent presents different challenges. For Gowne, the main one is to decide how and when to tell Oratile he is adopted – and that there is no mother. The social worker said Oratile would need to identify with the word "adoption" and that he'd need to tell him at an early age.
"And they need to hear it from you, to associate the word with something positive. So, I would just sit him in the bath and sing to him, 'My beautiful little adopted boy'."
The word "adopted" is one he uses freely in their home.
"When people come over I talk about it. But he's almost four and he's already asking about dad and mum; it's already in his head. Telling him what happened to his biological parents will be a more difficult [conversation] but must be had. He shouldn't hear it from anybody but me."
"Parenting is about more than roles. For me it's not about being this dad or trying to fill the role of a mother for my child. It's about being a parent to him."
Gowne has no problem with being a single male parent.
"Parenting is about more than roles. It's not about being this dad or trying to fill the role of a mother. It's about being a parent to him. People have said to me I play both roles and I guess, yes, if we want to put it into roles. But I don't see it that way.
"I think as human beings we are inherently nurturers. People say: this is how a father is, this is how a mother is, but we haven't really talked about how a parent should be."
Gowne has been careful not to fall into those stereotypical roles. He believes schools should teach children that there are many different types of families.
"There's no one-size-fits-all. There's not always a mother and a father."
UCT policies and procedures
As a UCT staff member, Gowne is grateful for the progressive human resources policies that eased his transition into parenthood.
As the primary caregiver to Oratile, he qualified for four months' maternity leave, though he didn't take it all.
Even the medical aid provider rallied, registering Oratile the day before Gowne fetched him from his foster family – even though the adoption hadn't officially gone through and Oratile was not legally his son.
It seems trite to say that becoming a parent changes one's life, but Gowne doesn't feel that.
"He's brought so much joy. That's not changing one's life. That's making your life so much more worthwhile."
Oratile's foster family is still very much part of the picture.
"He still visits them – I didn't cut ties with them – and spends weekends with them. That's his connection."
Community, or a nurturing environment, is vital for children, said Gowne, citing the adage that 'It takes a village to raise a child'.
"We are all raising this child."
"I feel Oratile's not mine: He belongs to so many people, it's my friends and family … he has so much love from so many people who are always ready to step in and assist. We are all raising this child."
Gowne wants to be more than a role model for Oratile.
"I'm a launch pad for him, raising him to be a confident young human being. It's about so many other things and not falling into the trap of patriarchy or racial issues or that he's limited because his circumstances at birth were not so great."
Neither is his adopted son a blank slate. Gowne is careful to be inclusive of his past circumstances.
"Oratile's twin brother died at birth. But we make a point every birthday of adding an extra candle [on the cake] just so that when he gets to the point of understanding, he'll know someone else was with him in the womb; and that we haven't forgotten that person."
In Setswana or Sesotho Oratile means "God loved" or "He loved". Gowne chose the name carefully.
"I wanted the name because it's going to be with him forever. It's his legacy perhaps. His second name is Aloy. He must somehow have a stamp. I want him to understand that we chose each other. He's my son, my child, and I am his parent."
---
This work is licensed under a Creative Commons Attribution-NoDerivatives 4.0 International License.
Please view the republishing articles page for more information.
---