Six months after revealing that she had beaten tuberculosis (TB), current Miss South Africa (SA) Tamaryn Green returned to the place where it all began: the University of Cape Town (UCT).
At a talk hosted by SHAWCO Health, TB Proof and UCT's Faculty of Health Sciences (FHS), Green, who was a sixth-year medical student when she won her title, recounted her TB journey, the fear of people knowing her status and of using her Miss SA platform to help #BreakTheStigma.
Compared to students in other faculties, UCT medical students are most at risk of contracting TB. The faculty's Student Development and Support Committee estimates that seven FHS students contract TB every year.
In June 2015, Green was one of those seven. She was diagnosed with pulmonary TB, associated with tuberculous lymphadenitis, which is a TB infection of the lymph nodes in the neck.
A few days after a lymph node began swelling in her neck, Green went to the doctor. With no obvious TB symptoms such as coughing, night sweats or weight loss, and inconclusive tests, she underwent an incisional biopsy. Finally, she was sent to a pulmonary specialist who delivered what was then devastating news: Green had contracted the potentially fatal disease.
"Surprisingly, the first thing that popped up in my mind was, 'Don't tell anyone'," the beauty queen revealed.
"It still amazes me that that was the first thing that came up."
Because she wasn't coughing, doctors gave her the green light to return to campus. She took her medicine as prescribed, but after two months the lymph node not only remained enlarged but had grown to the size of a golf ball.
Unbearable pain
The pain became unbearable and during one of her classes, Green approached the Department of Obstetrics and Gynaecology's Dr Chivaugn Gordon. She showed Gordon the lymph node and within an hour, they had contacted pulmonologist Dr Greg Calligaro.
"Who would ever think a Miss SA would have TB?"
Calligaro found a build-up of pus in the surgery wound caused by a secondary infection. To treat it, Green had to visit Groote Schuur Hospital every second day to have the wound drained. She'd leave campus, undergo the procedure and immediately return to classes, afraid of falling behind academically.
But then she fell ill again, this time with hepatitis, and was forced to apply for a short leave of absence. Finally, in December 2015, she was cured.
"And then I said I am never talking about it again," said Green.
Before falling ill, she had entered Miss SA. But her health forced her to withdraw her application. Three years later, she applied again. The rest is history.
While deciding on her campaign for her reign, Green's fight against TB kept popping up, despite her efforts to forget it.
Even though she knew it would be powerful and relevant to South Africa, she feared the public's reaction.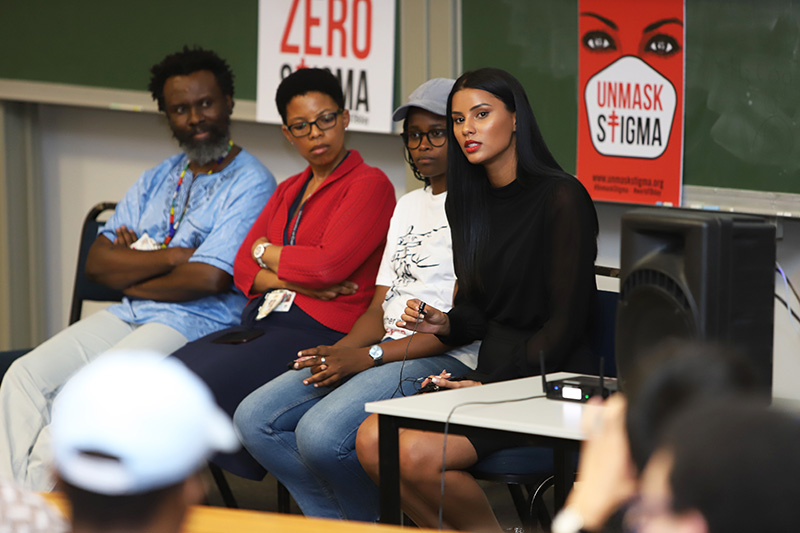 Eventually, after confiding in a Miss SA organiser, Green pitched her campaign to the pageant's board. Without hesitation they gave their support.
Campaign and community
The Miss SA platform proved to be a great fit for Green's #BreakTheStigma campaign, which launched in August last year.
"Who would ever think a Miss SA would have TB? Who would think she would want to talk about something that was ugly?" she said.
"This is the perfect platform to inform people who don't know about [TB]."
The response has been overwhelming. TB survivors have reached out, Green has become a World Health Organisation and national Department of Health ambassador, and in September 2018 she addressed the United Nations' first-ever high-level panel on TB.
Her plan now is to expand the campaign to help break the stigma around other diseases – and to take it to communities.
Phumeza Tisile, an extensively drug-resistant (XDR) TB survivor and UCT student, joined Green at the event in sharing her personal battle with tuberculosis. Tisile is deeply entrenched in community work.
In 2010, she started feeling ill and losing weight. She was diagnosed with "normal" TB and then multidrug-resistant (MDR) TB. She took her medication, but still her health declined.
Sometime after the MDR diagnosis, she awoke in hospital and headed to the bathroom. She flushed the toilet, but she couldn't hear the running water. She rushed to speak to a nurse, but she couldn't hear their response.
"The worst part was that I couldn't hear my own voice," Tisile recalled.
A doctor confirmed her worst fear: she was deaf, a side effect of the antibiotic kanamycin. She was also diagnosed with pre-XDR and prescribed new drugs.
A few months after the pre-XDR diagnosis, the drugs stopped working. Tisile returned to the doctor. This time, she was diagnosed with XDR TB, the deadliest form of the disease.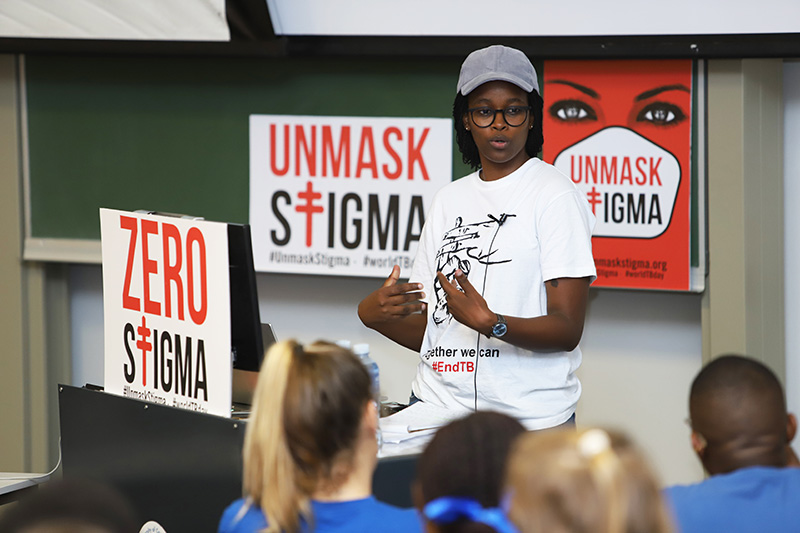 She had a mere 20% chance of survival. She was told to consult a priest and prepare her soul; there was no way she was going to survive.
But in 2013, against all odds and thanks to new drugs supplied by Doctors Without Borders, she was declared TB-free. And in 2015, she had cochlear implants and was able to hear again.
Now, she is studying and raising awareness about TB.
The class factor
Her work, as part of TB Proof, includes destigmatising all forms of TB and mobilising resources. She's also hoping to enlist the help of faith leaders to dispel harmful myths and see nurses address patients by their names and not as "TB", a common occurrence at clinics. She also intends tackling the issues of class and race as they pertain to TB.
Understanding the role of class is crucial to the fight against the disease, said Vaccines for Africa's Associate Professor Rudzani Muloiwa.
"TB has got a class target; it affects mainly the poor."
"TB has got a class target; it affects mainly the poor," he said.
TB is a social disease and, for this reason, drugs have done little to control it. Thus, for Muloiwa, whatever scientific work is done must be "grounded in true and real humanity".
"If we are going to have any chance against TB, I suspect pretty much it's not just the drugs; it's how we change as a community and as a society to face this," he said.
"Because unless we change the lives of the majority of our people, everyone will be at risk."
---
This work is licensed under a Creative Commons Attribution-NoDerivatives 4.0 International License.
Please view the republishing articles page for more information.
---