In recent years, South Africa has been plagued by corporate corruption scandals. Steinhoff, Bain, Bosasa, Ford, Alexander Forbes, Multichoice, KPMG and Tiger Brands are just some of the companies whose actions or inactions have landed them in hot water.
At some point, leadership in these companies has tried to minimise the damage, sending out press releases, promising investigations and radical changes. Rarely though is the public's expectation of reparations met.
But there exists a way for companies to repair the damage they've caused and regain the public's trust. Using a six-step ethics-based approach, companies can do the right thing.
This according to acclaimed academic, activist and poet Athol Williams who presented his six-step plan to a full house at the University of Cape Town's (UCT) Graduate School of Business (GSB) on Wednesday, 30 January 2019. The occasion was the Allan Gray Centre for Values-Based Leadership's quarterly Speaker Series.
Williams, a senior lecturer in the Allan Gray Centre, has worked as a strategy advisor for over 15 years and more recently has been advising companies in dealing constructively and strategically with ethical and governance challenges.
"This isn't ordinary business. You've done something wrong."
What's missing
When companies see their names in news exposés their immediate reaction is to contact their lawyers and their public relations team. The first is to ensure they don't go to jail and the second to put out the spin.
What then follows is an almost formulaic process. The company first expresses shock and moral indignation. Then it promises to conduct an internal investigation.
"But we never see the results," said Williams. "They promise openness, transparency, [say] 'we're contrite', 'we are bowing before you, the public'."
Next the company finds a "rogue" element, claims the problem is not systemic, nor linked to its culture, policies or incentives.
The fourth step is to acknowledge some mistakes, admit to poor judgement and emphasise that they are, after all, only human. Then, companies apologise for the negative feelings you're encountering.
"This is like me stealing your car and saying, 'I am sorry you miss your car. I'm not going to give your car back, but I am sorry you are upset, and you miss your car'," said Williams.
The apology is never about the wrong, the harm or the suffering caused.
The sixth step is a token of symbolic gesture. Often, companies see it as appropriate and enough to paint a school or host a netball tournament, for example.
"What's profoundly missing from your average approach is a focus on the victims," said Williams.
In the case of Tiger Brands, 200 people died from listeriosis and many others were infected. The suffering extended to their families as well as to the employees who work in a factory that caused enormous social harm. They too are victims or are impacted by the harm caused.
"The impact of harm is not just this narrow definition of financial loss or people who died. Harm is often systemic in a business," said Williams.
"Any approach around reparations that ignores the victims for me is fundamentally flawed.
"I am suggesting that there is a new way," he said. "We can't just rely on our lawyers and we can't just … destroy our businesses; we need something else."
Ethics as the base
This "something else" is an alternative, ethics-based six-step approach. It's one Williams developed from studying the effects of trauma, genocide and war on countries and communities. It can be applied to corporates and any other situation of reparations.
For the approach to be ethics-based, there must be four premises present, said Williams. These are:
Complete justice: This is criminal justice plus social justice.
True corporate responsibility: Responsibility is an obligation and cannot be voluntary if it is to be true.
Forward-focused: While restoration considers the past, any reparation made must consider how the victim was deprived of opportunity or ability. The reparation must, therefore, make the victim's life whole and as if the company had never interfered in their life.
Stakeholders: The focus must be on all stakeholders, not just shareholders.
"I am arguing a priority on the victims. This isn't ordinary business. You've done something wrong," said Williams.
With these four premises in mind, he detailed the six steps.
Six-steps approach
The first step is to identify wrongful acts, harm, the victims, causes and enablers. According to Williams, most companies do something around identifying the wrongful acts but end there.
Causes and enablers could be internal or external factors like the company's policies and incentives while external factors, such as weak laws, allow you to commit this wrong.
"When we look at human rights atrocities around the world, often it is with companies operating in an environment where it's okay to do that," said Williams.
The second step is to design a "restore and change plan".
This takes at least three to six months, but it could take up to 12 months to consider the right approach.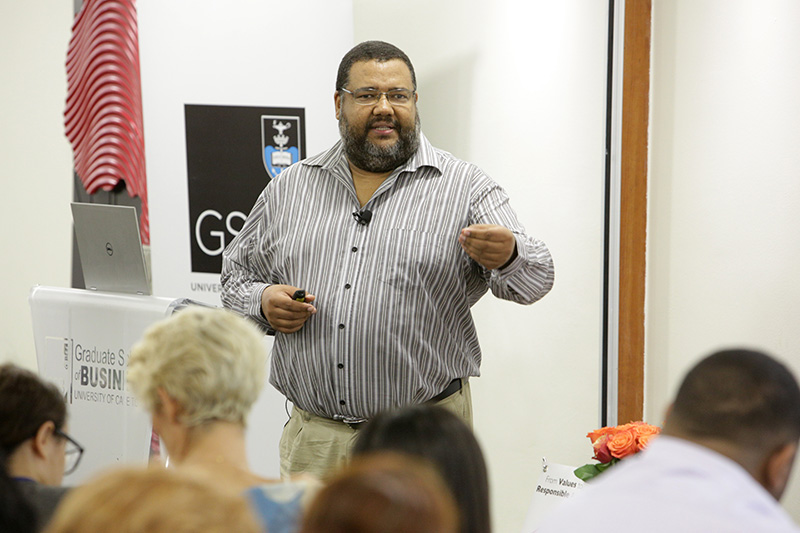 The third step is to acknowledge the wrongdoing and harm caused.
"You hear companies talk about making reparations when they haven't even acknowledged the harm that they have done," said Williams.
The fourth step is issuing an apology. This cannot be about "hurt feelings" but must acknowledge the victim, acknowledge the wrong and the harm caused.
"I am arguing for a specific apology for specific people who have suffered, whether they are alive or not," said Williams.
The fifth step is "restore" and involves restitution, compensation and forfeiting of benefits.
"Now we can talk about giving back the money, about building a school."
This can only be done because the company has spoken to the victims and done the research into what is needed.
And the final step is to implement change both internally and externally.
Fixing the holes
Internal change is about credibility. For the harm done, companies must demonstrate changed behaviour. These internal changes should also ensure that the wrongs are not repeated.
Companies also have a responsibility to identify weaknesses in the state machinery. A reason for this, argued Williams, is that in the case of state capture, corporate South Africa has taken advantage of the country's weak public institutions.
"[Businesses] need to stand up and say 'we are going to proactively fulfil our corporate responsibility to strengthen those institutions'.
"There are major holes in our public institutions that need to be fixed and [business can help] fix them," said Williams.
Use of this six-step plan will help remedy the harms and injustices. While it does not guarantee that public trust will be restored, it creates a platform for the company to restore that trust.
For those objecting, saying this ethics-based, six-step approach is too demanding, too costly, Williams had a final word: "If you've … created massive social harm, I think you have rearranged your moral priorities such that your obligations to your victims become your number one priority and not your shareholders."
---
This work is licensed under a Creative Commons Attribution-NoDerivatives 4.0 International License.
Please view the republishing articles page for more information.
---