It's been two years since University of Cape Town (UCT) alumnus Alexandria Procter made waves in the student accommodation space with her site, digsconnect.com. UCT News caught up with her to find out what's been happening since that interview in June 2017.
"Right after the interview, a bunch of landlords and students contacted me, saying how excited they were for DigsConnect to launch and it felt like things were going great," Procter recalled.
"A couple days later, it felt like everything was over."
DigsConnect is an online platform connecting registered tertiary students to off-campus accommodation. Its entry into the market, the focus on safety as well as its response to the ongoing student accommodation crisis meant it was bound to make waves. And that it did but, as Procter mentioned, things soon began to fall apart.
The person she had been working with left, allegedly taking with him a fair share of their working capital and the technical know-how, which she lacked.
She didn't give up, however.
"Technical knowledge can be learnt, and capital can be raised, but without resilience, determination and a can-do attitude, a start-up won't get anywhere."
Procter's resilience and relationships at UCT paid off. Just a few weeks later, a friend from her Students' Representative Council (SRC) days, Greg Keal, joined her on the project. Keal was chair of the SRC's entertainment and fundraising portfolio.
And a few months after that, another UCT alumnus, Brendan Ardagh, joined DigsConnect, to complete their founding team.
"Technical knowledge can be learnt, and capital can be raised, but without resilience, determination and a can-do attitude, a start-up won't get anywhere."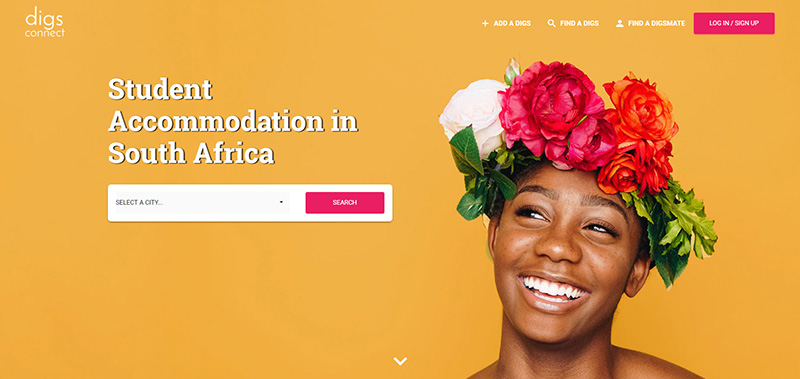 Achieving growth
The journey since then has been a lot kinder to the DigsConnect team. Monthly growth of over 60% for listings and over 61% for users has been recorded. There are thousands of UCT students regularly visiting the start-up's social media and online pages.
So, what does it take to achieve this kind of growth?
Firstly, "[there] was an obvious problem, and this was the obvious solution". DigsConnect began as an answer to the housing crisis Procter witnessed during her time on the SRC.
Less than a year after launching and despite the initial setback, the site achieved 2 000 listed rooms, the celebration of which made national news.
DigsConnect also provides a solution for homeowners who are looking to supplement their income. The platform, therefore, provides the missing link between landlords, real estate agents, property managers and students.
The second contributor to their success has been the foundation provided by UCT.
"I think UCT was instrumental in guiding our journey. [It] is an incredible place that provides so many opportunities to learn and grow, both inside and outside the lecture theatres," said Procter.
She credits passionate lecturers and the founding team's involvement in societies and sports teams, which taught them to "lead, develop our thinking and to push ourselves out of our comfort zone".
Innovation and improvements
Rather than rest on their laurels, the team is constantly looking to innovate.
"I think because of our ages – we're all in our early to mid-20s – we know what's important to students, and how to build a product that actually will add immense value to students' lives."
This includes building an online community through a new feature called "Virtual Res". Using their university-issued email addresses, students are added to their institution's Virtual Res where they can find campus mates with whom to share digs, and be part of a community-driven verification system for other students and landlords.
The aim of this is to ensure students are living in environments that promote learning, academic well-being, and fun.
"After all, varsity is one of the most memorable times of your life, and digsconnect.com wants to be there as part of that journey with you," said Procter.
As for the landlords, digsconnect.com provides features such as a viewings booker, search-by-map and auto-invoicing, and includes Jammie Shuttle routes on its maps.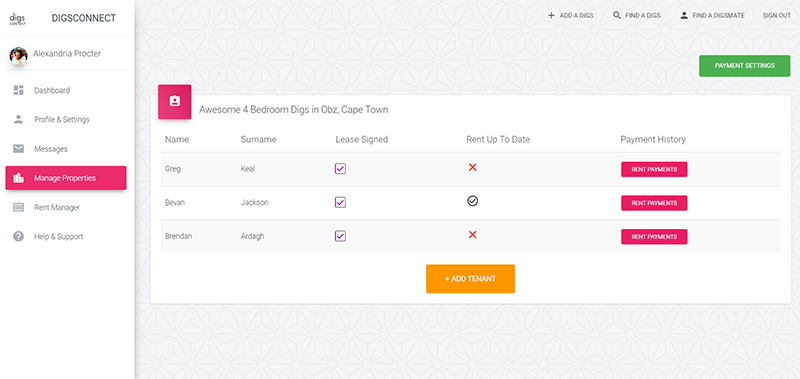 ---
This work is licensed under a Creative Commons Attribution-NoDerivatives 4.0 International License.
Please view the republishing articles page for more information.
---