Business science student Jono Field's tutoring and mentoring company has partnered with the UCT Rugby Football Club (UCT RFC) to provide academic and mentoring support to its players, who juggle onerous and competing demands.
UCT's Ikey Tiger stars are recruited from around the country, and include home-grown talent from Cape Town. But as undergraduates, they often arrive unprepared to cope with the dual demands of sport and study, according to Field, founder of Get Smart Tutors.
Field started the company in 2015, signing up the first tutor on the bonnet of his father's car. He first spotted a similar gap at his alma mater, South African College Schools (SACS), where opportunity-funded learners sometimes battled in an unfamiliar and demanding environment.
He realised that in order to come into their own – and flourish – these young learners and students alike need targeted support. At SACS, he has been working tirelessly to provide the best platform to support the young players, and is now turning his attention to UCT.
With an eye on rugby as a future career, many young players slip through the net academically.
"When you're a first XV player, it's like playing professional rugby, with up to six training sessions per week. It's easy to let academic work go," said Field.
The Varsity Cup has produced over 40 Springboks, including the immensely talented Aphiwe Dyanti. Dyanti graduated from the University of Johannesburg with a BCom degree, and is now scoring sensational tries against the best in the world.
But not all young players make it to the top; they need degrees to fall back on, and even those who do make it need a platform from which to launch when they take on life after rugby.
"The UCT RFC is a phenomenal platform for players to thrive academically while playing high-level rugby, which includes possibly studying at Oxford," said Field of his new university project, which kicked off this year.
"We won the Varsity World Cup at Oxford in 2015, and some of our past players have been fortunate enough to study at Oxford."
Although the pass rate of students in the UCT RFC is already about 20% to 30% higher than the average at UCT, the club wants all its players to graduate. To ensure this, UCT RFC director Johnny Biderman-Pam enlisted Get Smart Tutors to provide a suite of support, which focuses on meeting UCT's high academic standards.
Juggling many balls
The intervention is a win-win for sport and academia.
One example is 21-year-old Nama Xaba from KwaZulu-Natal, former head student of Glenwood High School and Craven Week vice-captain for the Sharks in 2015. Xaba was recruited to UCT on a rugby bursary in 2017, and enrolled for a BSc. But such are his talents that he now has a dual contract with Western Province Rugby and he captains the Western Province U21 Currie Cup side.
Between practices, matches, travel – and life – he was losing a grip on assignments, projects and exam preparation, and grew concerned about passing.
Field now co-manages Xaba's academic programme, along with senior engineering student Yonela Nzuzo, a former Allan Gray candidate fellow. Nzuzo has much in common with Xaba, and is able to provide meaningful emotional and social support to the young player-scholar.
"Part of Get Smart Tutors' strategy is to carefully match students and tutors," Field explained.
"Part of Get Smart Tutors' strategy is to carefully match students and tutors."
At the end of the first semester this year, Xaba passed all his courses. And his rugby performances are top-drawer.
Field said his company's relationship with the UCT RFC is such that if the tutors feel a player needs to miss a practice because of academic pressure, they can do so, provided they have followed procedures. The relationship between the two organisations also provides players with an opportunity to earn money by becoming tutors themselves.
Schools outreach
An offshoot of the partnership between Get Smart Tutors and the UCT RFC is that Field now assists with the club's recruitment programme.
"Our relationship with the Ikey Tigers has provided us with an excellent platform to reach out to schools all over the country about UCT."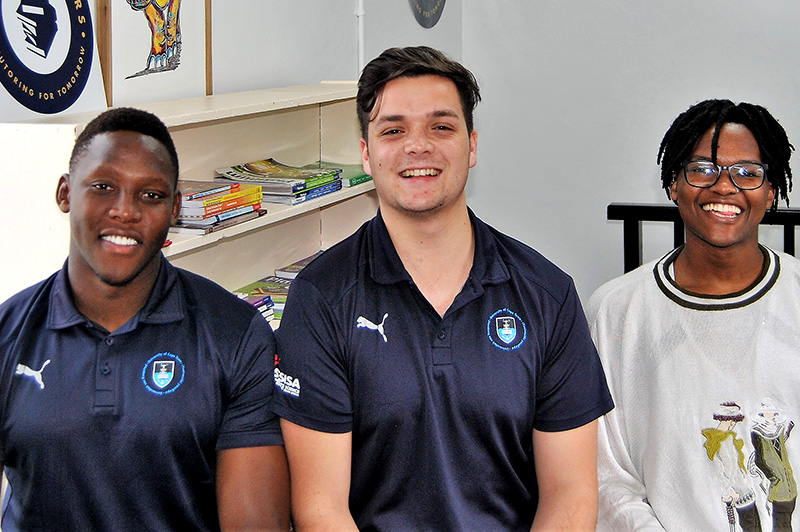 Field now visits schools, armed with a raft of funding and course information, and advice on how to deal with UCT's notoriously tricky application process.
"On the whole, there's not enough support to guide matrics from the FET to the tertiary phase of education."
It's another facet to the business; assisting schools in preparing students for university.
"On the whole, there's not enough support to guide matrics from the FET to the tertiary phase of education," he said.
While Field is working with boys' rugby schools, he said the need for this "bridging relationship'" is much wider.
"Can you imagine if we could visit all schools about what's possible at Africa's best university? And not just the schools that are feeders for the UCT RFC? Our aim is to instil belief in all those we work with, which includes young matriculants who aspire to study beyond school."
A former rugby player until injury put paid to his career, Field said his goal is to help develop young people into well-educated and financially independent, empowered South Africans.
"I want to continue to be a vehicle for change."
New ground
As a final-year student, running a fast-expanding company creates other challenges.
"It hasn't always been pretty, but I am deeply passionate about where we're going and how we plan to change South Africa," he said.
Initially concentrated in the southern suburbs, Get Smart Tutors opened a branch in Somerset West/Stellenbosch at the beginning of this year, run by University of Stellenbosch (US) student Mathew Begg. With 30 learners in their programme already, tutors are being recruited from US to provide mentoring and academic support.
Field was also invited to speak on the role of mentoring at school and university level at the recent South African Schools Alumni Association conference.
"It was an amazing experience – to be able to engage with teachers, senior management and principals of schools from all over the country."
More recently, Get Smart Tutors started working with the Children of Hout Bay Education and Learning Opportunity (Chelo), a bursary programme facilitated by the Hout Bay International School.
"These learners need mentoring support, people to understand and inspire them, someone who – in some ways, at least – shares their background, and will keep them motivated when the going gets tough."
Once he graduates, Field plans to go into the education-cum-mentoring-cum-development space full time.
"It's not a dream. It's a plan," he said.
He hopes to grow the business while studying part-time towards the Chartered Financial Analyst Level 2 qualification in June 2019.
"I don't sleep much!"
---
This work is licensed under a Creative Commons Attribution-NoDerivatives 4.0 International License.
Please view the republishing articles page for more information.
---