An innovative new clinical trial has shown that revaccinating at-risk teenagers with the Bacille Calmette-Guerin (BCG) vaccine they first got as babies could significantly drive down the threat of these youngsters becoming carriers of TB infection.
Estimates are that up to 80% of the South African population is infected with latent TB, with more than 400 000 active cases. The BCG vaccine is the only licensed vaccine globally, and is administered as part of South Africa's baby immunisation programme.
Now scientists from the University of Cape Town (UCT)-based South African Tuberculosis Vaccine Initiative (SATVI) and the Desmond Tutu HIV Foundation have announced clinical trial results that offer encouraging evidence of a potential solution. Significant reductions in sustained TB infections (when a blood test is positive for TB over a period of six months) were recorded among adolescents in Worcester and Cape Town when a second BCG was administered.
While the nearly 1 000 teenagers (aged 12 to 17) involved in the trial may not be sick, anyone infected with TB bacteria has a 10% life-time risk of succumbing to the disease. With such large numbers of South Africans having latent TB, the potential threat to the country's burden of disease becomes clear.
Alongside BCG in this prevention-of-infection Phase 2 trial, the scientists tested the experimental vaccine candidate H4:IC31. While it also appeared to reduce sustained infections, this did not occur at any statistically significant level. What was important, however, was that this marked the first time a subunit vaccine (when no viral vector or whole mycobacteria are introduced to the immune system) had shown any ability to protect against TB disease or infection in humans.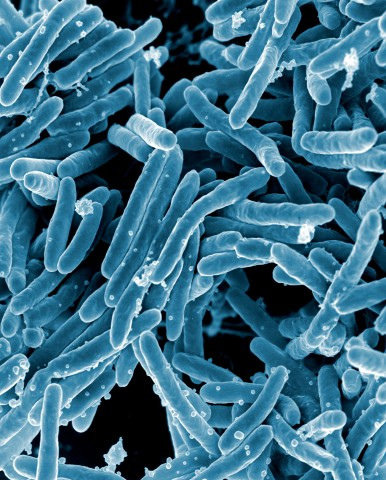 International collaboration
H4:IC31 is being developed jointly by Aeras and Sanofi Pasteur, and the Statens Serum Institute. Aeras and Sanofi Pasteur, the United Kingdom's Department for International Development, funded the entire clinical trial, which was approved by the South African Medicines Control Council (MCC) and UCT's independent ethics committee.
SATVI director Professor Mark Hatherill, principal investigator of the trial, which was conducted at SATVI and the Emavundleni Research Centre at the Desmond Tutu HIV Centre, said they were delighted to publish the results in the New England Journal of Medicine.
This first randomised, placebo-controlled prevention-of-infection trial for TB, he continued, showed that revaccinating the teens with the BCG may reduce the rate of sustained TB infection in a high-transmission environment.
"We are extremely encouraged by the efficacy findings against sustained TB infection."
"While neither vaccine proved to be statistically significant in preventing an initial TB infection, we are extremely encouraged by the efficacy findings against sustained TB infection," Hatherill said, adding that the scientists believed the results would contribute significantly to a broader understanding of protection against TB infection.
They were also looking forward to larger, more traditional prevention-of-disease clinical trials to test the ability of such vaccines to protect against TB disease in uninfected teenagers.
Urgent goal
Associate Professor Thomas Scriba, SATVI's deputy director of immunology, said that the results provided an opportunity to identify the immune response that protects against sustained TB infection.
"This advance will accelerate rational development of new TB vaccines," he predicted.
Professor Linda-Gail Bekker, chief operating officer at the Desmond Tutu HIV Foundation, president of the International Aids Society and a lead investigator on the trial, stressed that an effective TB vaccine remains an urgent global goal, and thanked the study participants and their families for helping to advance the search.
Her view was echoed by Professor Jacqueline Shea, chief executive officer at Aeras, who said the results highlighted the importance of investing in new approaches to fighting TB, and to evaluating new concepts in clinical trials.
She added that the power of the collaboration, which saw industry leaders, non-profit organisations and clinical sites join forces to conduct the trial, pointed to how powerful such unions could be in developing new interventions.
"The BCG results are important findings with significant health implications, especially with the rise of drug-resistant strains of TB, and could lead to millions of lives being saved," Shea said.
---
This work is licensed under a Creative Commons Attribution-NoDerivatives 4.0 International License.
Please view the republishing articles page for more information.
---