UCT's Medical Devices Lab is fostering an ecosystem of innovation.
And the fruitfulness of its teaching practices, founded on ideas of Frugal Biodesign, is being proven in the form of biomedical engineering graduates Gokul Nair and Giancarlo Beukes.
Both alumni of the medical device design course, they have teamed up to form Impulse Biomedical – a company presently incubated in the Medical Devices Lab. The pair are working on commercialising the ZibiPen, a reloadable adrenaline auto-injector, along with other technologies that were developed in the lab.
They hope the device will be the first of many medical innovations they bring to the market.
The ZibiPen was recently recognised in the Emerging Medical Innovation Competition at the Design of Medical Devices Conference, where it placed second and was awarded a full technical and market evaluation by the Medical Industry Leadership Institute (MILI), valued at R180 000.
The evaluation is an incredible tool for the start-up, which will need investment to take it through the US Food and Drug Administration (FDA) approval process, and eventually, to market.
"We can develop innovative solutions in a very low-cost way."
Being recognised at the world's largest medical devices conference is a significant accolade, noted Dr Sudesh Sivarasu, who heads up the lab.
The competition is open to all technologies with potential to create an impact in the healthcare space. The inventors were up against stiff competition, including state-of-the-art technologies, some fully developed and already out in the market, others addressing complex medical problems.
Of the six devices recognised at the competition, ZibiPen and Impulse Biomedical were the only competitors from outside the United States.
"The rest of the companies spend millions of dollars to get where they are. We have spent so little, but we have done so much.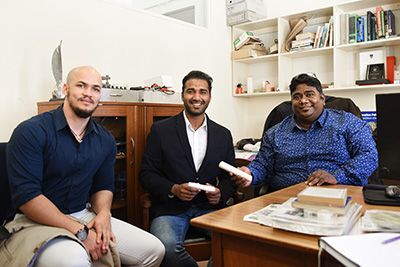 "That is the whole Frugal Biodesign that Sudesh has developed … So, we can develop innovative solutions in a very low-cost way," commented Nair, who invented the technology alongside Sivarasu and Professor Mike Levin.
Addressing clinical needs
Adopting the principles of Frugal Biodesign, the Medical Devices Lab identifies clinical issues in need of technological intervention. Students are assigned a problem and are paired with a clinician to solve it. If they have not produced proof-of-concept of their solution by the end of the year, they fail the course.
The stakes are high, and students respond with often surprising creativity. Indeed, the unit has consistently produced more invention disclosures than any other since its inception five years ago.
Sivarasu's approach to solving unmet clinical needs through Frugal Biodesign provides proof-of-concept quickly and at minimal cost.
"I think we all see this as a bit of a David and Goliath story: of us, here, challenging bigger corporations, being able to shift the landscape."
"Large companies with R&D [research and development] sectors that essentially do what we're doing, 70%, if I am not mistaken, fail," said Beukes. "They don't get the product to market. They don't get it into the hands of the people that need it.
"And I think that is one of the unique things about the medical device design course – engaging with your end customer … to really understand where your patient is struggling … your clinician is struggling and really understanding the problem holistically."
The ZibiPen is a response to a problem highlighted by Levin, who heads up the Division of Asthma and Allergy at the Red Cross Children's Hospital.
Levin showed Sivarasu the adrenaline auto-injectors that are currently on the market. These life-saving devices are prohibitively expensive (the dominant device, EpiPen®, costs US$600). Adding insult to injury, the single-use device expires within 18 months, and needs to be replaced in its entirety.
Levin explained how people with allergies to certain foods, bee stings, and so on, develop an auto-immune condition called anaphylaxis. When the person is exposed to an allergen, they need to use such a device within 15 minutes. Failure to do so can prove fatal.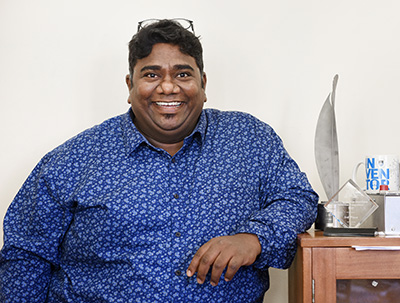 Increasing rates of anaphylaxis
Already critical, the need for these devices is increasing steadily.
"As we move towards a more westernised diet, the rates of allergies and anaphylaxis increase," explained Nair. "The predication is by 2020–2026 the rate will increase by over 40 to 50%. Just in the Asia-Pacific [region] it is set to rise by 70%."
Levin hoped that the medical devices team would be able to develop a local, and affordable, equivalent.
The ZibiPen supports reloadability, which will have massive implications for end users, with vials of adrenaline available for as little as R10.
"You don't throw out your cellphone after your contract is over. You use it. You get a new contract or a new SIM card," said Sivarasu.
"Why do you want to throw your expensive hardware out when we can supply you with a reloadable cartridge of epinephrine?
"Here you have a technology which can be very easily made ... accessible to the middle- and low-income group as well. But it is not made so because of business reasons, and also because the [current] technology doesn't support it," Sivarasu explained.
"I think we all see this as a bit of a David and Goliath story: of us, here, challenging bigger corporations, being able to shift the landscape" of what is a multi-billion-dollar business.
Same device, different configuration
Current devices in the market are also unintuitive, Nair noted, demonstrating how a user would first pull off the safety cap on one end of an auto-injector, expecting to inject with the opposite end.
Users sometimes push down on the incorrect end of the device, resulting in the needle piercing through their thumb with significant force and speed.
"This simple step is going to make this device more clinically effective, as well as more affordable."
The dose and needle length of current devices are based on the average male.
"If you are an obese patient, then the needle only goes into the fat layer, it doesn't go into the muscle layer. The rate of absorption is a lot lower. If you are a very thin patient, it goes all the way to the bone and fractures it.
"This is a very high-force device. That is one of the reasons there are design complications and the reason no-one has come out with a reloadable device before."
The ZibiPen can be customised for any patient – needle length and dose will be calculated by clinicians and set by pharmacists.
"This simple step is going to make this device more clinically effective, as well as more affordable."
A forceful problem
"During the design course we looked at the problem and why it hasn't been solved in the past. We realised it is an issue of the high force. [The ZibiPen] requires around 200 newtons, about 20 kilograms, of force in a small device."
The inventors looked at various ways of generating this force. They settled on a spring-based design and began iterating.
They 3D-printed prototypes, injected into sponges, and later porcine blocks, to observe the depth of the injection. They began looking at invention disclosure at UCT and started the patenting process. All the while, they worked on making the design more robust, and smaller. Nair then continued his work on the product for a master's dissertation.
All in all, the process has taken four years.
"What we are looking for now is greater amounts of funding so that we can finish off the minimal viable product, do some market testing and then move to regulatory approval. This is a class 2A medical device, which needs a bit of investment to get through the FDA regulatory process," he said.
Once this funding is granted, it will be roughly 18 to 20 months before the product hits the market.
Support from Research Contracts and Innovation
Research Contracts and Innovation (RC&I) supports UCT's research activities by centrally managing the university's intellectual property (IP), raising funding for technology development, and authorising and negotiating research contracts entered with a wide variety of funders.
Working with companies such as Impulse Biomedical, the team co-creates appropriate commercial models to ensure the translation of research to achieve its intended impact.
RC&I has partnered with UCT Medical Devices Lab and performs a two-stage IP review of all the technologies developed by the medical device design course.
UCT's RC&I also provides support funding, patenting and business development support as necessary. Through one of their initiatives, Impulse Biomedical got into the Venture Incubation Programme (VIP) at the UCT Graduate School of Business.
---
This work is licensed under a Creative Commons Attribution-NoDerivatives 4.0 International License.
Please view the republishing articles page for more information.
---