Alumnus and composer Maike Watson's response to what is considered by many to be the worst drought in Cape Town in 100 years is expressed in the language she loves most. The result is her symphonic piece with harp, "Illusion of an Easy Life".
It reflects the dualities of life in a city that promises plenty – the beguiling natural landscape, too-frequent clear blue skies and the lure of an easy life – but exists in the shadow of a devastating drought.
Watson, a graduate of the South African College of Music, composed the piece and its individual parts throughout last year and completed it in November as her entry into the International Society for Contemporary Music (ISCM) affiliated event, the Beijing Modern Music Festival in China.
She was delighted when it was chosen and was looking forward to hearing it performed by the China National Symphony Orchestra in Beijing in May.
Alas, the organisers informed her only recently that they'd opted instead for one of her previously unperformed piano compositions. (A different composition for piano, "Prälüd", was performed at the ISCM festival in Vancouver last year.)
Art in response to crisis
Nonetheless, that disappointment does not detract from the real purpose of the work.
"For me the water crisis was a big part of writing the piece."
A creative arts approach to the water crisis is a welcome change from the primarily scientific, technological and logistical responses to the drought.
Though Watson doesn't compose with an explicit sense of environmental or social consciousness, she says that her musical compositions must express "something that has value" beyond the pop music compositions, podcast edits, jingles and music for the advertising industry, and the many other things that earn her bread and butter.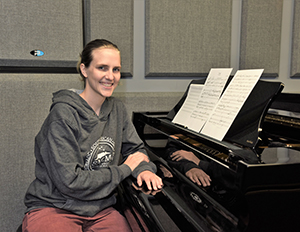 "So, music helps me live fuller. I feel I'm doing something that may impact on someone, say 10 or even 200 years down the line. Often, we don't see that value in what we do now, but if we can do things consciously and mindfully with a bigger purpose, that impacts us as people. In turn, that makes us happier. But it impacts on others too, and that's amazing."
Dualities and tensions
The five-minute symphony also reflects the dualities attached to the professional life of a composer–musician in the tensions between success and failure.
The melodies in the piece are quite "easy-going" – the illusion of an easy life – mirrored in the journey of creative professionals.
"One success makes it all look so easy, but people don't understand all the rejection and failed attempts before that," says Watson.
"So, music helps me live fuller; I feel I'm doing something that may impact on someone, say 10 or even 200 years down the line."
"Starting out, the piece is mellow and states a beautiful, airy theme on the strings. This theme then develops into a more playful one through the woodwinds and then it gets a little darker towards the middle of the piece. The brass joins in and the contrabasses do their deep, rumbly thing and the timpani goes crazy.
"There's the climax and then the harp comes out of this tempest into a beautiful solo and gently goes back to the beginning theme. Slowly, as the individual instruments drop in, all the themes work together to create new harmonies by playing familiar themes from previous sections. The ending is sweet and harmonious."
Watson was attracted to the harp for its ethereal quality.
"When you hear the harp, you feel something. The audience will notice when the harp plays but it's often overlooked in really busy sections of music. So, in a similar way, we can take water for granted in the busy clamour of life."
As a musician used to performing in orchestras and even singing in choirs, hearing her own compositions performed is far more nerve-racking and demanding.
"I feel there's more of myself out there. It's not my take on someone else's message; it's my message. I become so critical of the music I wrote. I think: Oh, I could have written that better, or, that's not good … Being my own worst critic is something I'm learning to live with."
Her dream is to write epic, orchestral music for the big screen.
"If I could choose, I would write music that sends a message, that elicits an emotional reaction to the music, music that's meant to move people."
---
This work is licensed under a Creative Commons Attribution-NoDerivatives 4.0 International License.
Please view the republishing articles page for more information.
---