UCT's Memorial Hall came alive from 17 to 18 April as staff and students sampled a range of new and exciting technologies as part of the university's annual TechFest.
The festival aims to get staff and students passionate about technology, commented Niki McQueen, the communications coordinator at UCT's Information and Communication Technology Services (ICTS), and the organiser of TechFest. It also aims to show attendees what sort of technologies are available to them through UCT's vendors.
"We want them to know about what's out there, what's coming, what's exciting," McQueen said.
In the past, TechFest focused mainly on the many offerings of these preferred technology vendors, including Digicape, First Technology and Pinnacle. But McQueen wanted to get more companies on board.
"These technologies are going to become household, everyday items."
This year's TechFest therefore included exhibits from Cell C and SMG Technologies, as well as a number of demonstrations by information systems students from the Faculty of Commerce. These exhibits were some of the biggest crowd-pleasers of the two-day festival.
They included the virtual reality headset Oculus Rift 3, an Emotiv EPOC+ ʻbrain-powered' headset, a 3D printer, a Raspberry Pi microcomputer and the virtual assistant, Amazon Alexa.
Standout technologies
"People always love the Oculus Rift. I tried it yesterday and got totally seasick … We have two Oculus Rifts here," said McQueen.
"People love the 3D printer. People have been raving about the Apple tablet, [and] the things they can draw on. Ricoh has some amazing big screens you can also draw on. They can do anything. It's just incredible."
Used mostly in gaming, the Oculus Rift 3 presents an immersive audiovisual experience. But the headset has far-ranging applications and is even being used in medical simulations, explained information systems student Philip de Castro.
Another piece of standout technology, the Emotiv EPOC+ headset, monitors electric impulses in the brain of the wearer as they complete a reading test. While reading a webpage, the headset checks engagement and interest in the article, as well as stress levels.
"This is the way the world is going – these technologies are going to become household, everyday items," De Castro said.
"Technology is moving so quickly, and it is actually incredible how many people do not understand technology. If you go to the Microsoft stand and you look at how many people don't even know how to use Office properly, it's astounding. It is important for anyone to just get a better understanding," added fellow student Rayhaan Kagee.
"It's about what's new, what's cutting edge, what can you expect in the future."
But the exhibits also included promising innovations for both the office and the classroom of the future. The display by UCT vendor Ricoh showcased their range of interactive whiteboards, short-throw projectors and 360-degree cameras, which focus on facilitating new ways of learning that are increasingly interactive and engaging for students and staff.
"A lot of organisations globally have already integrated these solutions into their environment, and UCT – from a digital transformation perspective – is busy looking at innovative solutions to implement in the future across their classrooms and lecture halls," said Kelli Jones, a strategic account manager at Ricoh.
Expanding knowledge
Between sampling new innovations, visitors were able to attend information sessions in The Knowledge Zone. These ranged from insights into Microsoft's new African Azure data centres to presentations on how the iPad can be used to maximise business efficiency.
"It's about what's new, what's cutting edge, what can you expect in the future. It's about the power of the tools we give you, like Microsoft Office," explained McQueen.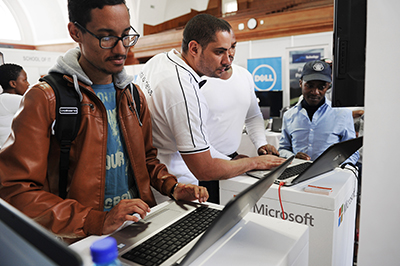 Moreover, these sessions seek to help staff get to grips with both the changing workplace and the changing world.
Attended mainly by university staff, the sessions were received with overwhelming positivity, she said, with the use of the silent disco technology being particularly successful.
"It was just the best idea, because there is a big noisy hall and people are able to sit there and watch an info session with everybody focused on the speaker with their headphones."
Embracing the modern workplace
One such session, "Modern Productivity", delivered by Microsoft's Michael Mullany, introduced attendees to Microsoft Teams: a platform designed to help multiple generations collaborate effectively in the workplace.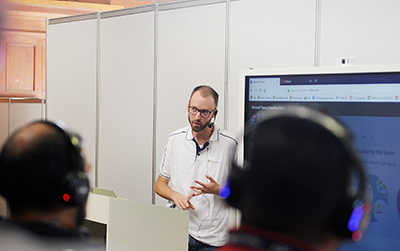 According to Mullany, 45% of employees use some sort of social media tool while in the workplace. So why not allow them to use the tools they know and love in the work context, he asked.
Microsoft Teams takes this into account in creating a single digital hub that allows workers to bring the informality of social media use into the workplace. It does this through a chat-based, collaborative work portal.
More and more is being asked of staff in the modern-day workspace, said Mullany. Staff will be part of twice as many teams, with up to 80% of that work being collaborative in nature. It is predicted that by 2020 72% of the work force will be working remotely.
With such shifting forces in place, it is clear why a central hub – designed to ease collaboration, communication and customisation – would be key in the workspace of the future.
---
This work is licensed under a Creative Commons Attribution-NoDerivatives 4.0 International License.
Please view the republishing articles page for more information.
---