UCT's African Paediatric Fellowship Programme (APFP), an initiative of the Department of Paediatrics and Child Health, was featured on CNN's special feature Inside Africa in January 2018.
The 30-minute special feature highlighted the success of the programme, which seeks to address the continent's shortfall of child medical specialists through collaboration and specialist training.
"The paediatric fellowship programme is building a network of enterprising doctors across the continent, who are committed to innovative solutions," Inside Africa reported.
The programme began in 2007 with a goal of partnering with as many academic institutions as possible and inviting these institutions to nominate trainees to further their knowledge and skills at UCT. Here, they would be able to specialise in general paediatrics, or other paediatric sub-specialities. By so doing, fellows would return empowered to provide and build healthcare capacity in their own countries.
The three-part Inside Africa feature followed up on several of the programme's alumni in Malawi, Uganda and Zambia.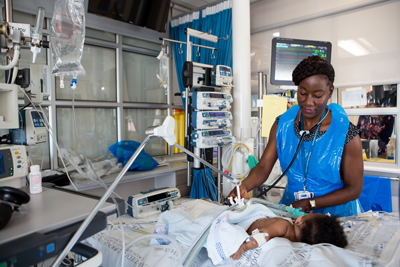 Uganda's first paediatric oncologist
Dr Joyce Balagadde-Kambugu began working at the Uganda Cancer Institute in 2009. At that time, there was no paediatric oncologist at the institute, or indeed in Uganda.
Concerned by this lack of capacity, Balagadde-Kambugu enrolled in the APFP and visited UCT as a fellow in 2011.
"That year of training with the African Paediatric Fellowship Programme in Cape Town between 2011 and 2012 changed my life completely. It was a profound experience," she said in the Inside Africa feature.
"And I can say without hesitation that that year changed the outlook of childhood cancer in Uganda, just because of that training that I did.
"When I went back, I was equipped with not only the knowledge but … also the skills that I needed to start a dedicated paediatric oncology service," she continued.
Watch the Inside Africa feature...
Helping babies breathe
APFP alumnus Dr Kondwani Kawaza became Malawi's first neonatologist.
After returning from his APFP fellowship, Kawaza was tasked with adapting continuous positive airway pressure (CPAP) technology to help babies born with severe respiratory distress in Malawi.
He was pivotal in the research, development and implementation of the CPAP Pumani machine. Pumani is a Chichewa word meaning "breathe" or "breathe restfully".
The machine delivers a constant flow of air to the baby, helping air sacks in the lungs to remain open, while preventing sleep apnoea. It is hardy and affordable, costing roughly one-sixth of similar machines manufactured in Europe.
Since introducing this innovation, child mortality rates in Malawi have decreased significantly.
Watch the Inside Africa feature...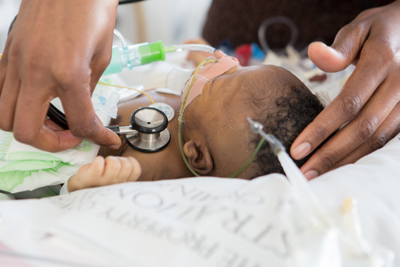 Teaching and training
Since her time at the APFP at UCT, Dr Kunda Mutesu-Kapembwa has spearheaded numerous training and development initiatives in Zambia.
As the head of department at the Lusaka teaching hospital, as well as being the only neonatal doctor in Zambia's public sector, Mutesu-Kapembwa works tirelessly to empower other health workers to make a difference to child healthcare.
"It's important to have specialists in Africa. It's important, because when you are not specialised, there is a certain level of thinking where you end.
"But when you become a specialist, you actually start to understand why certain things have to be done. Generally, if people are specialised, our health will improve in Africa as a whole," she said to Inside Africa.
As part of her neonatology training, Mutesu-Kapembwa was assigned teaching responsibilities for sixth-year UCT health sciences students.
"The experience gave me enough confidence," she reports. "I found that I could actually train other people in Zambia."
Mutesu-Kapembwa works closely with paediatric nurse specialist Rodgers Gift Benkele, who was a fellow of the APFP Child Nurse Practice Development Initiative in 2015.
Benkele is one of the very few master's-qualified paediatric nurses in Zambia. He worked to establish a child health nursing programme, which trains other nurses to become paediatric specialists.
The pair are a powerful team, and have implemented simple innovations that have transformed neonatal care in the teaching hospital. Under Mutesu-Kapembwa's leadership, fatalities have decreased from 164 per 1 000 admissions (in 2014) to 75 per 1 000 admissions (in 2016).
Watch the Inside Africa feature...
---
This work is licensed under a Creative Commons Attribution-NoDerivatives 4.0 International License.
Please view the republishing articles page for more information.
---