The education field, like many others, is constantly changing as technology evolves and opens up new possibilities. As Africa's leading university, UCT must keep pace with developments in the teaching and learning space.
But five years ago, many of UCT's classrooms were in less than ideal condition. Numerous venues were riddled with broken chairs and desks, and teaching was sometimes hindered by outdated equipment and awkward teaching wall layouts. To make things worse, lecturers were frustrated by each classroom having different procedures for using the data projectors and lectern controls.
Today, the situation is very different, primarily due to UCT's Classroom Renewal Project (CRP). The initiative revamped 91 centrally bookable classrooms across campuses, and assisted other projects to bring another 10 rooms up to standard. The project, which recently ended its five-year run, delivered major improvements in classrooms' physical facilities, audio-visual and IT capability, lecture recording, customer support and more.
The CRP was a collaborative effort involving Information and Communication Technology Services (ICTS), Properties & Services (P&S), the Disability Service and the Centre for Innovation in Learning and Teaching (CILT).
Upgrades appreciated by academics
"Teaching and learning lie at the core of UCT's activities, and with this project we set out to improve those experiences by upgrading classrooms to a higher standard that maximises flexibility. We wanted to create classrooms conducive to as many different pedagogical approaches as possible," explained Kira Chernotsky, the director of Customer Services at ICTS, who led the project.
Prominent improvements included installing document cameras and data projectors, upgrading sound systems, reconfiguring teaching walls to provide flexible teaching options, and installing custom-designed motorised UCT lecterns that act as the heart of the upgraded rooms. The technological improvements were complemented by physical refurbishments – such as painting, carpeting and new desks and chairs.
Clearly, the new facilities are a hit with academics. Professor Lawrence Edwards, director of the School of Economics, commended the "major positive impact" the project has had, pointing out that the new lectern has substantially improved the facilities available to lecturers. He added, "The two new teaching screens allow for better visuals and interaction between staff and students."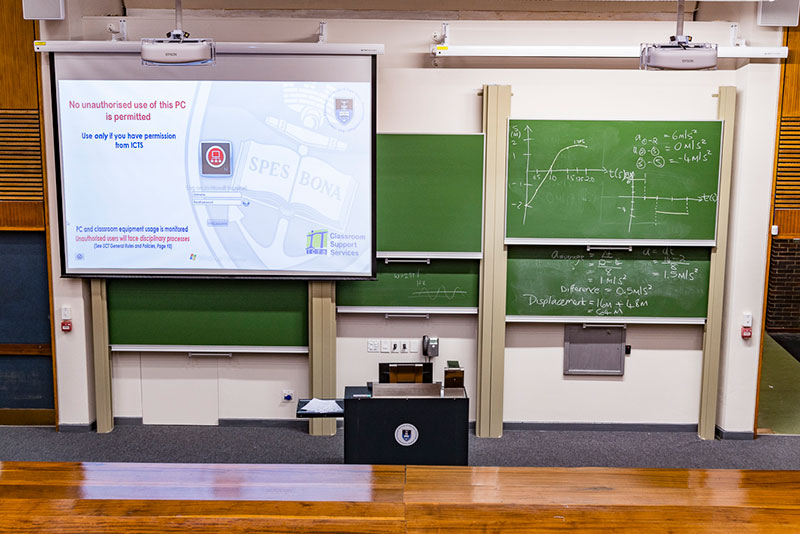 Associate Professor Tessa Minter, who teaches accounting and chairs the Classroom Facilities Advisory Sub Committee, is similarly impressed.
"The end result has made my life such a pleasure, knowing that with a click of a button on the ICTS website, I can find out what facilities are available and how to use them. My fellow tutors and I often use this to choose who goes to which venue as we have different teaching styles and tutor in a wide variety of venues. The best thing for me is the consistency of provision within venues, quality and ease of use of the lectern, and the light and screen switches."
What the students think
And it's not just academics who have noticed the difference.
Commerce student Razeen Adams noted that "Lecture theatres have become much brighter – it's like a happier place." Another student echoed his observation, commenting, "The upgraded classrooms do look quite lovely and are a huge step up from what they used to be."
A law student also praised the reconfigured teaching walls, explaining: "Lecturers got very frustrated because every time they wanted to write on the board, they had to lift the projector screen up, switch the projector off so that the light didn't shine onto the board, and then had to switch it back on and lower the screen to use the projector again. It was all very time consuming."
Other improvements getting rave reviews from students include the document cameras, stronger WiFi in classrooms, motorised blinds, and more freely available lecture recording facilities – which are in constant demand.
Stephen Marquard, Learning Technologies Co-ordinator for CILT, said, "Through CRP, our lecture recording service grew from a small pilot to a core service used by over 15 000 students. Lecture recording heavily influenced the core design of upgraded rooms, and the project also gave us the opportunity to boost recording quality and reliability, while introducing smart automation – which makes the service more efficient."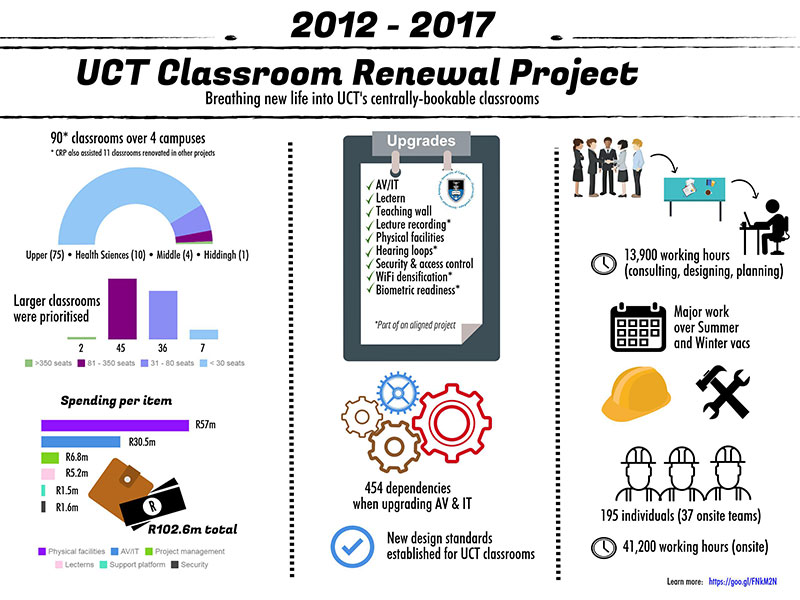 Support systems
Accessibility has also played a role in the upgrades, with hearing-impaired students benefitting from the induction loop technology that has been added to 37 larger classrooms.
Reinette Popplestone, Manager of UCT's Disability Service, explained: "Hearing aids magnify all sounds in a venue – including shuffling feet, rifling pages, coughing, etc. The extraneous noise can be very distracting to those wearing hearing aids. But with this technology in UCT classrooms, the magnetic loops filter out all the distractions. It's as if the lecturer's voice is being broadcast directly into one's brain."
The project didn't forget about Health and Safety considerations, with new fire detection mechanisms and fire alarms installed, along with the provision of new escape routes.
Classroom support also received an upgrade, with an expanded, dedicated team being set up to do both proactive and reactive support, while also being on call to assist academics who run into problems during lectures. The team works extended hours and has acquired new skills to support the latest technology within UCT classrooms.
Behind the scenes
Though the upgrades have positively impacted teaching and learning on campus, it wasn't all plain sailing.
The project team had to carefully schedule each round of work to minimise disruption to lectures and other UCT activities. This meant that the bulk of upgrade activity took place in the summer and winter vacations, with close to 200 individuals clocking in over 41 000 hours of work on site.
To further mitigate disturbances, much of the noisy work was done during the nights. The physical work was preceded by countless meetings, workshops, and assessment sessions – with the team putting in almost 14 000 hours to carefully analyse, design and plan the upgrades.
Reflecting on the massive undertaking, P&S's Peter Byne commented: "In this team, we learned to make decisions on the fly. We often reworked our original plans to mitigate totally unpredictable and unavoidable changes. We had to pull together and go flat out to finish a job that, ordinarily, would have taken twice the time. But in the end, we feel a huge sense of fulfilment because we came in on time."
Andre Viviers, the CRP's programme manager, concurs: "Everything we started, however small, grew and touched many people. The pressure and level of detail was painstaking at times, but the commitment, passion, and hard work of the team got us through time after time. In the end, the most gratifying aspect is the positive feedback we received from the Project Implementation Committee, sponsoring deputy vice-chancellor, academics and students who benefitted from the renovations and upgrades. They all confirmed that we got it right."
It wasn't all serious, though. During the course of investigating and planning, the team made a number of unexpected discoveries – such as a secret garden within PD Hahn, locked-away wrought iron staircases in Maths, a storm-water channel and well under John Day, huge unused ceiling voids in some buildings, and even a makeshift bedroom – complete with a mattress and blanket – hidden within a Leslie Social lecture theatre.
Onwards and upwards
With the upgrades now complete, the added flexibility and improved classroom technology has enhanced teaching and learning in UCT's classrooms. Students and lecturers will continue to reap the project's benefits for years to come, and as the 21st century progresses, many more innovations are sure to make their way into teaching spaces around the world and at UCT. The Classroom Renewal Project has left a legacy of structures in place to ensure continued progress.
Read more about the Classroom Renewal Project on the ICTS website...
---
This work is licensed under a Creative Commons Attribution-NoDerivatives 4.0 International License.
Please view the republishing articles page for more information.
---