Cape Town boasts one of the world's most progressive programmes to promote the safety of both recreational water users and the region's notorious population of great white sharks.
The programme, called Shark Spotters, aims to reduce negative interactions between water users (including swimmers, surfers and kayakers) and great white sharks using non-lethal means.
It is an example of a proactive, environmentally responsible and sustainable shark safety programme that aims to increase safety at beaches where there is potential for people and sharks to come into contact.
But is the programme effective? The findings of PhD candidate Tamlyn Engelbrecht provide strong evidence that it is.
Managing human–shark coexistence
The Shark Spotters programme is jointly funded by Save Our Seas and the City of Cape Town (CoCT).
"In 2010, the Save Our Seas Foundation saw tremendous potential in the Shark Spotters' ability to find non-lethal or [non-]invasive ways of managing the human–shark coexistence in Cape Town – an area notorious for its great white sharks," said Save Our Seas CEO, Michael Scholl.
There are 30 'spotters' operating across eight beaches in Cape Town. They keep a sharp eye out for any sharks that may swim along the inshore region of these popular beaches. They work in teams, one spotter placed at an elevated position (usually a mountain) and another, in radio contact, on the beach.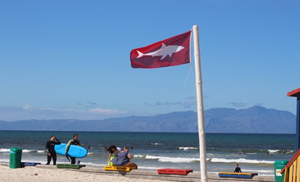 When a shark is considered to be too close, a white flag and siren are used to signal water users to exit the water.
Engelbrecht's study revealed that great white sharks and water users have similar patterns of presence along the beaches in False Bay. Both prefer the warmer summer months and the middle of the day.
Despite such patterns, Engelbrecht found that the efforts of the shark spotters lowered the risk of a shark encounter by a significant degree.
"This is an important finding," said Professor Justin O'Riain, who is the director of UCT's Institute for Communities and Wildlife in Africa (iCWild).
Indeed, the conservation conflict presented through the overlap in water use by people and sharks is one of the core research themes of iCWild.
"The programme has been in operation for over a decade, but its efficacy had yet to be measured," he explained.
Through Shark Spotters, Cape Town has leveraged one natural asset – the mountains – to allow spotters to keep another asset – great white sharks – safe from lethal alternatives.
"There are benefits to the ecology, tourism and the economy," said O'Riain, "and this is the kind of approach to our challenges that we need to celebrate."
Gregg Oelofse, the manager of the CoCT Coastal Management Department, commented, "Rather than killing the sharks or excluding them from all beach habitats, the water users of Cape Town are asked to work together with the Shark Spotters and their non-invasive warning system to continue the positive results seen to date for the benefit of both people and sharks."
Are water users scared away?
The study shows that following a shark warning, using the white flag and siren, water users respond as expected and leave the water.
"The citizens of Cape Town are playing their part in ensuring that these ecologically important, threatened species retain access to their natural habitat," said Shark Spotters CEO Sarah Waries.
Encouragingly, and contrary to popular belief, the number of water users rises swiftly again within an hour of a shark warning.
Shark Spotters executive committee member Dr Alison Kock said, "We are delighted that the results confirm that the programme is achieving its primary goal, without negatively affecting the numbers of water users through issuing shark warnings."
Water users were, however, found to adjust their behaviour in response to rare negative incidents between sharks and people. The study shows that fatal shark incidents reduce the number of water users for at least three months. This has an adverse effect on the surrounding economy.
Such findings make it clear that the spatial overlap between sharks and people needs to be reduced.
---
This work is licensed under a Creative Commons Attribution-NoDerivatives 4.0 International License.
Please view the republishing articles page for more information.
---