Meet MiiA, a self-assembly robot designed to help schoolgoers start learning about electronics, programming and robotics from a young age.
MiiA is the first innovation of RD9 Solutions, a start-up created by two UCT engineering graduates, Tyrone van Balla and Ridhaa Benefeld. The business aims to tackle societal problems using technology in creative ways.
"Currently we're focusing on the education sector, looking at how we can use technology to introduce kids to programming and electronics from an early age, while at the same time making learning more fun, engaging and stimulating," explained Benefeld.
The robotic platform walks learners, anywhere between grades 8 and 11, through the major tasks and processes required to build a robot. Learners are introduced to key electronics and programming concepts before applying these new skills to building and programming MiiA.
"MiiA's goal is really to lay the foundation for the careers of future scientists and engineers. We want to make students excited about technology and the ways in which they can use it," said Van Balla.
"We want students to realise that they can do all these amazing things they hear about. We want to empower the masses to be able to employ technology innovatively and creatively to solve not only their own, but the world's problems as well."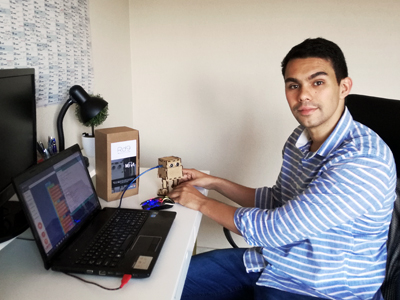 DIY robot
"Being engineers, designing and building robots seemed like a fun way to spend our free time," said Benefeld. But their hobby soon developed into a plausible business idea and the pair considered selling their inventions as toys.
They quickly learned that the market was saturated with robotic toys. What was lacking, however, was a product that taught people how to build their own robot.
"We then realised that we could use the robots as a platform to teach individuals about programming, technology, and robotics," Benefeld continued.
The pair began developing a course for teaching these concepts to learners, while they built MiiA. Their "gamified" platform makes use of game elements and principles of video game design.
"Our goal is now to create a suitable platform for teaching these concepts that is engaging, accessible and that promotes self-learning and encourages learners no matter the pace at which they learn."
Making robotics accessible
MiiA has continued to evolve over the past year. "Part of our core mission at RD9 is to make robotics accessible to the masses. This is particularly challenging in the African market and one of our driving factors was making MiiA as cost-effective as possible," explained Van Balla.
The team followed an iterative design process. After building a minimum viable product, they tested MiiA with students, teachers and parents, before redesigning based on the feedback.
"When it came to building robots and writing software, we were confident in what we were doing," Van Balla said.
But the real challenges weren't presented through the technical aspects of the project.
"The education and actual business aspects are where we spent a lot of time learning, failing and refining. We've since divvied up the tasks of RD9 into technical and business processes among ourselves in order for us to continue growing on both fronts."
Somewhere between all of this, the pair work full-time as engineers while pursuing their master's degrees: Benefeld in information technology (in big data) and Van Balla in electrical and electronics engineering.
No longer 'nice-to-have'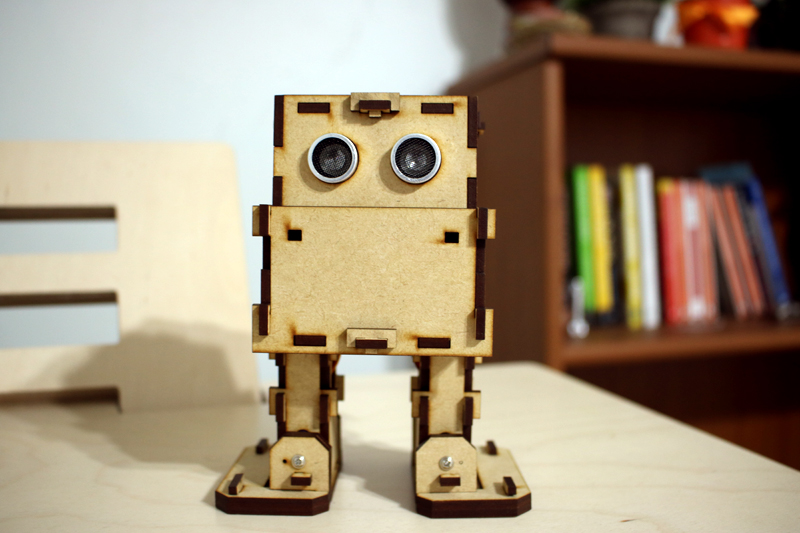 "The world as we know it is changing. Mathematics and sciences are no longer nice-to-have subjects for anyone who wants to get ahead. At the same time, programming is becoming more and more relevant in many career fields today," asserted Benefeld.
"Learning programming also teaches valuable problem-solving skills and the ability to think critically," added Van Balla. It gives learners an opportunity to absorb concepts, and apply them to new and unique problems.
"To us, as schoolgoers, MiiA would have represented the possibilities of future careers in science and engineering," he said. It would also have provided an opportunity to learn about programming and robotics before they reached university.
"Even if we had not chosen the careers we have, MiiA would have taught us skills applicable to the world today. Programming is useful in many areas, not just robotics, and electronics can be found in most of the devices we use today," he continued.
"Understanding, even just a little, how these devices function can change public perception of technology and its usefulness. We'd [have been] given the opportunity to hone our critical thinking skills and explore a bit of creativity.
"Above all, it would also have shown us how many of the concepts we get taught in other school subjects can be realised practically."
Making MiiA
MiiA's structure is designed as a 3D puzzle. Building the body introduces students to the mechanical aspects of robotics.
"We then have a curriculum that introduces students to electronics and programming. The electronics content walks them through all the components that make up MiiA, explaining how they work and getting them to think about how these components together enable a robot to function," said Benefeld.
Rather than teaching a particular programming language, the learning platform uses a drag-and-drop system that outlines the constructs (such as loops, variables and conditionals) that underpin programming.
After MiiA is built, students are able to program MiiA to walk, dance and even play soccer. This can be done through a computer or smartphone.
Getting into the curriculum
RD9 Solutions plans to roll out their robotics course as an extracurricular activity at South African high schools. After further refinement and demonstration, they plan to have their content tested as an in-curriculum course.
"Achieving this is no small feat, and we've had initial discussions with members from the Department of Basic Education and the Department of Science and Technology with regards to which boxes we'd need to tick in order to make this a reality."
They plan to expand their range of robots to cater for learners at different stages of their school careers.
They are also planning to develop their self-learning platform and are exploring the possibility of using data analysis to get to grips with how learners learn.
"Such information, in our trials, has proven invaluable, and on a potentially larger scale, the information gained from this data can change what education looks like for years to come."
---
This work is licensed under a Creative Commons Attribution-NoDerivatives 4.0 International License.
Please view the republishing articles page for more information.
---