Three Minute Thesis (3MT®) is a research communication competition developed by the University of Queensland, Australia, in which PhD students have three minutes to present the essence of their thesis and its significance.
Aimed at senior PhD students (typically in their final year), 3MT challenges students to consolidate their ideas and research discoveries so that they can be presented concisely to a non-specialist audience.
On Thursday, 28 September, UCT's 3MT competition showcased 14 entries from across all faculties. Run as a joint initiative between the various postgrad student councils and the Postgraduate Studies office, it was the second time that the competition has been held on campus.
The prize winners: Science/Engineering/Health Sciences/Technology
Anri Human from the Division of Physiotherapy in the School of Health and Rehabilitation Sciences won the Science/Engineering/Health Sciences/Technology category for her presentation, titled "To train or not to train – that is the question!"
The research: For children with severe neuromuscular disease, taking a deep breath is a challenge due to the progressive weakness of their breathing muscles. Training the breathing muscles in order to improve, maintain or slow the decline of breathing capacity remains controversial. A series of studies were conducted to determine the clinical utility of implementing a breathing muscle training programme.
The runner-up in this category was Nick Woudberg from the Department of Medicine for his presentation, titled "HDL cholesterol: The good, the bad and the dysfunctional".
The research: The main biological purpose of high-density lipoproteins (HDL), better known as our "good cholesterol", is to curtail the negative influences of low-density lipoproteins (LDL), our "bad cholesterol". HDL performs a number of functions which can reduce our risk of heart disease. While it's easy to think that more is better, in the world of HDL it is a matter of quality over quantity. To demonstrate this, the research focused on African populations with varying risks of heart disease.
The prize winners: Humanities/Social Sciences/Law/Commerce
Ruth Lekakeny from the Centre for Law and Society won the Humanities/Social Sciences/Law/Commerce category for her presentation, titled "'One-stop-centres' and state responsibility in addressing sexual violence: A comparative study of integration approaches in Kenya and South Africa".
The research: Inter-sectoral collaboration that integrates health, legal and psychosocial services in support of rape victims is critical to the pursuit of justice. Globally, different integration approaches have been used with the 'one-stop-centre' approach, and have been consistently acknowledged as a best practice. This qualitative evaluation seeks to understand how integration approaches in Kenya and South Africa, comparatively, are working to fulfil state obligations to prevent and effectively respond to sexual violence against women in human rights law.
Imuentinyan Aivinhenyo from the Department of Civil Engineering was the runner-up in this category for his presentation, titled "Measuring public transport accessibility to jobs and social services in Cape Town: Impact of transport affordability". (Although he is an engineer, the judges deemed his PhD work to be a multidisciplinary study with a social sciences focus.)
The research: Past planning systems in South African cities like Cape Town have created a spatial dislocation between residents and opportunities – the implication is that the poor travel further to work and bear higher costs of transportation. The objective of this research is to quantify, visualise and evaluate the level of job accessibility provided by the available public transportation system of Cape Town and to demonstrate how income level and transport cost can impact accessibility.
People's choice
The people's choice award, an audience vote for the single most meritorious presentation, was awarded to Sherlyn Gabriel from the Department of Mechanical Engineering for her presentation on "The effect of blast loading on composites which contain sustainable materials".
The research: Advancements in composites have made it possible to cater for different applications while remaining environmentally conscious, yet little is known about the explosive loading of these materials. The focus of this research project is to understand how different materials, particularly those that are plant-based, respond to uniform blast loading. This could lead to further development of products that are able to protect both infrastructure and people.
The two winners, Human and Lekakeny, will be sponsored by the Postgraduate Studies office to represent UCT in the national finals at the University of the Free State.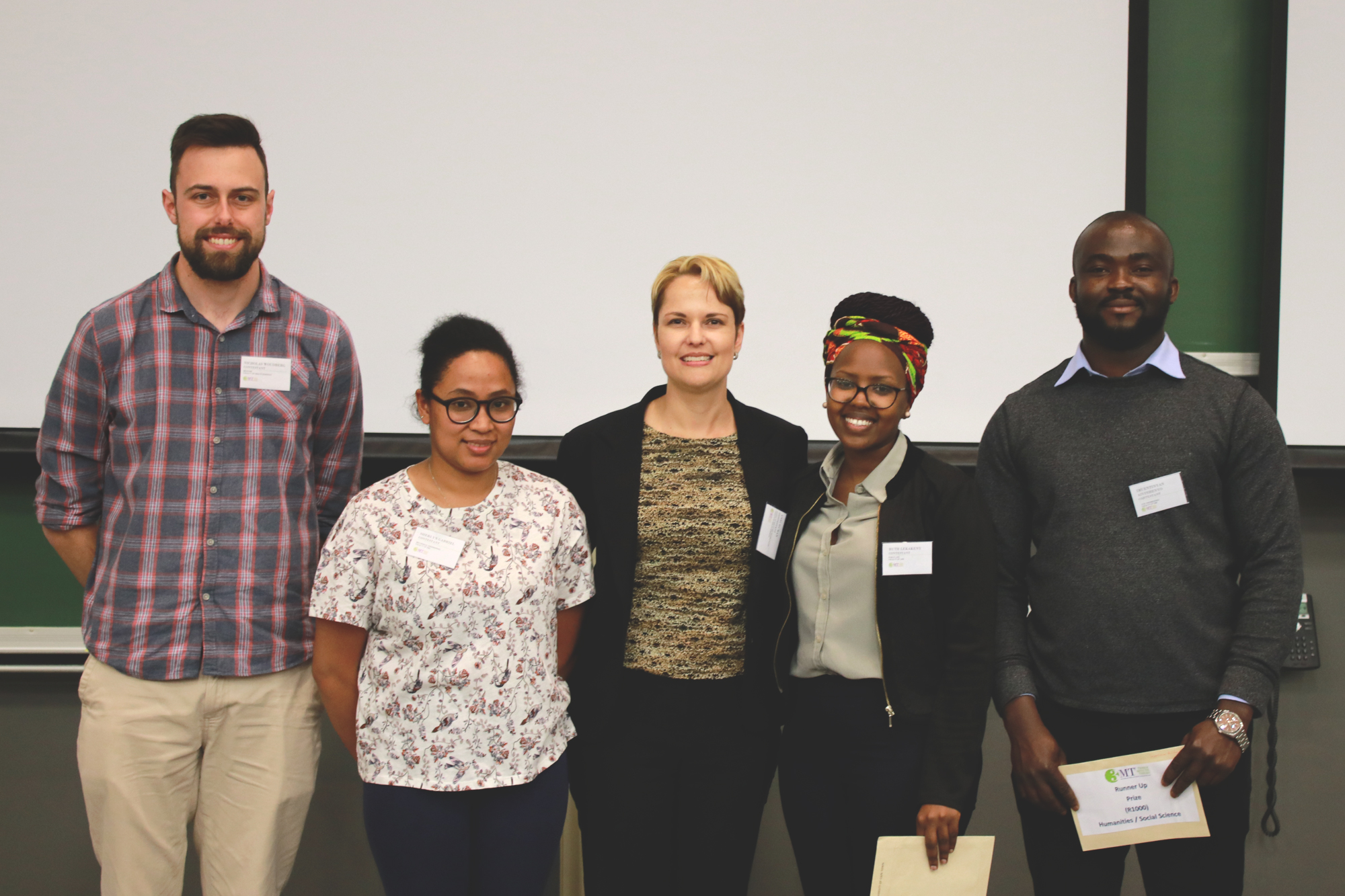 ---
This work is licensed under a Creative Commons Attribution-NoDerivatives 4.0 International License.
Please view the republishing articles page for more information.
---