Nineteen PhD researchers stood up in front of an audience and panel of judges on Wednesday to condense years of research, culminating in a roughly 80,000 word thesis, into a three-minute oral presentation. They were competitors in UCT's first
Three Minute Thesis
(3MT®) competition.
A winner and runners-up in two categories – Science & Engineering and Social Sciences & Humanities – were announced after a riveting two hours of presentations. But, say the contestants, the event offers so much more than just a prize.
3MT® was born at the University of Queensland in Australia in 2008, to encourage PhD students to develop and hone their research communication skills. The competition has been adopted in 52 countries outside Australia.
Participants agree that the biggest challenge the competition poses is the three minute time limit.
"This was an extraordinary experience," says Deirdre Rule (Social Development) runner-up in the Social Sciences & Humanities category. "I'm used to talking in jargon but this three-minute event forces you to tell an ordinary person what you're doing. It was a very good exercise and it was exciting!"
"You have to find a way to explain your research in intelligent layperson terms," says Jessica Dawson (Biological Sciences). "You need to get to the end point succinctly".
"The whole concept of telling one's research story in three minutes is an incredibly useful exercise in honing down your work into a 'take-home' message'," says Professor Peter Meissner, director of Postgraduate Studies.
"I love these opportunities where you get to see the cutting-edge research being done at UCT," says winner of the social sciences & humanities category, Andrew Verrijdt (Psychology).
There was consensus among the contestants that they had learnt a lot from participating in this event.
"It makes you look at your project in a different way. It helps to fire you up again and you remember why you started it," says contestant Bronwyn White (Chemical Engineering).
Because all researchers from all disciplines are welcome, 3MT® breaks down the academic silos and allows PhD researchers from different fields to engage with one another about their research. This gives PhD researchers across the different faculties the opportunity to engage with their peers and hear about their research.
"It is interesting to see what other PhDs are doing. Some of them are tackling subjects that I've never heard of," says Hilary Chisepo (Electrical Engineering).
"Scientists tend to huddle in their own research communities and never tell other people what they're doing. 3MT highlights the importance and impact of communication," says the winner of the science category, Kerryn Warren (Archaeology).
​​​​Meissner says there is no doubt in his mind that the launch event at UCT achieved its objectives. "I would hope that this competition format grows from strength to strength. Apart from being such a useful learning experience, it's also a very useful forum to showcase PhD research at UCT."
The UCT winners will proceed to the national 3MT® competition hosted at the University of the Free State on 24 March 2017.
Click here to download the 3MT programme to read about each contestant's PhD project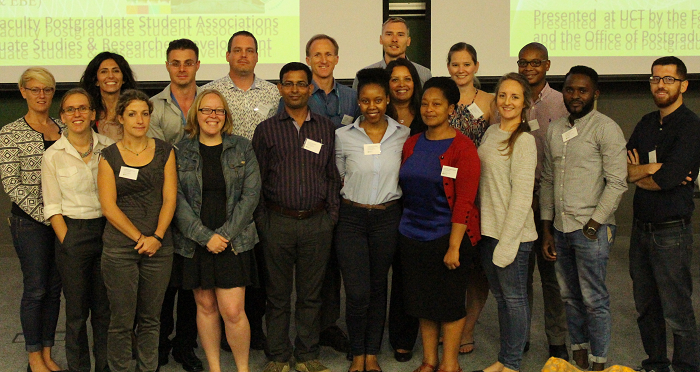 Photos by Jess Oosthuizen.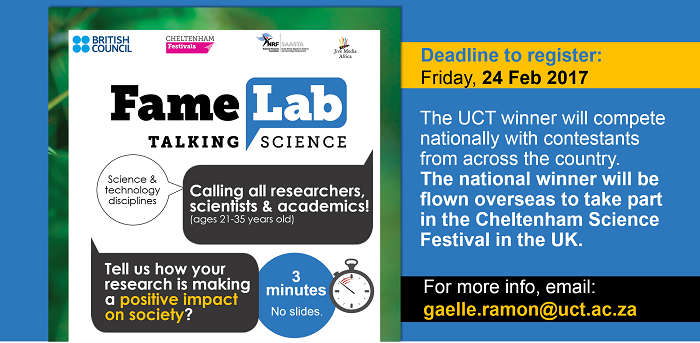 ---
This work is licensed under a Creative Commons Attribution-NoDerivatives 4.0 International License.
Please view the republishing articles page for more information.
---