Justice, commemoration and memorialisation are powerful issues in post-conflict societies. At UCT, the Rhodes Must Fall and Fees Must Fall campaigns have brought these sharply to the fore. Can South Africa learn from the examples of post-World War II Germany and Poland? Associate Professor Adam Mendelsohn, Dr Helen Scanlon and Alecia Ndlovu took a group of UCT student leaders to the continent to find out.
The 10-day, fully sponsored tour attracted wide interest. Twenty "very impressive" candidates were chosen from among 123 applicants – a tough ask, says Mendelsohn, who is director of the Kaplan Centre for Jewish Studies and Research and teaches in the Department of Historical Studies. Speaking after the tour, he is struck by the calibre of these leaders: "thoughtful, sensitive, humanists".
The guided tour, organised in collaboration with the Johannesburg Holocaust and Genocide Centre, was based on a similar trip initiated by Jonathan Jansen for the University of the Free State's Students' Representative Council, the aim being to get student leaders to think comparatively and creatively about memory.
Though the centres of focus were Berlin, Nuremberg, Warsaw and Kraków, all linked to WWII Nazi atrocities against Jews, the visit wasn't intended to focus on the history of the Holocaust, says Mendelsohn.
Rather, it was an opportunity to see how these two societies have struggled, and continue to struggle, with the past. It was also about difficult conversations.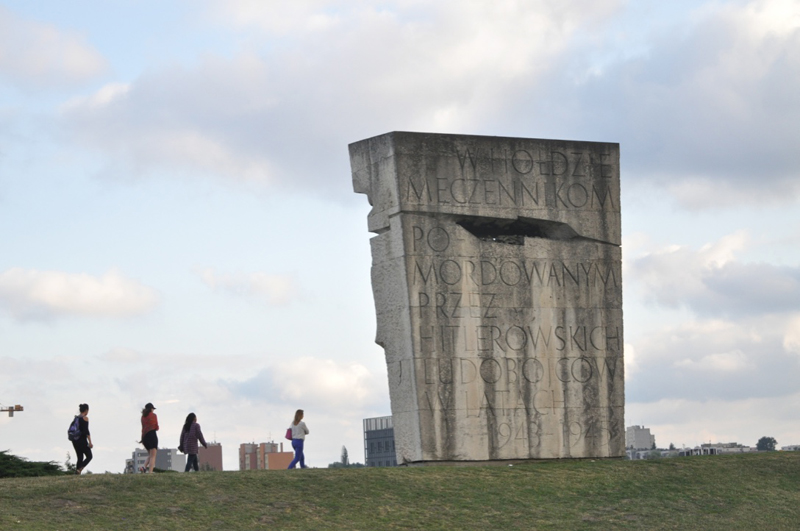 Difficult places to visit
"These are complicated and difficult places to visit," says Mendelsohn.
In their meetings with Germans and Poles who are involved in curating the past at various museums and memorials, Mendelsohn was struck by "their patience and willingness to engage with students asking difficult questions− and their willingness to hear people out in a culture of patience and good faith".
Berlin encompassed not just the legacies of Nazism but communism too, which is reflected at the Berlin Hohenschönhausen Memorial, the notorious Stasi (secret police) prison.
In Nuremberg were reminders of the Nuremberg Trials of 1945–6, and the still-intact, massive parade grounds and stadiums where Nazism was fanned. Today, much of Nuremberg has been rebuilt and draws over 400 000 visitors annually. This also raises interesting questions about the commodification of the past, says Mendelsohn.
In Kraków, Oskar Schindler's Enamel Factory, where the former German industrialist and member of the Nazi party is credited with having saved the lives of 1 200 Jews, is a major tourist draw, as is nearby Auschwitz. The latter had more than two million visitors in 2016.
Cities like Nuremberg raised uncomfortable questions about how these places reimagine themselves and how they deal with memorialising the past without hiding what is painful.
The UCT Student Leadership Tour 2017 to sites in Germany and Poland examined how these societies are dealing with issues of justice, reconciliation and memorialisation after World War II.
Long silences
But more than the memories, there are also long silences in these histories that echo our own in South Africa, says Mendelsohn. Though the examples are very different, there are parallel flashpoints in South Africa's history.
"It's a useful case study about how to think about South Africa," he says. "The nature of societal trauma is different, but South Africa has also had to rebuild itself. Germany has done so in a very sophisticated way. In Poland, with its current right-wing government, some issues remain politically 'live'. For example, the Polish government has begun to police the language used to describe the Holocaust, making discussion of Polish collaboration very difficult."
The complex histories of remembering (and failing to remember) in Germany and Poland elicited much on-the-bus discussion and debate among the students who themselves represented very different viewpoints.
Inevitably there were comparisons with South Africa's painful past under colonialism and decades of apartheid. And Germany's contributions to colonialism in Africa did not go unnoticed in the students' conversations, and in the pointed questions asked of the historians and curators they met, particularly the atrocities committed against the Nama and Herero in Namibia.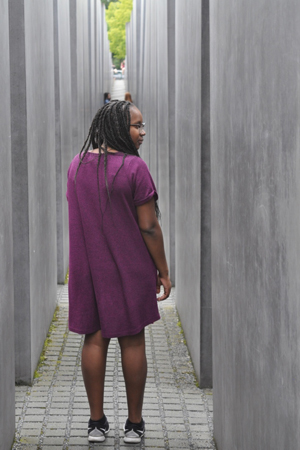 Collective memory
There was much to ponder for the student leaders.
"Having been in the UCT student leadership and activist space over the last few years, [I see that] issues of memorialisation and history − particularly the collective trauma aspect − are huge challenges for the institution and the country," says Rorisang Moseli, a final-year student in politics, philosophy and economics.
"How we deal with colonial and apartheid memory at UCT will certainly have an impact on how the country begins to unravel some of the things the transition negotiations held onto. That is the role of the university and it's great to be part of that process ...
"I wanted to see how Germany and Poland were grappling with such a complex and deeply traumatic history, how it spilled over into the present and how people relate to those spaces and institutions and begin some kind of comparative approach between that case and our local context.
"It's a very powerful thing, collective memory; an agreed upon set of facts. South Africa does not have that. That is our biggest challenge: the failure to consolidate a cohesive narrative of the past. The result is the constant battle in trying to redress the past because we understand and relate to it so differently. From my experience, this is not necessarily the case in Germany."
Moseli adds that there is an urgent need to develop consensus on particular historical facts and to have that narrative penetrate different levels of South African society.
"Until then, we will never get to the real task of actual systematic, measurable change."
A constitutional response
PhD candidate in public law Chanda Chungu says the tour provided a valuable lens on human rights and constitutionalism, his areas of specialisation. Chungu began by looking at the provisions of the Basic Law of Germany (the German Constitution).
"Based on its past, Germany has made human rights and dignity core elements of their constitution, similar to South Africa. I was interested to read a few German judgments that have applied the constitution. For me a strong constitution has the potential to help rebuild a country and the German courts have been active in playing their part. This helps my understanding of the role our courts and other institutions can play in rebuilding South Africa."
But honesty is essential to dealing with the past, he says.
"Whereas people recognise the injustices of the past, many are not fully honest about them and this can act as a limitation..."
"Whereas people recognise the injustices of the past, many are not fully honest about them and this can limit us moving to where we need to be. In Germany, I saw how people were fully honest and cognisant of the atrocities, and how certain people benefited from the oppression of others and how that still reflects in German society today.
"I learnt that unity in vision is an important step in ensuring we reach the values we set out to. Lastly, there is a need for constant communication and discussion of these issues. It's important to document them and important to constantly think of ways to ensure the future does not hold a repeat of the events that divided us before."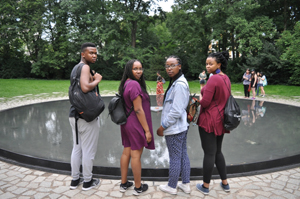 Ongoing conversation
Fifth-year MBChB student Amy Booth was curious to see how Europe's lessons could be applied to correct apartheid injustices. Poverty and inequality, particularly, impact on health services. But she was also struck by how long the process of rebuilding took Germany and Poland.
"The role of the medical profession in the Holocaust was also quite shocking; when we enter medicine, we take an oath to do no harm, quite the contrary to what was done in Germany. This also draws attention to medical ethics issues that took place in South Africa, Steve Biko being one example and Wouter Basson another."
Ongoing conversation is essential to reconciliation, she says.
"We should never stop talking about the past. There is often a reflex to want to bury the past under the pretence of moving forward, but one cannot move forward without discussing the past. People do not want to be silenced – talking out is a very cathartic part of the healing process."
Another lesson was the memorialisation and protection of sites that had meaning for people.
"One of the difficulties is deciding how these sites should be memorialised; sites that represent some people's proud past may be a symbol of oppression for others. Discussions on these issues need to happen – the Rhodes statue is an example of how this is happening in South Africa.
"Overall, healing takes time, but it needs to be an active process between all members of society."
---
This work is licensed under a Creative Commons Attribution-NoDerivatives 4.0 International License.
Please view the republishing articles page for more information.
---