A specialist in modern Jewish history, Adam Mendelsohn is chief historian and co-curator of the New-York Historical Society Museum & Library's "ground-breaking" exhibition, The First Jewish Americans: Freedom and Culture in the New World.
The exhibition, which runs until 26 February 2017, chronicles the earliest settlement of Jews in the New World − the Americas and the Caribbean – beginning in the 17th century.
Fleeing ancestral lands in Europe, Jews established thriving communities in New York, Philadelphia, Charleston, Newport and, even earlier, on Caribbean islands and in South America.
Following their arrival in New Amsterdam (now New York) in 1654, these Jewish colonials were shaped by the new civil and political liberties they found and, embracing their new freedoms, came to make an indelible mark on the country.
The early Jewish settlers got off to a rocky start, however. New Netherlands governor Peter Stuyvesant wanted to expel the first arrivals, a group of 23 Jewish refugees from Catholic, Portuguese-ruled Brazil, but the Dutch West India Company reluctantly overruled Stuyvesant and the fledgling port city became a haven. Other persecuted minority groups followed suit.
The exhibition's focus is on the reciprocal impact of Jews – conspicuous religious outsiders in a predominantly Protestant society – on notions of religious and personal freedom in America, and of America and its freedoms on Jews. Jews and Judaism adapted in a variety of ways to a liberal host society that offered them a variety of unfamiliar freedoms.
Mendelsohn, who is director of UCT's Kaplan Centre for Jewish Studies and Research, has enjoyed close ties with the US for many years, both personally and as an academic. He has a PhD from Brandeis University in Massachusetts, and taught for several years in Charleston, South Carolina.
'Exceedingly rare' items
On exhibit in New York currently are 170 items that reflect the shifting nature of Jewish experience over time, from the date of their arrival and through the bloodiest chapters of US history: the American Revolution and Civil War.
"Most [of the items on display] are exceedingly rare artefacts or artworks, some of which come from the New-York Historical Society's own collection but also from all over the world," he said.
Included are portraits, paintings, maps, documents and ritual objects such as Bibles, prayer books, a Torah scroll partially burned by Royalist soldiers during the Revolutionary War, and silver rimonim – the belled ornaments for a Torah scroll. Among the exhibits are rare manuscripts: some of the first novels, poems, plays and scientific texts, many of a secular nature, written by Jewish immigrants.
The latter, says Mendelsohn, illustrate how 18th- and 19th-century Jewish artists, writers, activists and others adopted American ideals, but also reflect their struggle to remain distinct amid the birth of a new "Jewish American tradition".
Much of the material is on loan from the Princeton University Jewish American Collection, a gift from alumnus Leonard Milberg, as well as from Milberg's extensive private collection.
Other items chronicle the vagaries of early Jewish settlements in the New World: there's an edict expelling Jews from France's American colonies, a rabbinical edict certifying as kosher food shipped to Barbados, and an 18th-century service for biblically mandated circumcision of slaves – as well as a list of circumcisers in Curacao and Suriname in South America.
Long reach of persecution
But perhaps one of the most poignant stories of the exhibition is told in three tiny publications – a memoir, a list of religious principles and a prayer book – written by a Jew called Luis de Carvajal in colonial Mexico in 1595. Expelled from Spain and Portugal, he was one of the first Jewish settlers in South America. But the Inquisition followed them to these predominantly Catholic countries, along with its sinister reach of torture and execution.
De Carvajal was a "crypto-Jew", a converso forced to adopt Catholicism, but he continued to practise Jewish rituals in secret, documenting his private thoughts in his personal spiritual memoir.
The memoir, which is "no bigger than a child's hand", is a threadbare 180-page book, written in microscopic print, "a spiritual testament of this man writing secretly, cut off from all contact with Jews and Jewish life", says Mendelsohn.
But De Carvajal was found out and he and his entire family were convicted of heresy and burnt at the stake.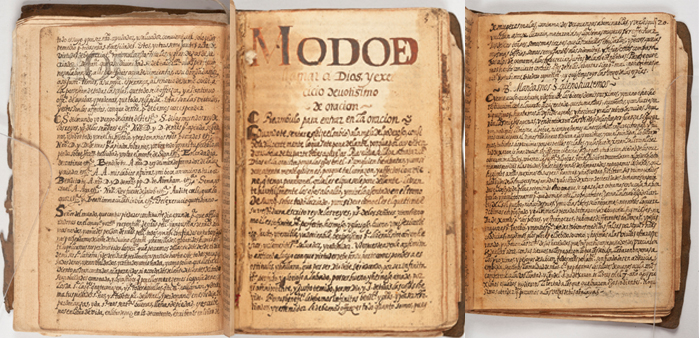 Examples of "crypto-Jew" and converso Luis de Carvajal's secret writings. Expelled from Catholic Spain and Portugal, De Carvajal was one of the first Jewish settlers in South America. But he fell victim to the Inquisition, his writings about his Jewish faith giving him away.
The documents survived as part of the Inquisition's record of evidence and ended up in Mexico's archive. But they disappeared in 1932, thought to have been taken by a visiting US academic, though some believe an archivist may have been responsible as the items survived together. Mysteriously, they resurfaced at an auction late last year and were recognised "as being suspicious".
"So the FBI and the American government got involved and the person who recognised what these documents were was a Judaica collector I'd worked with," said Mendelsohn. After an agreement was struck, the Mexican government agreed that the trio of documents could be displayed at the exhibition.
They will be 'repatriated' to Mexico after the exhibition.
Jews experimenting with liberalism
Despite the very many pressures on their identity, these early Jewish Americans became inextricably bound up in America's unfolding history.
The exhibition clearly shows how Jews were, "experimenting for the first time with what it means to live freely in a liberal society", adds Mendelsohn. These political and individual freedoms were cemented following the Revolution (1765 to 1783), which led to the founding of the United States of America. Later, the American Civil War (1861 to 1865) reinforced the ideas of emancipation and equality for all.
"The Revolution gave Jews equality, which was unimaginable for them as a minority at that time," said Mendelsohn. "Almost nowhere else was there anything like this: full civic equality and a state that now saw you as an individual and no longer as a member of a 'lesser group' of some kind.
"This was a game changer for Jews. But on the other hand, it was very challenging and destabilising. If you think how identity operates, it is often easier to maintain identity when there's persecution involved and you're an outsider facing restrictions. But now with full equality came a significant challenge: why should you maintain a particular identity when you could adopt another? After the Revolution there was no longer a separation of church and state; no longer state sponsorship of churches or synagogues and membership of any religious community became voluntary.
"'Voluntarism' meant that Jews were free to do as they pleased: to affiliate or disaffiliate at whim. But in offering individuals this freedom to choose, it created a crisis for the collective. Now if you wanted to keep members of the community affiliated you had to persuade them to affiliate; and that led to an extraordinary cultural renaissance [among early American Jews]: plays, books, poems, new prayer books.
He continues: "These new prayer books, plays and poems were an effort to make Judaism and Jewish life that much more attractive for Jews. This great age of experimentation happened in America first because nowhere else was personal freedom, and particularly religious freedom, available to individuals to this extent."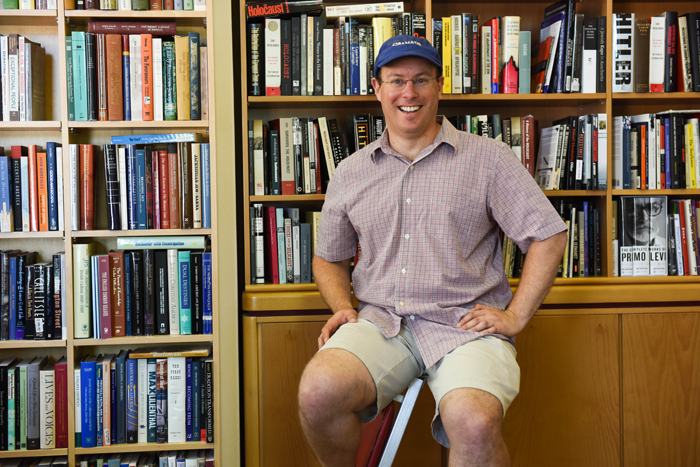 Assoc Prof Adam Mendelsohn, thinking cap on and among his books. Photo Michael Hammond.
These early settlers made significant contributions to 19th-century science and culture in America.
"It's an interesting spin on the colonial experience because here a colony became a haven for a persecuted minority. They didn't stand out in colonial society; they had commercial skills and came to be seen as beneficial."
Looking back at this history adds interesting nuance to thinking about what a colonial society is, says Mendelsohn.
"In terms of this exhibition, we're not romanticising the colonial world, either for the broader population or for Jews. But it does gives a sense of these early colonies being very dynamic places."
Minorities in a Trump era
New-York Historical Society president Louise Mirrer alluded to this theme in her introduction to the exhibition: "the story of the New World Jews has resonance for immigrants, refugees and religious minorities today."
With the world grappling with the ramifications of the refugee crisis in Europe, the unknown consequences of Brexit, and a new era in the US presidency, Mendelsohn agrees. The morning after Trump's election found him in a reflective mood.
"I was up all night following the terrible election," he apologises. (Ironically, one of the exhibitions running concurrently at the museum is about elections in the US in the 1960s.)
It's uncertain what Trump's election might mean for minority groups in the US – and elsewhere, even in South Africa. In thinking about safeguarding minority groups, Mendelsohn points to the importance of documents such as the US Bill of Rights and South Africa's Constitution.
"I've been doing a lot of writing and thinking about the experience of minorities in a post-revolutionary society. The parallels between South Africa and America after the Revolution are so strong, particularly 22 years after our democracy …
"It's a testament to how revolutions upend so many things. They do not end quickly and easily. They introduce all sorts of principles that are disruptive and that upend hierarchies. They not only invigorate and give licence to those who live through the revolution, but also those who grow up after the revolution.
"This exhibition demonstrates this as well. Much like South Africa, revolutions take decades to play out, and do so in unpredictable ways."
Story Helen Swingler.
---
This work is licensed under a Creative Commons Attribution-NoDerivatives 4.0 International License.
Please view the republishing articles page for more information.
---