Sustainability is key to the survival of the mining sector worldwide. But is green mining a pipe dream, or can the industry shift into a transformed and more sustainable paradigm? These questions absorbed participants during a recent one-day interactive workshop at UCT, an event hosted by the UCT and AngloGold Ashanti partnership and coordinated by UCT's Minerals to Metals Initiative with Mineral Law in Africa.
Spearheaded by a UCT–AngloGold Ashanti partnership team comprising Professor Dee Bradshaw, adjunct professors Brian Chicksen and Caroline Digby, Professor Hanri Mostert, Herman Meyer and Associate Professor Jennifer Broadhurst, this event brought together leaders and experts from industry, business, government, civil society and academia. Included in the programme was mining artist Jeannette Unite, who collects waste and minerals from smelters, slime ponds, mine dumps and heritage sites to make her own paint and pastels.
The day was an opportunity for postgraduate students and young career researchers from the Minerals to Metals Initiative and Mineral Law in Africa to introduce their own innovative research, what Executive Director of Research Dr Marilet Sienaert described as "disruptive ways of thinking".
"This [workshop] creates a hub of activity for postgraduates, our thought leaders of the future," she said.
New frontiers
The various sessions and breakaways examined key sustainability issues: economic diversification of mining land and infrastructure; integrated water and waste management for mining operations; resilience of local communities; green finance and innovation as a driver of change; ethical leadership in mining; post-mining transformation; and putting into operation the United Nations Sustainable Development Goals.
Beyond the traditional approach of presentations and panel discussions, all participants were deeply engaged in round-table strategic conversations on each of the issues, using new thinking to address current and long-standing problems.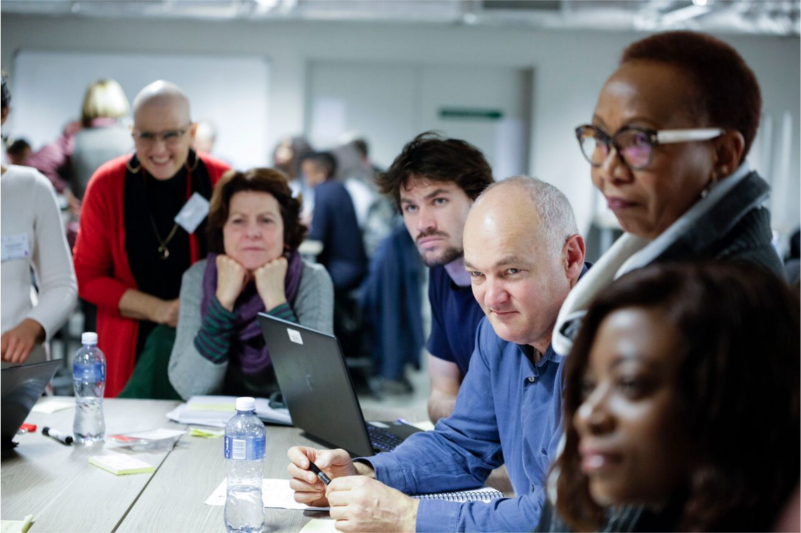 It was a welcome opportunity to explore new frontiers, said Sipho Pityana in his podcast introduction. Pityana, the chair of AngloGold Ashanti and chair of the UCT Council, said the sector had to find practical ways to embed sustainability into the design and running of mining operations, moving away from the notion of sustainability as a "soft metric".
The problems in the industry have left a negative legacy, and collaborative dysfunction had catapulted the industry into a perilous state.
"By its very nature mining is an invasive activity; it disturbs the land and uses scarce resources like water and power … It depletes a finite resource and in myriad ways it disrupts established local communities."
He added, "The world's mining sector has not always discharged its enormous responsibility to governance and communities with requisite care and diligence."
"The world's mining sector has not always discharged its enormous responsibility to governance and communities with requisite care and diligence."
Host governments have also misspent, mismanaged or misdirected the large proceeds for the "development of the national patrimony".
"Not enough from the tax take from mining is spent on communities that feel its impact most. In many cases, labour leaders and unions have allowed unrealistic expectations to take root and, more often than not, investors have been swept up into the hysteria of commodity cycles, urging management teams to zig when common sense says they should zag."
Beware men in hard hats
When under pressure, the sector had slipped back into familiar, tried and tested ways of doing business. With mining projects being stalled, mothballed or simply abandoned, the industry was unable to fully contribute to the valuable role of nation building.
Pityana recounted the example of a promising new gold discovery with "amazing geology" in Argentina. Situated in a poor part of the country with high unemployment and few opportunities, the mine was halted by local communities wary of pollution, inflation and broken promises.
"The rallying cry of the NGO coalition was: 'Beware of the men in hard hats promising salvation.' It worked because there was ample evidence to support the claim that mining brings hardship, not redemption."
The project remained stalled and was likely never to be developed, Pityana added.
"There are dozens of examples the world over."
He said it was critical to demythologise the concept of green mining, "to take it out of the realm of glossy pictures in annual reports and into practical, workable reality that benefits all stakeholders, starting with local communities that have so much to gain from an improved long-term approach to mining – all the way through to the pensions funds that provide capital to earn a return for their members.
"Only by making the long-term welfare of communities and the environment the foundation of an operating strategy and a core part of our operational DNA, will we build in the true resilience and long-term risk mitigation that we so desperately need. We need to have an open and honest discussion of the risks and trade-offs we make, with all stakeholders."
He called on participants at the workshop to reflect on what an inclusive, transformed vision might look like.
Terra incognita
But the way forward remains terra incognita.
Courageously, Professor Dee Bradshaw shared a personal story of unknown territory. Bradshaw holds the South African Research Chair in Mineral Beneficiation and is director of the university's Minerals to Metals unit in the Department of Chemical Engineering. Her mission is to "add value from minerals resources by developing the technical levers that incorporate sustainability principles to the provision of minerals and metals to a sustainable planet".
A sudden diagnosis of breast cancer had resulted in some "drastic recalibration" in her life, precipitating a potential change of direction and time to take stock.
It had triggered a journey into the unknown, said Bradshaw.
"It was no longer business as usual. Immediately I went into the system you go through: surgery, chemo and the radiation treatment to look forward to. And then I realised that I was on this journey.
"So, it's been a time of recalibration and reflection … I feel a bit like I've been refined, distilled; like we see in the mining industry. It's not pleasant and not easy to make sense of. I was introduced to the concept of 'liminal space' – that uncomfortable, disconcerting space between the past and the future. It's a transformational space that is uncomfortable and confronting."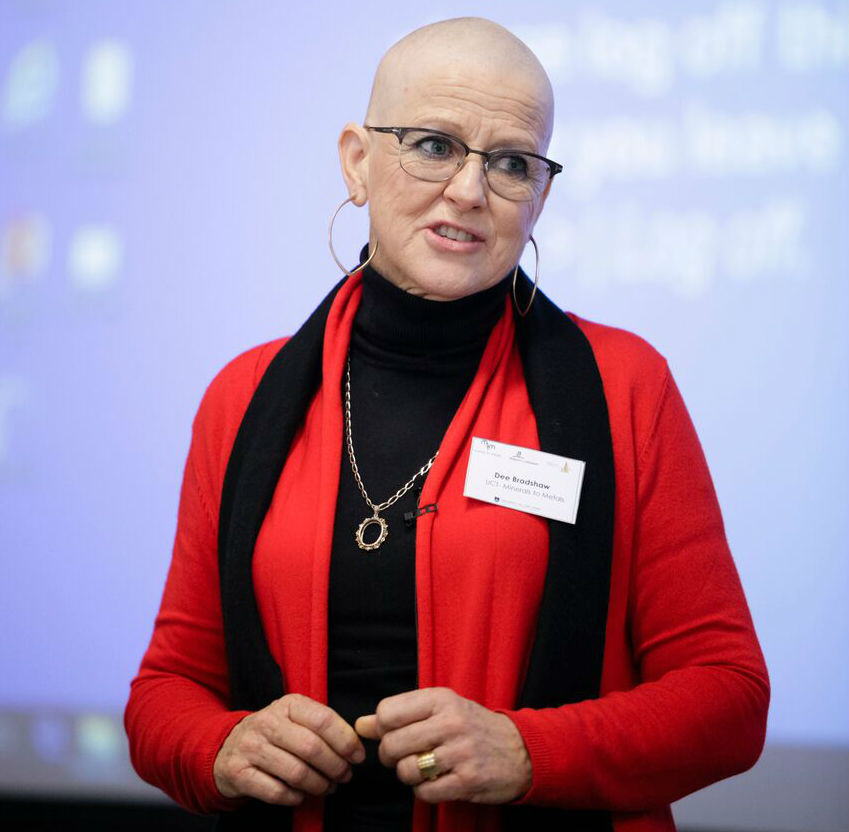 "You try to run back to what was safe. You grab on to what you can for normality again. But the real challenge is to try and stay in that space for the real transformation to happen … you can't rush the transformation process. So, it's given me a great deal of comfort to just wait in that space and see what comes, believing it to be of greater value than what was left behind."
Mining is in that same space, she added.
"Business as usual is no longer an option for many reasons. There's no future that we know. It's uncertain and unpredictable. We need courage to go on it. The challenges, as we heard from Sipho, are different to what they've ever been."
Events such as the workshop provided a neutral platform for open and two-way dialogue with cross-sectoral engagement on the key challenges and opportunities for the mining sector.
Such engagement was key to creating the partnerships that will shift the sector into a more sustainable paradigm, said Bradshaw. The Minerals to Metals Initiative, together with Mineral Law in Africa and other research groupings at UCT, were committed to supporting the transformation of the industry through facilitation, as well as to developing research and building human capacity.
---
This work is licensed under a Creative Commons Attribution-NoDerivatives 4.0 International License.
Please view the republishing articles page for more information.
---