A tiny 5.5 km stretch of coastline along Miller's Point in False Bay is yielding a rich trove of previously undescribed shrimp species, one of which (Heteromysis octopodis) enjoys a unique coexistence with an octopus (Octopus vulgaris) − the first known symbiotic relationship between a shrimp and a cephalopod.
But there's more: a second shrimp species (Heteromysis cancelli) was accidentally discovered living with a rare hermit crab, at the back of its shell, while a third new species (Heteromysis fosteri) was found inside empty urchin and gastropod shells.


Octopus garden
The three new findings represent the combined work of a veteran marine biologist and a freediving wildlife documentary film-maker. His rare footage, which helped find the tiny shrimps, has found its way into the new BBCBlue Planet series.
The three new shrimp species are also the subject of a new paper in ZooKeys, published in July and co-authored by long-time collaborators Emeritus Professor Charles Griffiths of UCT's Marine Research Institute and shrimp expert Professor Karl Wittmann of the University of Vienna.
The three new species, mostly bright red to orange in colour with series of either spots or stripes, belong to the genus Heteromysis and differ from previously known species by colour pattern, eye shape and the patterns of spines on their legs and tails.
Griffiths says that it's unusual to find three new species of the same genus at the same site. Even more unusual is that two of the three new species were discovered by a Miller's Point local, underwater photographer and film-maker Craig Foster, after whom one of the species, Heteromysis fosteri, has been named.
"You look at a hermit crab living in a shell and you don't imagine other animals living inside with them – yet they allow that."
Ongoing taxonomical surveys of the Cape Peninsula's waters have yielded a number of recent new shrimp discoveries. In 2014 Wittmann and Griffiths described Mysidopsis zsilaveczi, the stargazer shrimp that was also discovered in the same False Bay 'hotspot' by another local diver, Guido Zsilavecz. Yet other discoveries are still being prepared for publication.
Citizen scientists
It's telling that three of the four discoveries have involved citizen scientists.
The symbiotic associations between these shrimps and other marine animals are intriguing marine biologists.
Foster puts it neatly: "You look at a hermit crab living in a shell and you don't imagine other animals living inside with them – yet they allow that."
Foster and Griffiths first began exploring intertidal rock pools together several years ago – Griffiths to collect specimens and Foster to observe and learn from a "master marine tracker", the elder of marine science whom he describes as a "gracious and patient" teacher.
Griffiths has described over 100 new species and, as co-author of the seminal Two Oceans: A Guide to the Marine Life of Southern Africa, he has established important relationships with citizen scientists and naturalists like Foster.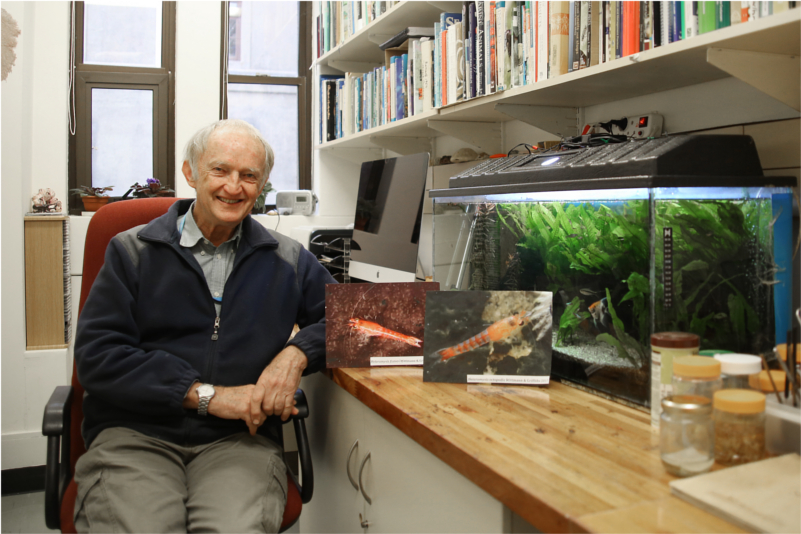 Foster has worked with many top scientists in different fields in over 30 years of film-making. His job as a wildlife film-maker and advocate for the oceans hinges on his ability to communicate science in "pictures and stories".
"But I wasn't able to speak that science language very well and Charles kindly offered to let me join him and Jannes [Landschoff, Griffiths' PhD student]."
Landschoff is a hermit crab specialist and discovered the third shrimp species inside the hermit crab shell.
On many low tides for the past three years, Foster has gone tracking with the two marine biologists, studying the rich intertidal marine life of the region. With Griffiths' accumulation of knowledge and big-picture thinking, this was immersion of a different kind.
Tracking an octopus
But Foster has also been able to add his own, unique contributions to the scientific endeavour.
He has spent every day of the past six years freediving in the sea below his home. This immersion created a "deep relationship" with the animals in the local marine ecosystem, allowing him to track, observe and learn from them. Having spent years with the master trackers of the desert, the Kalahari San, he'd been well prepared.
"There's no one closer to nature," says Foster.
He had spent a lot of time in nature, but it was while he was living and hunting with the San that he realised his access to the ecosystem, to the biology, was actually quite stunted in comparison to theirs.
"They track with sound, so they can find animals kilometres away. Because their hearing is phenomenal and they speak the languages of animals, birds and insects, I felt I was in a silent world and they were in a world of gigantic symphony."
The San also taught him that there are no shortcuts to deep connection. It took three years to develop Foster's underwater tracking system.
"In the first two years I found almost nothing. So, it's slowly, slowly and then it's noticing little signs and little tracks. Sometimes you watch incredible behaviour, but you don't know it's amazing because you don't know what it is! And then the different things start to speak to you. That happened with the octopus."
It was during a dive some time ago that he met the "incredible octopus". He tracked her every day, helped by an ability to hold his breath for long periods, free from the encumbrances of neoprene and aqualung.
First, he had to win her trust. False Bay is a predator-dense environment – catsharks, seals, otters and bigger sharks, like the spotted gully shark, are all partial to octopus. It took six months for her to learn that he was no threat.
Then Foster could follow her closely, observing her behaviour and her world.
"She took me on hunting expeditions."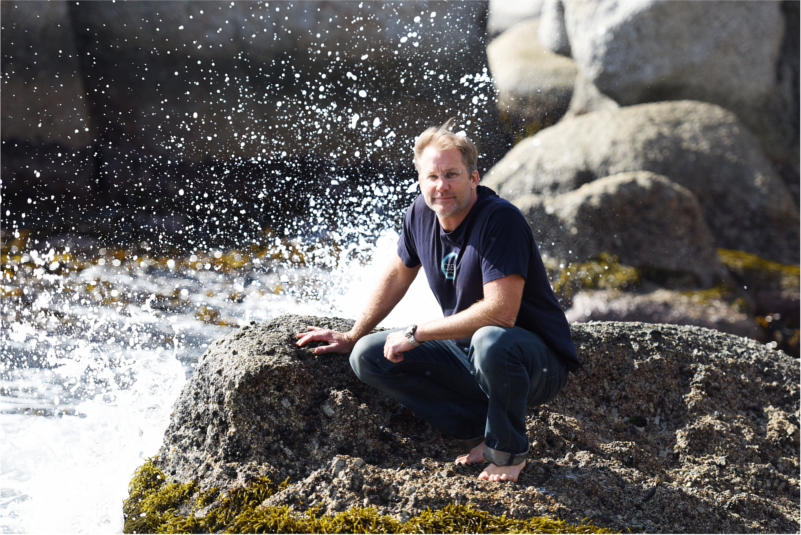 From the octopus (Foster named her Super Star) he learnt how to move so that he did not give off pressure waves.
Eventually she allowed him in to the front part of her den, her safe place, where he placed a camera.
"Normally in an octopus den, they'd just take it and pull it over. But she didn't."
Rare footage shows her commitment to rigorous housekeeping, as she used her siphon to jettison sand and debris that the tide had washed into her den.
"We had the Blue Planet [crew] come over and film her; one of the main sequences for their kelp forest film is on Super Star. We spent months filming her for that sequence."
Den of shrimps
One thing he did notice in her den were the schools of tiny shrimps living with her. As an observer in a subterranean world, Foster says he doesn't always know what is unusual behaviour and what isn't. As he filmed the shrimps, he didn't know that they were new to science, nor did he know that the commensal relationship they enjoyed with the octopus was unusual.
When Griffiths, who had already discovered new shrimps at this site, heard about this observation, he asked Foster to collect a sample from the octopus den.
Mutuality is good for scientific discovery.
By bringing specimens to Griffiths and describing what he's observed and recorded, Foster feels he is giving something back and documenting the unique biodiversity of the region.
Every tiny creature is significant, especially in the face of the sixth mass species extinction, says Foster.
"There's the significance of how it all fits together: the shrimps living with the octopus in its den, the shrimps cohabiting with hermit crabs …"
As for having a shrimp named after him, somehow it cements a relationship, he says.
"It's an amazing feeling to have that name connection … It's quite beautiful, and powerful. You do have an extra bond with that animal."
Griffiths and Foster have also worked together on other discoveries. Without taxonomical experts like Griffiths and younger scientists like Landschoff, many of these marine discoveries would never be added to the scientific record.
Foster rues the decline of mentorship by elders in science and society, and the break in our knowledge of the natural world. He's part of a not-for-profit organisation called Sea-Change, which has a mandate to conserve the oceans and human origin heritage.
"Understanding goes back to that mentor, to that elder, and the knock-on effect is phenomenal," he says. "We have lost our deep connection with the wild. And it's a massive trauma to the human psyche; our way of dealing with the world is a symptom of that. The way forward is to re-establish bonds with the tiniest of creatures, like shrimps, and not just the charismatic whales.
"Elders are critical to this communication."
---
This work is licensed under a Creative Commons Attribution-NoDerivatives 4.0 International License.
Please view the republishing articles page for more information.
---