Social activist Abdurrazak 'Zackie' Achmat was awarded an honorary doctorate at the first of three mid-year graduation ceremonies at UCT this morning. Almost 800 students will be capped today. Among them are 100 PhDs who include Mr South Africa, Habib Noorbhai. His PhD is in sports science.
This is Achmat's second honorary degree from UCT. He received an honorary master's degree (MSocSci) in 2002 and is the only person to have been awarded two honorary degrees from the university.
Achmat, who is renowned for his work with the Treatment Action Campaign (TAC), his advocacy for LGBT rights and now for Reclaim the City, was recognised for his fight against oppression and injustice in South Africa.
He took his place on the platform to a standing ovation at the ceremony for health sciences, law and humanities graduands. After the citation delivered by orator Professor Joan Hambidge, Achmat said, "This is a very difficult and deep honour. It's difficult because of the danger the country's going through and the divisions that have opened up in our society. It is important because of all those sitting on my right; they are comrades, they are friends, and they're family members who have been part of the struggle since the 1970s…"
But the thrust of Achmat's address was a current struggle: the decolonisation of the city and the decolonisation of property law. He cited examples of poor people who had been forcibly removed from Sea Point and Bromwell Street in Woodstock and relocated far from their places of work and facilities such as schools.
"[by forcibly removed] I mean the force of law…" Achmat added, noting Reclaim the City's case against Premier Helen Zille and individuals who had "captured the city's property department", frustrating efforts to provide inner city housing for working class and poor people.
Townships kill imagination
"We believe that our city belongs to everyone who lives in it and unless we gentrify it, unless we bring people into the suburbs, into the CBD, we will suffer not only the devastation of climate change and greater economic loss as the urban periphery moves further out, but what we will in fact suffer is resistance that will make Hout Bay… seem like a Sunday picnic."
He added, "It is our duty and our Constitutional Court has made it very clear that property in South Africa today is socially bound; that property is not only to maximise wealth but that property is engaged to ensure a life in dignity."
Achmat said he grew up in Salt River, an industrial working-class suburb.
"[But] I'd rather live on the streets as a sex worker than going to live in Mitchell's Plain because for me townships kill our imagination. They confine our children to a life of destitution with our clearest role models the best gangsters who are the smartest children in our schools…"
He referred to a 76-year-old grandmother who'd been evicted from Bromwell Street and relocated to Wolwerivier, 30 km outside the city, where there are no schools for her grandchildren.
"I ask you, is this justice? Is this post-apartheid? For us the urban land question is the most important one."
He continued: "I want to say to you today that unless we as black people, as white people, as African people, as coloured people, as Indian people, as working-class and middle-class people stand together, this city will burn."
Addressing the graduands directly, Achmat added, "You young people going out today, you are not the future… you are the present. You are today. Do not stand aside. We need you. But above all we need you to remove Jacob Zuma and the criminal gang that have taken over our state or our struggle against capitalism and socialism, our struggle against injustice, our struggle for land equity and against spatial violence will fail."
Special awards
Earlier in the ceremony UCT honoured Professor David Chidester (Religious Studies) and Associate Professor Francois du Toit (South African College of Music).
Chidester received UCT's Book Award, his second, for Empire of Religion: Imperialism and Comparative Religion, and Du Toit the Creative Works Award for Five Beethoven Concerti, performed with the Cape Town Philharmonic Orchestra.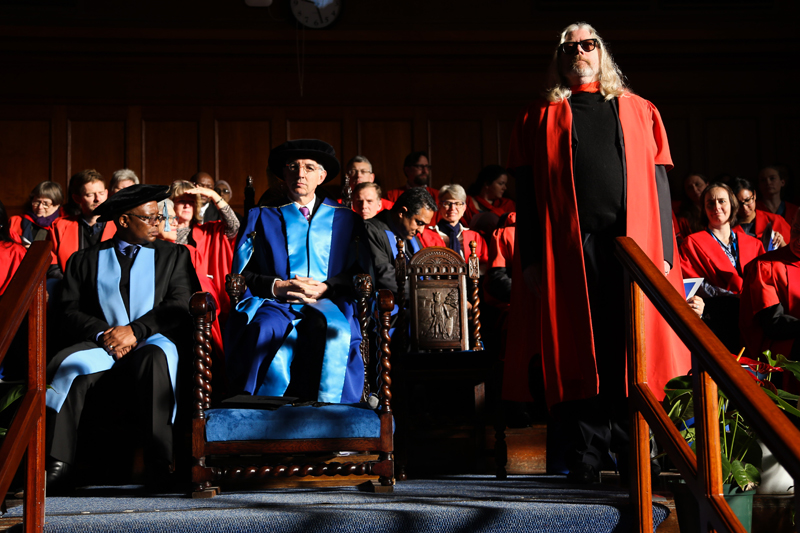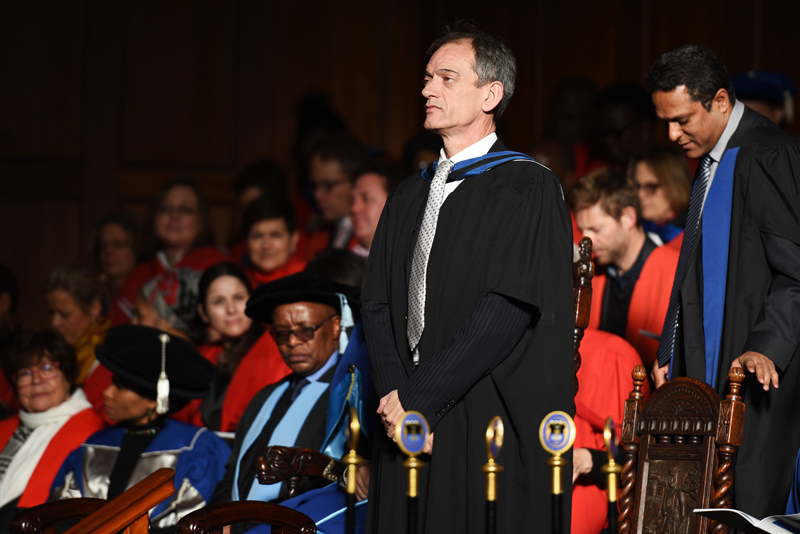 ---
This work is licensed under a Creative Commons Attribution-NoDerivatives 4.0 International License.
Please view the republishing articles page for more information.
---