This afternoon's graduation in Jameson Hall was a case of coming full circle for UCT alumnus Nomfundo Walaza. As a fresher in 1983 she was told "black students don't pass psychology in their first year at UCT".
The irony was not lost on the master's in clinical psychology graduate when, 33 years later, she played a vital role in mediating an agreement between the UCT executive team and protesting student groups; a vital intervention that saw final exams completed this year.
The lesson was simple, she told graduands, borrowing from the values that had shaped her own life, particularly the challenges she had faced at UCT: "You have to believe in yourself", despite race, gender, religion or sexual identity.
The graduands were qualifiers from the Faculties of Health Sciences, Science and Commerce in the last of two ceremonies. In this abbreviated graduation season, the focus has been on postgraduate qualifiers – 119 PhD and 451 master's candidates who were capped at two ceremonies in Jameson Hall. Undergraduate degrees will be awarded early next year.
Walaza added: "Learn from those who have traversed the path, especially when there is a real danger that the baby may be thrown out with the bathwater."
"Speak your truth; be bold and courageous; learn that with great privilege comes great responsibility… use your skills to help others and make a commitment to be a better citizen. Your success is bound up in the success of others."
Now the executive director at Peace Systems, a civil society organisation that supports the development of sustainable institutions and systems that manage conflict in Africa, Walaza is able to see similarities in her own experiences of more than three decades ago.
She has high praise for those who, despite the turbulence on campus, sought common ground, found their voices, asserted their identities, opened debates to help the institution reform its culture – and articulated their needs, creating the space for "sorely needed conversations".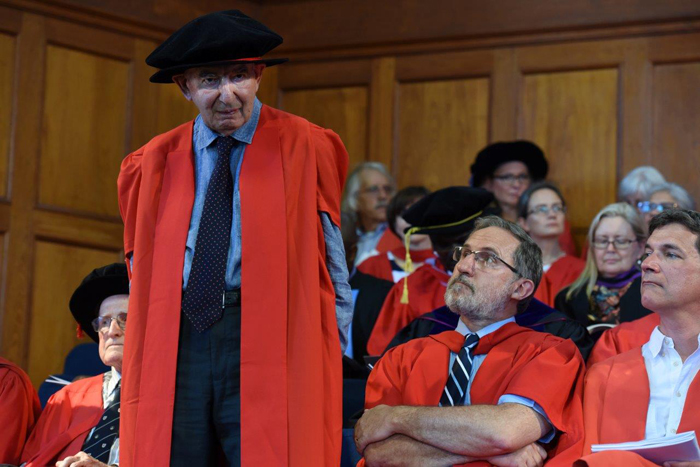 Emer Prof Peter Folb was awarded a Doctor of Science (honoris causa).
Honorary doctorate for Folb
Among other highlights of the afternoon was the award of a Doctor of Science (honoris causa) to Emeritus Professor Peter Folb. Academic and novelist Zoë Wicomb was awarded a Doctor of Literature (honoris causa) earlier in the day.
Folb established the discipline of clinical pharmacology in South Africa, and is recognised as a leading authority internationally on the scientific basis of drug development. He contributed materially to South Africa's international standing in drug regulation, an area in which he was a world leader.
In this respect, Folb served as Chair of the South African Medicines Control Council for 18 years, bringing it to a position where it was the World Health Organisation reference and training centre for drug regulation in the developing world.
His term ended when he took a principled stand against considerable political pressure and the South African Medicines Control Council blocked further human trials on Virodene, a controversial AIDS drug developed in South Africa, but rejected by the scientific community.
In addition, Folb led the investigation of the apartheid government's chemical and biological warfare programme for the South African Truth and Reconciliation Commission.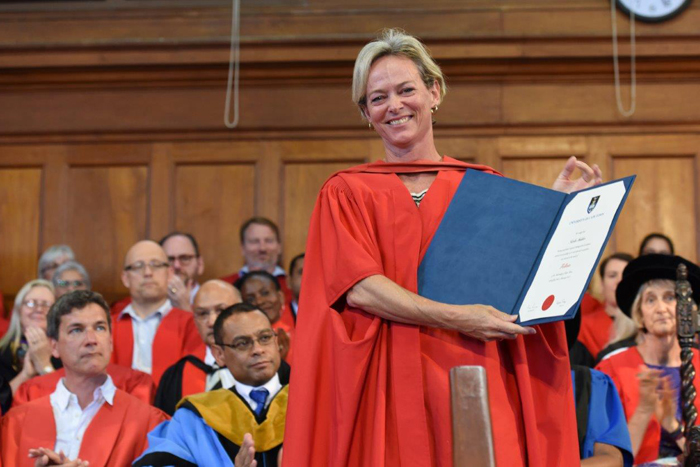 New UCT Fellow Prof Nicola Mulder, head of the Computational Biology Division in the Department of Integrative Biomedical Sciences.
New UCT Fellow
In addition, new UCT fellow Professor Nicola Mulder, head of the Computational Biology Division in the Department of Integrative Biomedical Sciences, was honoured at the ceremony. Mulder and Alphose Zingoni, Professor of Structural Engineering and Mechanics in the Department of Civil Engineering, are UCT's two new fellows for 2016. Zingoni was honoured at this morning's ceremony.
Story Helen Swingler. Photos Michael Hammond.
---
Watch the recorded ceremony:
See pictures from social media:
---
This work is licensed under a Creative Commons Attribution-NoDerivatives 4.0 International License.
Please view the republishing articles page for more information.
---