Sipho Pityana, UCT's Chair of Council, a respected businessman and convenor of the Save South Africa campaign, congratulated the graduands and welcomed them to the ranks of leadership. Addressing broad societal issues, including the transformation of universities, Pityana reminded them of their responsibility to build a new inclusive society, both in South Africa and the rest of the world.
The December graduation season, pared down to focus on postgraduate qualifiers after a disrupted academic year, will see 570 PhD and master's degrees awarded at two ceremonies today. Doctoral degrees will be awarded to 119 students and 451 students will receive master's degrees.
Candidates from the Faculties of Law, Humanities and Engineering & the Built Environment were capped at this morning's ceremony. This afternoon, qualifiers from the Faculties of Health Sciences, Science and Commerce will be capped.
Since undergraduate students opted to write all or some of their exams in January 2017, a larger graduation season will be held for these qualifiers next year. It was nonetheless a festive morning with master of ceremonies acting Deputy Vice-Chancellor Professor Anwar Mall welcoming the graduands and their families and supporters to Jameson Hall.
R150 million transformation boost
But it was the disrupted academic year and the debate on free higher education to which Pityana returned in his address. He encouraged stakeholders to seek solutions through "…robust, provocative and sometimes combative intellectual discourse in the search for answers to difficult questions".
"We must accept that UCT is no different from the society you are going out there to lead… Embrace that point and use your experience to make a difference…"
He said inequality was at the heart of tensions on the country's campuses and in society and this betrayed the vision of the new South Africa. The Freedom Charter had promised the doors of learning would be opened and yet research showed that half of university funding in South Africa supported the richest 10% of the population. He cautioned against a free education for all system that would perpetuate this inequity.
Pityana also praised UCT's proposed Institutional Reconciliation and Transformation Commission and Vice-Chancellor Dr Max Price's approach to keeping the door open to all seeking to engage and find lasting solutions to the fees and other transformation issues.
"The establishment of the IRTC is an important platform to assist in that regard and I would like to invite everyone to take an active part in these deliberations."
While he commended Price and his executive team for work done thus far to transform the university, including its spaces, curricula, symbols and institutional culture, he said that Council would hold the executive leadership accountable for "delivery on these transformation commitments".
But he also promised financial support.
"For though many of these commitments will be funded as part of our normal budget, we will commit at least R150 million over the next four years to support these programmes."
Concluding, Pityana urged graduands to make up for the leadership deficit in society where unbridled corruption "by the powerful in business and government" exacerbated inequities. These were widening, and the resultant backlash through protests by students and broader society mirrored this marginalisation.
"As you enter the realm of leadership in society, you do so at a time of great uncertainty, not only in South Africa but across the world… Honour and integrity come with leadership."
He said the country needed reasoned solutions to its problems, "of the kind based on the intellectual rigour you have gone through at this institution".
"Because in the same way UCT needs new thinking, new ideas, new intellectual vigour and a new, inclusive way of living and working, so does the world in which we exist. And that is one of the wishes today and why the world needs you."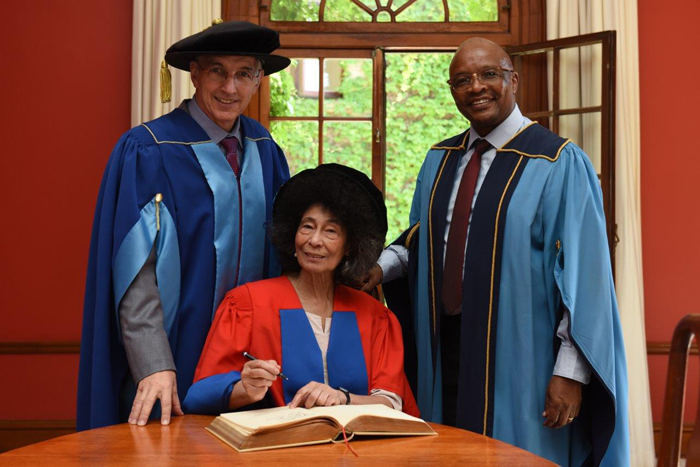 Academic and novelist Zoë Wicomb was awarded a Doctor of Literature, (honoris causa). Also in picture are Vice-Chancellor Dr Max Price (left) and Chair of Counci, Sipho Pityana.
Honorary doctorate for Wicomb
UCT also presented the first of two honorary doctorates at this morning's ceremony: a Doctor of Literature, (honoris causa) to academic and novelist Zoë Wicomb. (Emeritus Professor Peter Ian Folb will be awarded a Doctor of Science (honoris causa) at the second ceremony.) The orator was Professor Joan Hambidge of the School of Languages and Literature.
Wicomb is Emeritus Professor at the University of Strathclyde, where she was previously a professor of postcolonial literature and creative writing. The academic and novelist is also among the most significant and widely-read literary interpreters of South Africa.
There are over 100 critical studies that engage with each of her first two works, You Can't Get Lost in Cape Town and David's Story (a comparable scholarly impact to the work of Nobel Laureate Nadine Gordimer). JM Coetzee describes David's Story as "a tremendous achievement and a huge step in the remaking of the South Africa novel".
She was the 2015 Chair of Judges of the Caine Prize for African Fiction (the most prestigious and influential Africa-wide literary prize), and one of two South African writers who participated in the "Literatures of the South" programme launched in Buenos Aires in 2015.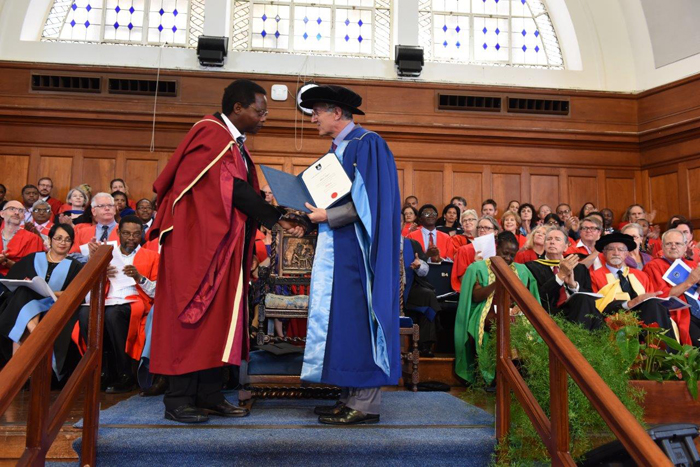 New UCT Fellow Alphose Zingoni, Professor of Structural Engineering and Mechanics in the Department of Civil Engineering, was honoured at this morning's ceremony. He is congratulated by Vice-Chancellor Dr Max Price.
New UCT Fellow
The ceremony was also an occasion to honour new UCT Fellow Alphose Zingoni, Professor of Structural Engineering and Mechanics in the Department of Civil Engineering. UCT fellowships recognise original, distinguished work.
Zingoni is one of two new UCT Fellows this year. He and Professor Nicola Mulder, head of the Computational Biology Division in the Department of Integrative Biomedical Sciences were formally inducted at a dinner on 7 December.
Story Helen Swingler. Photos Michael Hammond.
---
Watch the recorded ceremony:
See pictures from social media:
---
This work is licensed under a Creative Commons Attribution-NoDerivatives 4.0 International License.
Please view the republishing articles page for more information.
---