South Africa has a housing crisis, and informal settlements are a huge part of that crisis, explains Dr Warren Smit of the African Centre for Cities.
"South African cities are very inequitable and dysfunctional. So, generally, poorer people in South African cities are located in the most marginal areas, furthest away from social and economic opportunities."
They live in unacceptable conditions, with poor shelter and little access to services like water, electricity and sanitation. They are at risk of flooding, eviction and relocation.
South Africa's housing policy of 1994 did not address informal settlements directly. The focus was on moving people into new subsidised housing, which comes with its own ream of complexities, explains Smit.
While new housing projects are necessary, initiatives such as large scale RDP-type housing projects should not become our modus operandi. They are typically developed in increasingly remote areas and do not solve the spatial divides instilled by apartheid legislation.
Instead, new housing developments should be accompanied by the incremental upgrading of informal settlements and should feed into national programmes that address the inequity and inaccessibility of South African cities.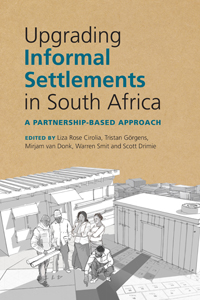 These ideas are presented in Upgrading Informal Settlements: A Partnership-based Approach, which Smit co-edited, co-conceptualised and contributed to together with his African Centre for Cities colleague, Liza Rose Cirolia, as well as Tristan Görgens, Mirjam van Donk and Scott Drimie from the Isandla institute.
Although there are many informal settlements close to areas with economic potential, some have been confined to more marginal areas where residents are less at risk of eviction and relocation.
"The danger is that if you focus in quite a reactive way on just upgrading informal settlements, you might be perpetuating some of the inequitable spatial patterns that are a legacy of our apartheid history," says Smit.
Consequently, the book examines the successes and difficulties of upgrading informal settlements within the broader push to transform urban spaces.
Emphasising partnerships
Smit spent 15 years on housing projects and urban development research in the NGO sector before moving to the African Centre for Cities in 2008 to work on applied research addressing the real concerns of the city of Cape Town.
Upgrading Informal Settlements grew out of the network of civil society that had been working on upgrading projects. It was written and edited by a wide range of practitioners and researchers from government, NGOs, the private sector and academia, and draws on key lessons from local and international case studies.
Editors and contributors went through multiple stages of collective brainstorming, writing workshops and feedback sessions.
"I think that was quite important for the process. A lot of our work is about the co-production of knowledge from different sectors coming together to try and share ideas across different disciplines and sectors to achieve a much more holistic understanding of what the issues are."
Problematising RDP
Households that are relocated to RDP-type housing are often severely dislocated, explains Smit, ending up without access to jobs, facilities and social networks.
"Once, we did a survey of people who had been relocated from Joe Slovo informal settlement in Langa to Delft South's temporary relocation area. Twenty percent of respondents lost jobs just because of the move," he said.
They were unable to commute to work at a reasonable cost or within a reasonable time frame.
Residents' medical information was not transferred to clinics in their area. When they required treatment, they had to travel a long way and at great cost.
Schooling was also a major problem. While the Department of Basic Education provided free bussing initially, this did not continue.
Drawing from practices elsewhere in the world, the book argues that it is better to keep people within existing social networks and with links to facilities and livelihood opportunities.
Learning how to upgrade informal settlements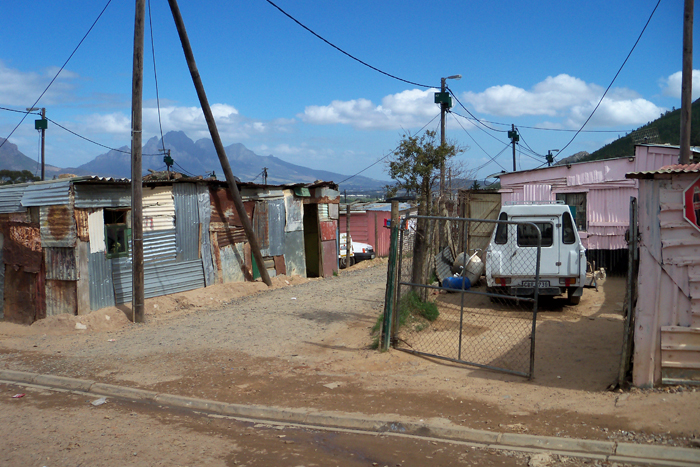 Langrug residents were involved in participatory re-blocking in order to make space for roads, drainage and basic services such as electricity.
The book delves into the successes of a number of upgrading projects in South Africa, including the upgrading of the Langrug informal settlement in Franschhoek.
"It showed some of the key hallmarks of a successful upgrading project," Smit said.
There was community buy-in, a partnership with the municipality and a participatory approach to development.
Approached as a long-term process, improvements were introduced incrementally. After participatory re-blocking, where households were shifted to make space for roads and services, basic infrastructure was installed.
A range of interventions ran simultaneously, addressing both social and economic issues. They managed to avoid relocating any Langrug households.
It is not always possible to avoid relocation, given the extreme density of most informal settlements. South Africa's funding model for housing generally doesn't allow for multi-storey, subsidised housing, Smit explains.
This is why the book recommends exploring higher density options for housing, such as multi-storey or row housing.
Density, Smit explains, is a vital part of building an equitable city.
The denser a city, the easier it is to support a functional public transport system. And the better the public transport system, the more accessible urban centres become for lower income earners.
The area of Cape Town is larger than that of London, even though it supports a population less than half its size.
Land ownership and eviction
Fear of eviction is a major concern for residents of informal settlements. But attaining secure tenure is difficult, given that many live on privately owned land.
"To make that jump from informal tenure to a very expensive and time consuming form of tenure like individual ownership often doesn't work, unless you ideally have some form of incremental tenure that can be upgraded," says Smit.
Residents who are less vulnerable to eviction are able to focus energy and resources on upgrading their homes.
But it is not enough to only upgrade existing settlements. Given the difficulties of upgrading projects, the authors outline tactics to pre-empt settlement and to establish the first stages of the upgrading project before homes are set up.
With basic services and infrastructure in place, settlements will be easier to upgrade in the long term.
Story Kate-Lyn Moore. Photos Dr Warren Smit.
---
This work is licensed under a Creative Commons Attribution-NoDerivatives 4.0 International License.
Please view the republishing articles page for more information.
---