Salwa Southgate of Trafalgar High School in old District Six knows there's little she can do to change her pupils' difficult circumstances. But changing their minds is another matter, says the winner of this year's Stella Clark Teacher's Award.
The late Stella Clark was a language development lecturer in the Academic Development Programme in the Centre for Higher Education Development (CHED). Her family established the award to honour her many years of serving educationally disadvantaged schools in the Western Cape and at UCT. Extra funding for the award comes from the HCI Foundation.
Now in its 11th year, the award acknowledges the unsung teaching heroes who inspire their learners to rise above their often poor circumstances.
Speaking at the event, which was hosted in the Hoerikwaggo Building on upper campus, Vice-Chancellor Dr Max Price said: "It's important to recognise teachers … to get students to think about the people they are indebted to for their achievements. It's also a way for UCT to connect with schools." He added: "The most profound connections happen through the teachers and principals."
As coincidence would have it, Clark was once a librarian at Trafalgar High School where Southgate teaches. It was the first school built in Cape Town for coloured and black pupils and it played a leading role in protests against apartheid policies.
Southgate, whose teaching career spans 31 years, is a history teacher and also deputy principal at the 104-year-old institution, whose list of alumni reads like a who's who and includes Cissy Gool, Dullah Omar, Richard Rive and Reggie September.
But after 1994, the school took a knock; many parents began sending their children to former Model C schools, says headmaster Nadeem Hendricks. Many of the pupils now come from the Cape Flats and run the gauntlet to get to school each day, some leaving home at 05:00. But when they get there, Hendricks is at the gate to greet them, and Southgate and others are there to welcome them inside.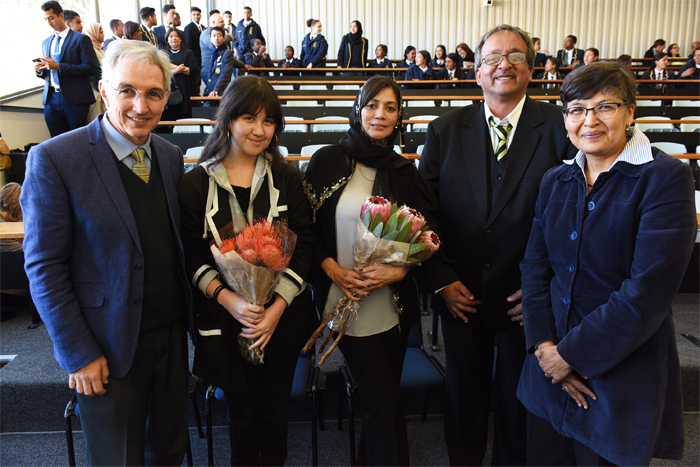 (From left) VC Dr Max Price, former Trafalgarian and student Lameez Fredericks, Trafalgar High School history teacher Salma Southgate, winner of the Stella Clark Teachers' Award, with headmaster Nadeem Hendricks and Assoc Prof Rochelle Kapp (School of Education).
Believe you can
Southgate taught Fredericks history in grades 11 and 12 and was one of those teachers who always went the extra mile. Room 9 at the school became the hot seat of encouragement and challenge. In that small space her pupils learnt of a much more exciting world waiting and heard that they didn't have to accept what life had dished up.
Southgate inspired her to achieve 94 percent for history in matric – this among the As and Bs of her classmates. It took a special effort and a special teacher to do that, Fredericks wrote in her nomination.
"Coming from a previously disadvantaged school like Trafalgar, it is easy to get sucked into the idea of never being good enough to succeed in life … Mrs Southgate is one of those extraordinary individuals that always strives to go above and beyond for her students. She doesn't just teach history; she gives life lessons and watches out for her students as if they were her own.
"She respects her students and motivates them and I believe it was because she constantly pushed us to get a tertiary education that made the majority, if not my entire matric class of 2015, apply for undergraduate studies here at the University of Cape Town."
Joking about Southgate's oft-repeated injunctions at school assemblies to work hard and believe in themselves, Fredericks said the message had soaked in.
"It's these kinds of words that a student, vulnerable to the toxic environment of mediocre work and nonchalant attitudes (that usually surround previously disadvantaged schools), needs to hear."
But her teacher's legacy went beyond growing the minds of her protégés: Southgate also embarked on a greening programme at the "grey school grounds" and began the So You Think You Can Read competition to get students reading more − and reading to their peers. And, to help troubled students on the brink of suspension or expulsion, she invited local role models to speak to them about living positively.
She pushed her charges to participate in extramural programmes such as the Students Health and Welfare Centres Organisation's Saturday School to increase their chances of success.
"It was this kind of motivation and shove … that made applying to the University of Cape Town seem reasonable. She helped students shed their inferiority complex and when I told her I would not make it into UCT, I remember her saying: 'Well, why can't you do it?' She told the class: 'If you want it bad enough, you fight for it. And if you really want it bad enough, you will get it.' "
Beyond the classroom
Southgate's efforts didn't stop at the classroom, said her former pupil.
"She drove us to Jimmy's Killer Prawns in Canal Walk and organised us holiday jobs there and throughout she kept talking about the wonders we'd learn at university … Because Mrs Southgate pushed and believed in us, she believed in me, I applied to UCT and got in despite my circumstances."
She continued: "They say, 'To teach is to touch a life forever' and I can't think of a better person who has touched my life than Mrs Southgate."
In her response to the award, Southgate paid tribute to her pupils and to those who'd made the acknowledgement possible, saying that for too long teaching had been regarded as a Cinderella profession.
"When they come into my class, I raise their expectations of themselves … There's lots of love in the classroom: they feel safe," said Southgate.
Clearly delighted to have received the award, she quipped: "I must check the surveillance cameras at school to check if I'm still walking [with my feet on the ground]. It's just wonderful."
---
This work is licensed under a Creative Commons Attribution-NoDerivatives 4.0 International License.
Please view the republishing articles page for more information.
---