When Dr Kevin Winter launched the Peninsula Paddle in 2010, a guided 'study' tour of the city's waterways from Muizenberg to Milnerton, water hyacinth made it almost impossible to traverse the Black River.
But now he and his student paddlers are able to navigate the river thanks to upgrades of the Athlone Wastewater Treatment Works. This has improved the quality of water being discharged into the river. The city's ongoing Kader Asmal Project has also played a big part, ensuring that solid waste filtering into the river is managed.
But the latest Peninsula Paddle shows that our waterways are ailing, says Winter.
Paddle power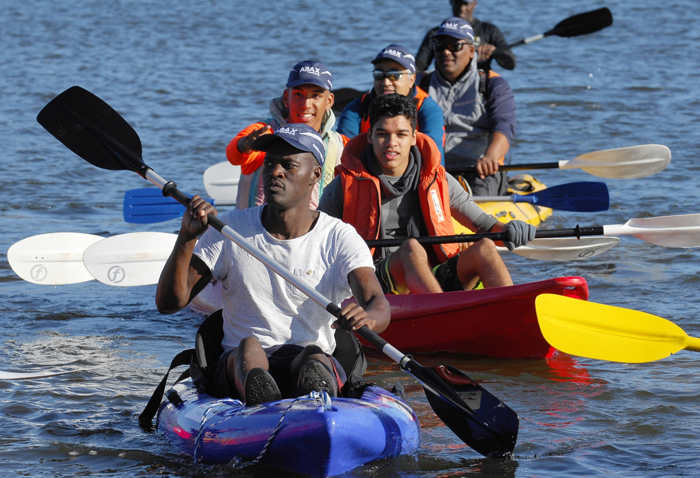 Students join the paddling at various stages along the 15 kilometres of waterways from Muizenberg to Milnerton. The journey raises critical issues about spatial divisions in housing, service disparities, density of living spaces, and the capacity of citizens to manage and maintain the environment, as is seen in the condition of the city's waterways.
Photo Gavin Lawson.
Environmental flotilla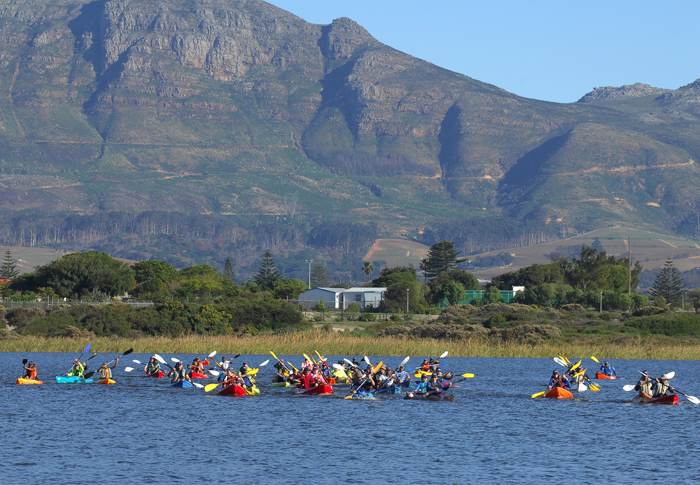 A flotilla of nearly 100 paddlers crosses Princess Vlei in morning sun. The vlei is the gateway to the wetland system that runs through Grassy Park, purifying the water before it gets to the sea. The annual Peninsula Paddle celebrates World Environment Day on 5 June.
Photo Gavin Lawson.
Rubbish, rubbish everywhere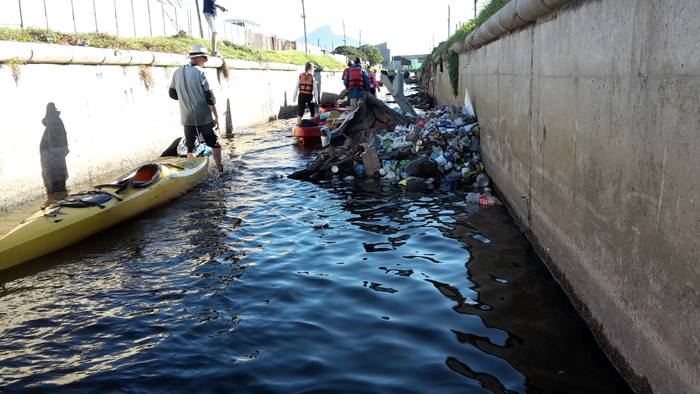 A mixed pile of rubbish in the Steenberg canal. The contrast between the well-managed Zandvlei Nature Reserve, teeming with wild life, and conditions along the adjoining Steenberg canal are mind-blowing, says Winter. There are no signs of freshwater crabs and other aquatic species, only loads of plastics, paper, bottles, nappies and even lounge chairs and couches, a piano keyboard and old computer parts. This was the worst stretch, reflecting poverty, unemployment and a dysfunctional service support system.
Photo Kevin Winter.
New landfills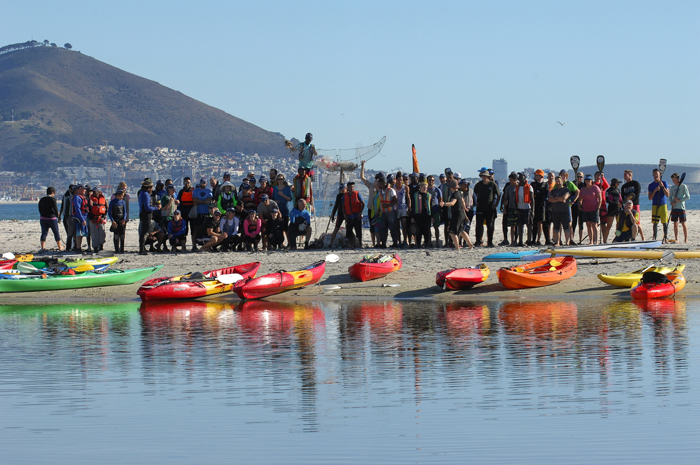 Paddlers gathered for the final leg of the journey up the Milnerton lagoon. Despite efforts to clear tons of discarded material from the Salt River each month, the Kader Asmal Project team is overwhelmed by the volume. The clean-up operation is unsustainable, says Winter.
"Piles of plastics at the mouth are a sign of collective public failure. The near shoreline and Table Bay are the new landfills. We were confronted by the sheer ugliness of parts of these waterways, disappointed by a system that is failing badly. The health of the city is seen in its waterways. It is not looking good."
Photo Gavin Lawson.
Curated Helen Swingler.
---
This work is licensed under a Creative Commons Attribution-NoDerivatives 4.0 International License.
Please view the republishing articles page for more information.
---