Winter weather couldn't dampen the cheer of nearly 4 000 graduates – and their friends, family and supporters – who gathered at UCT over the course of 13 ceremonies from 9 to 15 June 2016. Here are the mid-year graduation highlights in one place.
June 2016 graduates marked their crowning moment in signature style – with dancing, cheering, singing, praise and pride.
Moments of contemplation
Many speakers reflected on the 40th anniversary of the Soweto uprising on 16 June 1976 – and the task ahead for this generation.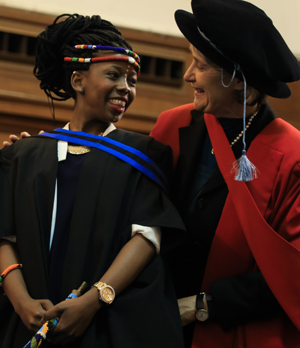 "Young people should never tolerate injustice. Why should they?"
Emeritus Deputy Chief Justice Dikgang Moseneke
"I hope you have learnt, not only about your discipline but about South Africa, society, the balance of forces and our own humanity."
Former Constitutional Court judge Zak Yacoob
"In truth, our universities have been sites of struggle for nigh on 60 years, since 1959 when the apartheid government segregated our universities."
Labour lawyer and anti-apartheid activist Charles Nupen
"I will be listening and watching to hear and see what you say and do, using your special skills and knowledge to try to address the problems we face in South Africa and the world."
UCT Council's deputy chair Debbie Budlender
"There is much we wish to change in our past, but the arrow of time moves in only one direction."
Emeritus Professor Francis Wilson
"The youth are the heartbeat and the pulse of the nation."
Advocate Norman Arendse
"Because I was prepared to die for the cause, I did not give up. To make the world see what apartheid was. How black people lived. I take my hat off to those photographers who died, who gave their lives for the cause."
Anti-apartheid photojournalist Peter Magubane

Peter Magubane's presentation slides
"Go out; make a difference in some way. Through your attitude and actions, you will be honouring the sacrifices made by hundreds of young people on June 16, 1976, 40 years ago, and in the struggles that followed up until today."
Vice-Chancellor Dr Max Price
Honours and other decorations
There is a documentary film about El Anatsui currently in production, and coming out in 2017.
Watch a video clip …
Three honorary degrees were awarded in June – to Dr Janette Deacon and emeritus professors Francis Wilson and El Anatsui.
Dr Litheko Modisane received the UCT Book Award for his work South Africa's Renegade Reels: The Making and Public Lives of Black-Centred Films.
Associate Professor Jay Pather – director of Qaphela Caesar – won the 2016 UCT Creative Works Award.
Over the course of five days, the university also gave out four Distinguished Teacher Awards to Dr Joanne Hardman, Associate Professor Jacqui Kew, Dr Azila Reisenberger and Dr Adam West.
The next generation
Watch this year's graduates reflect on their time at UCT, the valuable lessons they learnt, their favourite memories and what getting a UCT degree means to them.
Or read graduates' personal accounts of their journey to and through UCT – and the grit and gratitude that kept them going.
Want to know what happens after graduation? Keep up with graduates' life plans.
And if you want to, you can watch your ceremony on YouTube.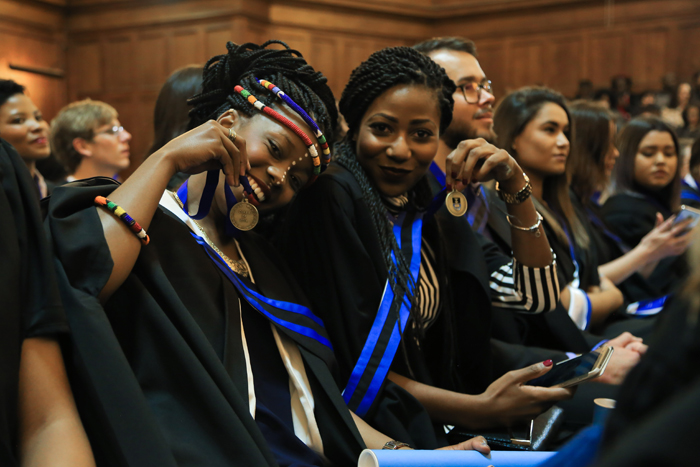 ---
This work is licensed under a Creative Commons Attribution-NoDerivatives 4.0 International License.
Please view the republishing articles page for more information.
---