Vice-chancellors and presidents spoke about the moral purpose of universities and the many pressures facing higher education during a wide-ranging discussion at the Sheldonian Theatre in Oxford. They emphasised the long-term benefits of universities, warned against political short-termism and referred to the effects of globalisation and social media during the frank and open debate.
Six vice-chancellors and presidents from Oxford, Beijing, Singapore, Canberra, Cape Town and Copenhagen addressed a 200-strong audience of alumni and staff from all of their universities. Held to mark the 10th anniversary of the International Alliance of Research Universities (IARU), the event on 24 April also witnessed the admission of the University of Cape Town to IARU – a distinguished group of 11 international research-intensive universities.
Professor Ngaire Woods, dean of the Blavatnik School of Government at the University of Oxford, moderated the discussion at the IARU Presidents' Panel. She began the debate by highlighting how universities are confronted by a "hostile environment" because of ongoing financial instability caused by the 2008 crash and the "febrile" climate of "populism" in many countries.
Heads of leading international universities share future challenges and opportunities
Professor Tan Chorh Chuan, president of the National University of Singapore, emphasised the need for universities to adapt, especially as it is difficult to predict what areas of study will be important in the future. He said: "We have to preserve a rich and diverse brains' trust. We need to remain fully engaged. We need to produce evidence. Universities must not be seen as self-serving." Professor Tan later spoke about the need to "zoom in and zoom out" to make connections between different areas of knowledge and to be able to foster the learning of new skills.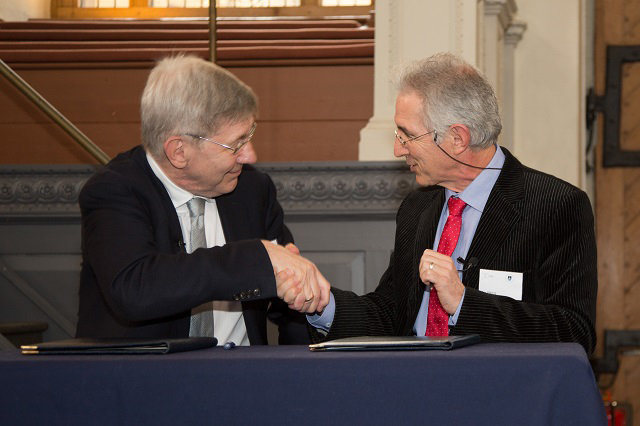 Professor Ralf Hemmingsen (IARU chairman and rector of the University of Copenhagen) and Dr Max Price (vice-chancellor of the University of Cape Town) shake hands after signing the IARU memorandum of understanding.
Such a wide perspective was also advocated by other leading academics on the panel. Professor Brian Schmidt, vice-chancellor of Australian National University, explained that universities add value by creating knowledge over many years, which leads to a long-term view. Professor Louise Richardson, vice-chancellor of the University of Oxford, agreed and urged "a robust defence" of the long-term value of universities. Professor Ralf Hemmingsen, rector of the University of Copenhagen, also supported the benefits of a broad education and warned against the tendency of politicians to focus on short-term goals. Professor Lin Jianhua, president of Peking University, mentioned the difficulties encountered by universities when facing multiple pressures, including from government, faculty and students.
Globalisation was another theme explored by the panellists. Dr Max Price, vice-chancellor of the University of Cape Town, described how globalisation is affecting higher education and called for less of a colonial, Eurocentric and Anglo-American model for universities. He said: "The challenge is to broaden and diversify our knowledge systems." Professor Hemmingsen echoed these sentiments by calling for less of an Anglo-Saxon approach. Professor Lin spoke of the need to understand China and the West, and for plans to include more regional studies at his university.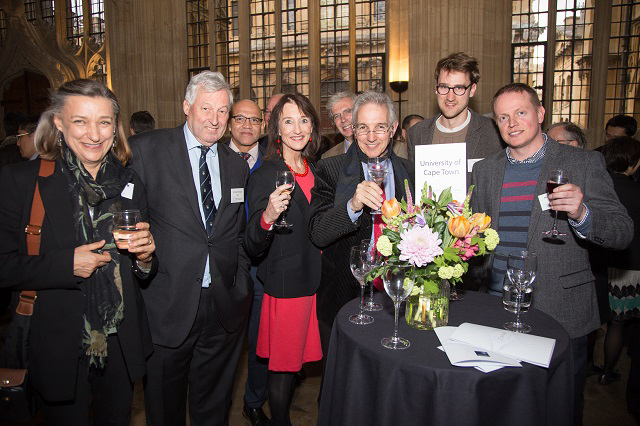 Dr Marilet Sienaert (executive director: Research, UCT), Dr Russell Ally (executive director: Development & Alumni Department, UCT) and Dr Max Price (vice-chancellor, UCT) meet UCT alumni at the reception that followed the IARU Presidents' Panel.
Extolling the advantages associated with international students, Professor Richardson described exponential increases in students studying abroad and said universities need to persuade governments about these benefits. As well as the international dimension, Professor Richardson also reiterated the role of universities at national and local level. She added: "We need to be cognisant of the local community and ensure that is a benefit to the local community."
The challenges of public debate in an era of instant communications were also raised. Dr Price added: "Social media has an enormously chilling effect. It produces a massive response that closes down debate." Professor Tan added: "We live in an extremely polarising environment. People tend to read what they believe in. Polarisation can be very damaging."
The audience asked questions about a range of ethical, moral and technological topics, including the recognition of donors and controversial historic figures, academic freedom and the future of teaching.
The complexity of divestment, as well as taking positions on social and global issues, was raised. Professor Schmidt said: "Universities do need to be consistent with their moral values." Dr Price agreed. He said: "In some ways universities have become the moral compass of society." There was less certainty regarding the impact of technology and Massive Open Online Courses (MOOCs) upon future teaching. Dr Price said the verdict is still out on MOOCs because of their high dropout rates. Professor Schmidt said that classes will change in the next ten years with more interactivity and online learning.
Professor Richardson emphasised the importance of academic freedom and hearing different views on campus as universities are the best places to counter objectionable speech.
A reception with the IARU Alumni followed the IARU Presidents' Panel.
---
This work is licensed under a Creative Commons Attribution-NoDerivatives 4.0 International License.
Please view the republishing articles page for more information.
---