UCT's International Academic Programmes Office opened its doors 20 years ago, just two years after the country's first democratic elections. It was the start of a renewed push across the university towards international partnerships and outreach into Africa and beyond.
In 1996 UCT's International Academic Programmes Office (IAPO) welcomed the first fellows under the Universities Science, Humanities, Law and Engineering Partnerships in Africa (USHEPIA). That graduate cohort now numbers 65 scientists and engineers, all of whom benefited from the academic expertise of eight leading universities on the African continent.
In 1998 IAPO launched its Semester Study Abroad programme with 152 students. This year IAPO will welcome over 1 000 students from almost 30 countries. UCT is also host to over 3 500 international full-degree students from 106 countries.
"The extensive, positive impact and value of international full-degree and Semester Study Abroad students at UCT enables South African students to engage, both inside and outside of the lecture hall, with individuals of diverse backgrounds, life stories and academic experiences," said IAPO director, Professor Evance Kalula.
"Internationalisation goes back to well before 1996, of course, but was limited by the isolation that resulted from apartheid. With the advent of democracy in 1994, the world opened to South Africa and UCT was able to pursue internationalisation more vigorously. The establishment of IAPO played a crucial role in this and it is fitting that, in the year that we celebrate our 20th anniversary, UCT celebrates being ranked 114th in the Times Higher Education rankings of universities by international outlook."
Research and internationalisation
One of the most significant developments in recent years has been the bringing together of research and internationalisation under the same portfolio, led by Deputy Vice-Chancellor Danie Visser, which itself was partly a response to the central role of internationalisation in UCT's new Research Strategy 2015?2025. This has seen a rethinking of the way UCT approaches internationalisation and the forging of an even closer relationship than before between IAPO and the Research Office.
Formal networks play a crucial role in the delivery of this new strategy, and in another milestone this year, UCT became the first African university to join the International Alliance of Research Universities (IARU). This network of 11 research-intensive universities, including the universities of Oxford, Cambridge, Tokyo and Yale, provides its members with opportunities to share best practice and to work together to address the major challenges of our time. UCT students will also have the opportunity to join IARU's Global Summer Program, which will bring them into contact with students from across the international academy.
UCT's most important partnerships, however, remain those in Africa. "Professor Thandabantu Nhlapo steered UCT's Afropolitan agenda throughout his 10-year tenure as deputy vice-chancellor responsible for internationalisation," says Visser, "and this built a solid foundation for current engagements on the continent."
Today, UCT is vigorously working on the development of the African Research Universities Alliance (ARUA), launched in 2015. The network will form a hub that supports centres of excellence in many other universities across the continent, focusing on building indigenous research excellence to enable the continent to take control of its own future and assert itself as a powerful global force.
UCT is also a member of the Worldwide Universities Network (WUN) and the Australia Africa Universities Network (AAUN). WUN is a consortium of 18 leading international research institutions, partnering in a collaborative effort to create a global research community in response to global needs and challenges. AAUN partners leading universities in Australia and Africa, connecting researchers and academics through institutional partnerships in order to address challenges facing both continents.
"These four networks are emblematic of the role UCT plays in encouraging three-way global partnerships in which we bring institutions from the global north into working collaborations with institutions across the continent," says Visser. "Such trilateral partnerships ensure that we bring together a rich diversity of researchers and thinkers to global debates, that complex global problems are given regional and national context, and that we put African problems on the global research agenda and develop strategies to solve them."
We cannot develop these strategies in isolation, adds Kalula: the creation of increasingly sophisticated information and communication technologies, trends in open access and changes in the very nature of science have meant that the creation of new knowledge has become a global project.
"Common challenges are addressed through inter- and transdisciplinary research teams that work together to combine perspectives and often massive data-sets from both developed and developing economies to find innovative solutions."
Entry to an international community
Globally, this is where the most significant funding opportunities are to be found too, requiring a partnership-based, interdisciplinary and problem-focused approach.
"Such collaborative projects not only ensure the global competitiveness of research itself but also provide the best training ground for postgraduates," says Visser. "Embedded into such partnerships, they gain entry into international communities of scholars on which their ongoing development can depend, and often form the foundations of productive ongoing international research collaborations."
Internationalisation at home
There have been other highlights. Also under IAPO's umbrella, the Confucius Institute is now teaching Mandarin in 10 schools in the Western Cape. The London School of Economics?UCT July School is in its third year, short-term international programmes are taking off and student and staff exchanges are flourishing.
Dr Loveness Kaunda, the previous director of IAPO, initiated a focus on "internationalisation at home" that prioritises all students ? an approach that underscores the fact that internationalisation of the curriculum is not about manipulating or adapting the curriculum to suit international students, but about putting together and delivering a curriculum that equips all students, not just those who are mobile, for their predictable and unpredictable futures. This continues to underpin all of IAPO's activities.
At the same time, UCT receives requests for research partnerships at an unprecedented rate and continues to focus strategically on its rich tapestry of international collaborations.
We look forward to finding out what the next 20 years will bring.
Click on the image below to see a larger version.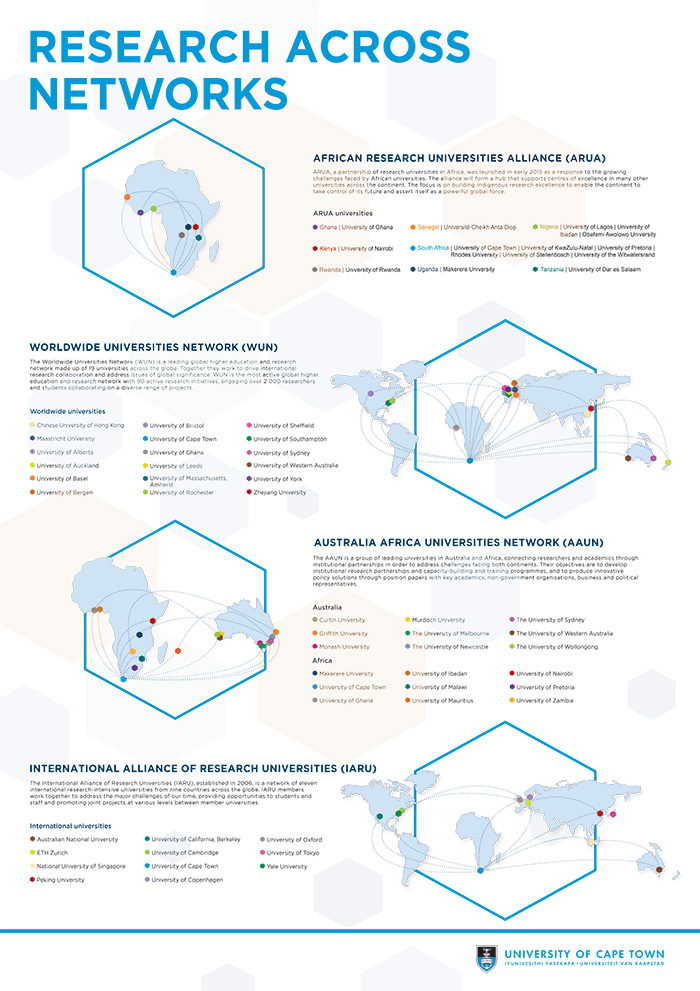 ---
This work is licensed under a Creative Commons Attribution-NoDerivatives 4.0 International License.
Please view the republishing articles page for more information.
---