This is the story of how a child who regarded a comb as an instrument of apartheid repression became an expert on hair research and dermatology, making headlines across the world with her revelations about the poisonous side effects of Brazilian hair straighteners and skin-lightening products.
"I would see my mom coming with that Afro comb, and I would just want to run away," Associate Professor Nonhlanhla Khumalo remembers. "I think at that time I really believed that the comb was so painful, it must have been a tool of apartheid repression." Eventually, she and her mom declared a truce: her mother would put aside the comb, and Khumalo would keep her hair short.
Rewind to two years after the 1976 Soweto uprisings. Khumalo – then 12 years old – found herself on a train headed from the centre of Johannesburg to Inanda Seminary, an elite boarding school near Durban. The school was an anomaly in apartheid South Africa. It was an all-girls school where the learners were all black, and the staff was multiracial and multinational; the school was known for its academic rigour, and as the preferred school for the daughters of the middle class. Even more importantly for Khumalo, it also had a black woman as a principal: "Mrs Khoza, the principal, would always say to us, 'Girls, chests out, walk straight, be proud,'" recalls Khumalo. "You only had to look at her – a black woman who was the one in charge, and who did it all in sky-high heels – to know that anything was possible."
Khumalo excelled academically at high school, but it wasn't until she visited the University of Natal in her matric year that she had an inkling of her future career. "I walked into a lab, and saw an electron microscope for the first time," she says. "It was love at first sight." She enrolled in a medical degree course at the university; her first year coincided with the declaration of a national state of emergency. Khumalo remembers it as a dark time: "The night before the Moroko Three were to be assassinated, all of us Alana Taylor Residence students held an all-night vigil. The next morning, we did not go home as we were supposed to: instead, we started marching. The police waited until we reached an industrial part of town, and that's when they announced that we should disperse within three minutes. At the time I was with a new friend who was from the Transkei. He said, 'Don't worry, we have plenty of time,' but I was from Soweto and knew better. The next moment the police let the dogs loose on us – well, let me tell you, my new friend changed his mind pretty quickly, and we all ran for our lives!" That new friend, Bongani Mayosi, would later become her husband, the father of their two daughters, and dean designate of the Faculty of Health Sciences at UCT.
After graduating, the newlyweds completed their internships in Port Elizabeth and then moved to Cape Town, a city they had fallen in love with on their honeymoon. Khumalo began practising as a general practitioner, first in Khayelitsha and later in Langa. "I remember it as a happy, busy time," she says, "but there was still so much violence. Too often, people would come to my practice with severe trauma; and because there was no after-hours casualty close by, I felt it was my obligation to always be on duty." Khumalo became a common sight on the streets of Langa, doing house calls with her doctor's bag in hand. "It was during these years that I also had my two babies, but I never took maternity leave; I just took them with me to the practice," she says.
After five years, Khumalo started her training to become a dermatologist at Groote Schuur hospital. Why this specialisation? "I chose dermatology because it is so visual," she explains. "The skin gives you clues for the diagnosis; you just need to learn the art of piecing the puzzle together."
Two years later, when her husband won a fellowship to complete his PhD at Oxford University, Khumalo went too. Thanks in part to Professor Saimon Gordon (a fellow South African, and Oxford professor), and in part to the fact that she offered to work for free, Khumalo started work in the Oxford University Department of Dermatology soon after.
She hadn't been there long when Fenella Wojnarowska, a professor, and – as Khumalo describes her – "a genius at understanding auto-immune disorders" called Khumalo into her office, and told her she thought she could handle doing a laboratory project on immunofluorescence for bullous pemphigoid, a skin-blistering disease.
"I had never done research – I had always been a clinician; but I was determined to prove her right, so I worked harder than ever before, and in due time I published that paper," Khumalo remembers. "Later, I found out I was not special; it was something she did with every new arrival. But by that time, it was too late – I was hooked."
When Khumalo embarked on an evidence-based medicine course at Oxford she returned to the subject, publishing a seminal paper on the treatment of the disease and later becoming a member of the committee that compiled treatment guidelines for the British Association of Dermatologists.
It was also in Oxford that Khumalo first started researching hair. For a long time she had wondered at the high prevalence of alopecia, or hair loss, she saw in black women patients in particular. When she investigated further, she realised there was almost a complete lack of original data on the subject – and, for that matter, little understanding of African hair in general. It was this that led her to working with Professor David Ferguson to create the first electron microscopy 'root-to-tip' scan of black African hair. She published this study in 2000 in the Journal of American Academy of Dermatology, under the title "What is normal black African hair: a light and scanning electron microscopy study".
Not content to return to being a practising dermatologist when her family moved back to South Africa, Khumalo then embarked on a public health doctorate under the supervision of Dr Susan Jessop and Prof Rodney Ehrlich, in which she focused on a wide-ranging population study. In 2013, she was appointed head of the division of dermatology at Groote Schuur and UCT.
Her continuing research further entrenched her concern over the long-term effects of commonly-used hair and skin products, especially those – such as chemical relaxers – used on black hair. "Do you know how chemical hair relaxers were invented?" Khumalo asks. "They were discovered accidentally by a tailor called Garret Morgan, in 1909, when he was trying to find a substance that would prevent needles from snagging fabric. Apparently he wiped the chemical off his hands on a piece of fleece, and noted that the texture changed. Later, he showed its straightening effect on hair, and registered the first patent. The main ingredient then, as now, was sodium hydroxide – the same substance used to clean blocked drains."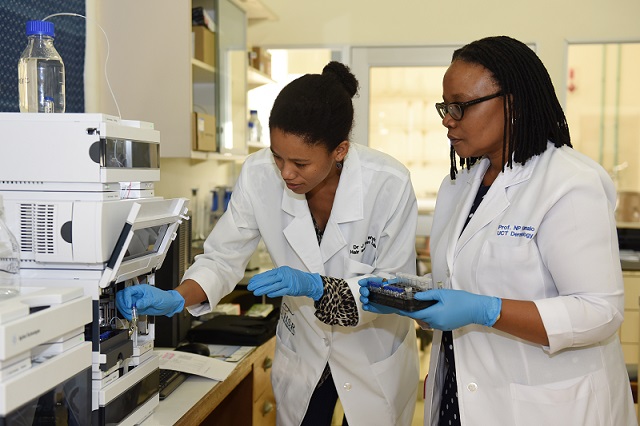 Khumalo with Dr Jennifer van Wyk, manager of the UCT Hair and Skin Research Laboratory, which opened last year.
Khumalo began to work towards opening a laboratory in which skin and hair products could be tested specifically for toxic and illegal ingredients. In 2015 the UCT Hair and Skin Research Laboratory (HSR) opened its doors, using funding from the National Skills Fund. "The reason that this lab is so unique and so exciting," says Khumalo, "is the fact that it is truly a multidisciplinary collaboration." The lab has three sections: a mechanical testing area in which the physical properties of hair, such as its tensile strength, can be tested; an analytical area, which tests the chemical properties of hair; and a genetic section, which is still being set up.
Last year, Khumalo was also one of five female South African Research (SARChI) Chairs appointed by the National Research Foundation. The intention behind the chair is to better understand human hair and facilitate the use of hair in medical testing, as well as to understand the effects that common cosmetic products have on users' health in the long term.
"Not many people really understand what hair is," says Khumalo. "When it comes to its biochemical makeup, new discoveries suggest it's probable that curly hair has a greater lipid content. This may have huge implications when hair is used for medical testing, such as when hair is used to monitor HIV patients' compliance in taking their antiretroviral medicine. Thus, testing for lipid-soluble drugs may require adjustment for hair curvature. This leads us to another important research focus – a move away from using 'race' to more scientific ways (e.g. geometry) of describing hair-curl variation."
Now that the lab has been established and the chair appointed, what are Khumalo's hopes for the future? "There are so many things we'd like to do," she says. "Develop a solid research programme that will lead to the valid use of hair as a testing substrate in medicine. Improve our understanding of skin inflammation (hair loss), and how to prevent and treat it. It would also be great to create an ongoing database of products containing common illegal ingredients, so that regulations can be better enforced when it comes to the cosmetic industry."
"Through our department we now also offer a very exciting qualification in trichology, which has applications in different industries where hair is increasingly being used for testing, giving wide career options for students. It is my hope that this will reduce the divide between clinicians and basic scientists in skin/hair research in this country. A lot of cosmetic formulators have never seen what skin allergy looks like. Training at the HSR Lab will expose scientists to skin disease, and help them focus on product safety and the wellbeing of consumers. If my work can help this kind of cross-pollination, then I will be content."

---
This work is licensed under a Creative Commons Attribution-NoDerivatives 4.0 International License.
Please view the republishing articles page for more information.
---