Is teen pregnancy in South Africa a symptom of conspicuous consumption, a sign of a morally dissolute generation, or a symbol of post-apartheid disillusionment? Based on three years of qualitative research in the Eastern and Western Cape, Dr Rebecca Hodes explores how attitudes towards teenage pregnancy vary between generations and genders, and how these attitudes provide a lens through which the paradox of women's rights in South Africa is clearly visible.
Teen pregnancy reframed
Over the last two decades, argues Dr Rebecca Hodes, a medical historian based at the AIDS and Society Research Unit, Centre for Social Science Research at UCT, teen pregnancy has undergone a "discursive makeover", transforming a once tacitly accepted practice into a source of shame on the personal level and a scandal on the national level. In the 1990s, explains Hodes, "teenage pregnancy was regarded as a common stage in the familial, domestic and reproductive cycle, particularly among young black women in South Africa. However, from the late 1990s, teenage pregnancy attracted increased public attention and censure as an arch example of the perceived failings of South African youth."
What led to this change? Hodes identifies two contradictory themes: the characterisation of the so-called 'Born Free' generation as feckless (a characterisation that Hodes argues stems mainly from a societal fear of a lack of social and sexual control); and the idea that teen pregnancy is a symptom of rampant materialism, in which teens are abusing social welfare for personal gain.
The Mzantsi Wakho research study
These themes emerged from the Mzantsi Wakho study, the largest known mixed-methods, community-based study on anti-retroviral treatment (ART) adherence and sexual health among adolescents, led by Hodes. The study aims to identify and investigate risk- and resilience-promoting factors for ART adherence and the use of sexual and reproductive health services among HIV-positive adolescents. Between 2012 and 2015, Hodes and colleagues travelled around the Eastern and Western Cape (mostly to Khayelitsha, Mdantsane, Gompo, Duncan Village and Dimbaza) to conduct extensive interviews with 50 teenagers and 70 caregivers.
They asked the teenagers about many aspects of their sexual and reproductive experience. When it came to attitudes towards teen pregnancy, the themes that emerged centred around contradictory perceptions of motherhood: as a social good, on the one hand, and a sign of squandered opportunity on the other. Drawing on this research, Hodes explores both the everyday, lived reality of teen pregnancy, and the wider social and political context in which these contradictory attitudes flourish. Her analysis will appear in the forthcoming book Young Families in South Africa: The dynamics of teenage pregnancy (working title) edited by Nolwazi Mkhwanazi and Deevia Bhana, due to be published later this year.
Girls (and boys) gone wild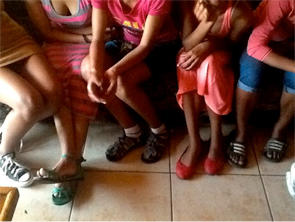 A Mzantsi Wakho focus group.
The research has shown that democratic freedoms are often associated with, as Hodes puts it, "generational conflict, moral dissolution, and a sense of the erosion of tradition and authority … The appetites of youth, both for sex and for stuff (clothes, cell phones, cars), are perceived as an expression of moral laxness, of what author Jonny Steinberg has described as 'breezy licentiousness' among Born Frees."
For instance, when asked why teenage girls fall pregnant, Tsotso, a young man from East London, puts the blame squarely on an excess of rights: "I think it's freedom and all these rights they are given. When they are told not to do something, they will say, 'I have the right to do that'. Even when they go out, they drink booze, and the peer pressure gets to their mind. The influence of alcohol plays a significant role. She gets pregnant after that and regrets her decision, but it's too late."
According to Hodes, young men and women are all too aware of this prevailing attitude. As Aija, a 19-year-old woman in Mdantsane, explains: "There's this thing that the youth of today is doomed. They know things that they are not supposed to know. People say that the youth are not meant to know things, so as to keep to the culture."
Hodes explains that in many cases, it is the very laws that aim to protect the rights of the younger generation – and in particular, the reproductive health rights of young women – that are seen to encourage sexual profligacy: "It is the legal framework through which democracy is endowed that is perceived to countenance this sexual immorality, through new laws and policies concerning contraception, abortion, the age of sexual consent, and welfare support for young mothers.
"Young women, as the embodiments of post-apartheid promise and potential, are seen as squandering the prospects of freedom and opportunity that were presented in the post-apartheid moment. In the politicisation of sex, discerned by Deborah Posel and others as a key facet of post-apartheid social life, teenage pregnancy has become emblematic of misspent youth among Born Frees, of the cultural damage wrought by the democratic transition through the provisioning of sexual rights and freedoms."
Pregnancy for profit
Another theme that emerged from the research was the notion that young women are working on a pregnancy-for-profit model. "In the post-apartheid present, a desire for material advancement, through access to the child support grant, is alleged to be incentivising pregnancy," says Hodes. "Young women are believed to be having children to access the child support grant, a cash pay-out of R330 per month, and then to be spending this on leisure pursuits and luxury items, such as beauty treatments and 'designer drinks'."
Hodes is quick to point out, however, that there is a long history of accusing young South African women of being financially irresponsible: "Over the last century at least, this charge has been levelled against young women across South Africa's diverse demographic spectrum. These charges gathered ground at particular historical and economic moments, in which women were entering the labour force in numbers and had established a modicum of financial autonomy."
Furthermore, there is no evidence that teenage girls use pregnancy as a source of easy income. "In contrast to ideas that pregnancy enriches teenage girls," Hodes says, "teenage mothers commonly report a sense of social despoliation among both contemporaries and elders – a sense of having ruined and wasted their lives."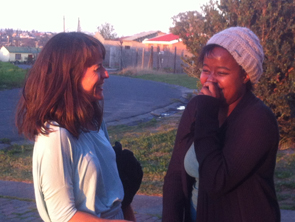 Dr Rebecca Hodes and Mildred Thabeng, Mzantsi Wakho researchers, after a day of interviewing in Mdantsane.
Akuhle, for instance – one of the young mothers interviewed – described being a teenage mother as "very difficult", because "I don't have a life. It disturbs you as well. I'm supposed to be doing my matric, but I'm not in school because of the baby."
The research shows that older women and young men were far more likely to attribute teen pregnancy to reasons of materialism or moral laxness than the young women themselves. While there is an awareness that falling pregnant can be a shortcut to becoming recognised as an adult, the young women were more likely to describe the deprivations that come with pregnancy at a young age.
In answer to the question of what she had heard it was like to fall pregnant, Dineo, a teenage girl who is not a mother, replied, "Some friends of mine said it is not nice to fall pregnant when you are still young because the boys like to deny their children, and you will end up raising the child alone. A child will mess up your future. You end up not being able to go out to the mall with a friend, or if you see something in a magazine, you end up not being able to get it for yourself."
So where does this notion of teenage girls using pregnancy as a means to generate income come from? Hodes believes this attitude stems largely from the idea that "young women are understood to be using their reproductive capacity for material advancement, rather than selfless nation-building … Rather than realising the dreams of the post-apartheid future, for which their parents and grandparents had fought, they have tethered their elders to another cycle of domestic labour and familial responsibility."
Gloria, one of the grandmothers who participated in the study, exemplifies this view: "The problem now with our youth is that they get out of hand," she says. "The parents, they complain about teenage pregnancy – and their children don't give birth to one child; they have many children, that are going to be your responsibility as the grandmother. [The mother] will leave the kids with you, and again wander the streets … What am I going to do with the house full of kids? ... I am the one looking after her [my daughter's] kids. She takes the money and drinks it."
A generation "born to be blamed"?
Hodes believes that these responses to teen pregnancy have their roots in post-apartheid disillusionment. To indicate the wider context in which such attitudes flourish, she points to comments made by President Jacob Zuma when he addressed the National House of Traditional Leaders on the subject in mid-2015.
At the time, Zuma condemned teenage pregnancy as a drain on state resources, an unfair burden to older generations, and a threat to familial ordering. There was no historical precedent for the practice in South Africa, he said, and school-age mothers should be separated from their children and sent to Robben Island to finish their education.
In Hodes' view, such comments are representative of the manner in which young South Africans – who form both the vanguard of post-apartheid sexual freedom, and who bear all the hopes and expectations of an older generation – are seen to have squandered the supposed opportunities of the post-apartheid era. In other words, as Hodes puts it, "The perceived failings of South African youth have tapped into broader, collective disappointments about the post-apartheid political transition."
Moreover, regardless of their origins, the prevailing attitudes towards teenage pregnancy in South Africa highlight the present-day paradox of women's rights in the country: while gender equality and women's rights are enshrined in our constitution, in practice these rights are continually contested, and often violated.
Story by Ambre Nicolson. Images of Mzantsi Wakho focus group and researchers courtesy of Rebecca Hodes. Photo "pregnant silhouette" (CC BY-SA 2.0) by mahalie.
This article is featured in the latest Research at UCT newsletter. Be the first to get the latest research news by subscribing.
Listen to Rebecca Hodes interviewed by John Maytham on CapeTalk:
---
This work is licensed under a Creative Commons Attribution-NoDerivatives 4.0 International License.
Please view the republishing articles page for more information.
---