It was a ceremony speckled with special moments. Graduation's traditional idiosyncrasies were supplemented with local innovations, as UCT sought to infuse its African identity into the morning ceremony of 19 December.
The first of three huge graduation ceremonies on 19 December in a truncated season featured a number of the 'usual' traditions. "But we are an African university," said master of proceedings and deputy vice-chancellor Professor Danie Visser. So proceedings this morning were brightened by some local touches, including an imbongi – an isiXhosa praise singer.
Jazz magnum opus Mannenberg, penned by legendary Capetonian Abdullah Ibrahim, wafted through Jameson Hall as the huge academic procession streamed in, replacing Gaudeamus Igitur for the first time.
And the imbongi revved up the audience, inspiring and invigorating even those who couldn't quite translate her entire oration.
The graduands from the faculties of commerce, law and science were the first to experience the souped up graduation proceedings.
"The challenges faced this year prompted introspection," Visser explained, expressing his hope that the resilience the university showed this year will carry us through future challenges.
Hon docs, awards and golden grads
Visser presented the Bertha Centre for Social Innovation and Entrepreneurship with the Social Responsiveness Award – one of two awarded in 2015.
Acclaimed lawyer Mda Mda received the President of Convocation Medal, awarded annually to an alumnus that has made a sterling contribution to public life. Ninety-two-year-old Mda was born in rural Mthatha in 1923, and after completing his undergrad studies at the University of Fort Hare, enrolled for an LLB at UCT in 1944. Unable to complete the degree, he left in 1946. Mda took up articles at a law firm and a few years later began practicing as an attorney, which he continued until after the turn of the millennium.
He remains active as an advisor in his community in Mthatha in the Transkei, said Professor Barney Pityana, president of UCT's Convocation, who presented the award.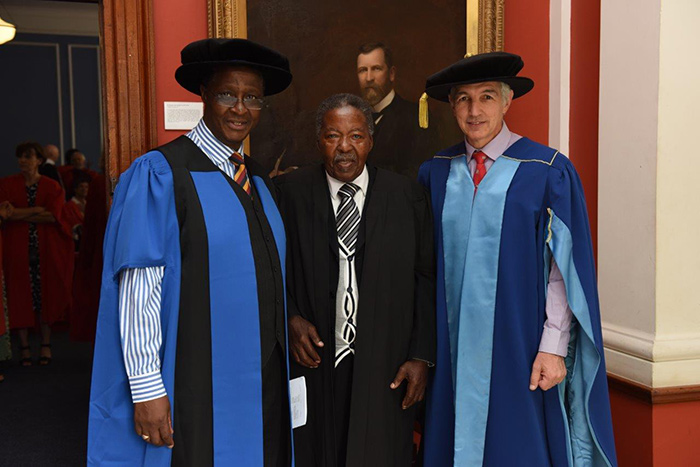 Mda Mda (centre) received the President of Convocation Medal – awarded by Prof Barney Pityana (left) and presented by Vice-Chancellor Dr Max Price (right) – for his long and distinguished career as an attorney and his continued service to his community.
UCT conferred a posthumous doctorate of economic sciences, honoris causa, on Dr Johannes De Villiers Graaff, described by Professor Francis Wilson as "the greatest economist South Africa ever produced". His widow, Clare, accepted the degree on his behalf.
By the age of thirty, Graaff could look back on a career that most would have been proud of at the age of seventy, said Wilson.
Influential legal scholar Professor Kenneth Reid received a doctorate of laws, honoris causa. Reid, chair of Scots Law at the University of Edinburgh, has made a tremendous impact on law and legal scholarship in Scotland and internationally, said orator Professor Anusuya Chinsamy-Turan.
Chinsamy-Turan related a missive from the University of Glasgow's Robert Rennie, who proclaimed: "No man has left so large a footprint on the Scottish law of property".
"You are supremely fortunate to have studied at this great university – a university which is known and admired all over the world," Reid told the graduands. "By having done so, you are, like it or not, members of a small and privileged elite. But with privilege comes responsibility. In whatever you go on to do in the future, you have the responsibility to bring to the task the things you have learned during your time as a student."
There was another special moment, as the Golden Grads adorned the front of Jameson Hall, as they did when they graduated in 1955, 50 years earlier.
Then it was time for the real stars of the show. Graduands became graduates, as they were capped by Vice-Chancellor Dr Max Price and hooded by retiring registrar Hugh Amoore. As with all three of today's ceremonies, many of the hundreds of the degrees awarded were of the postgraduate variety.
Story by Yusuf Omar. Photos by Michael Hammond.
Watch the video of the graduation ceremony:


---
This work is licensed under a Creative Commons Attribution-NoDerivatives 4.0 International License.
Please view the republishing articles page for more information.
---