Five UCT scholars were celebrated at the Academy of Science of South Africa's annual award ceremony on 14 October in Stellenbosch.
Palaeobiologist Prof Anusuya Chinsamy-Turan won the Academy of Science of South Africa (ASSAf) Science-for-Society Gold Medal for "excellence in the application of outstanding scientific thinking in the service of society".
Also on the night, two leading UCT scholars were incorporated into the academy, while two young researchers with links to UCT were awarded prestigious Sydney Brenner Fellowships.
ASSAf is the official national academy of science and represents the country in the international community of science academies. Its strategic priority is to harness the country's top intellectual expertise to generate evidence-based advice for policy makers.
Chinsamy-Turan, who is head of the Department of Biological Sciences at UCT, was recognised for her scientific research, which has led to a deeper appreciation of the South African, African and Gondwanan extinct fossil heritage, and to a better understanding of the biology of various extinct vertebrates.
She is a global expert on the microscopic structure of the bones of extinct and extant (still existing) vertebrates. She was the first researcher to deduce growth curves for dinosaurs, and she also showed that the first birds grew more like their ancestors (nonavian dinosaurs) than modern birds. Chinsamy-Turan is actively involved in promoting and stimulating interest in science in the wider community.
A keen science communicator, she has published extensively both in scientific journals and the popular press, and has published two academic books and two popular-level books (Famous Dinosaurs of Africa and Fossils for Africa).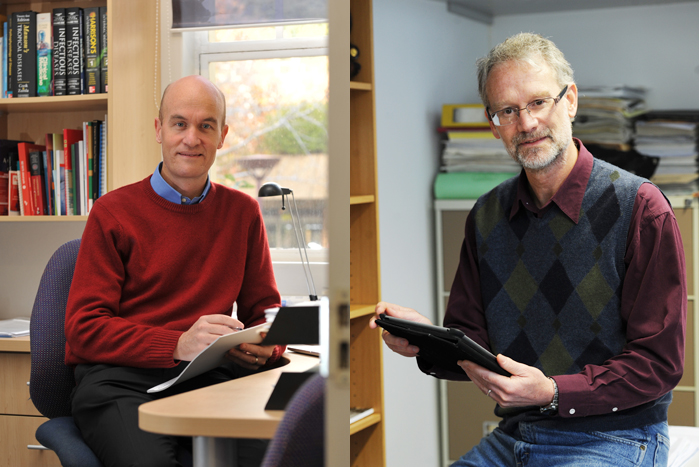 Left: Assoc Prof Graeme Meintjes. Right: Prof Murray Leibbrandt.
New members
The ASSAf inaugurated 31 new scientists (bringing its total membership to 472), including two new UCT scholars. They are economist Prof Murray Leibbrandt and Assoc Prof Graeme Meintjes from the Institute of Infectious Disease and Molecular Medicine.
Leibbrandt, who is also the pro vice-chancellor for UCT's Poverty and Inequality Initiative (PII), has a special interest in poverty, inequality and labour markets in South Africa.
Meintjes' research focus is on the diagnosis, treatment and immunopathogenesis of TB-IRIS, treatment and immunology of cryptococcal meningitis, and complications of antiretroviral therapy.
Sydney Brenner Fellows
At the ceremony, the academy also conferred prestigious Sydney Brenner Fellowships on two young researchers, both of whom have close ties to UCT:
Justin Nono Komguep joined UCT in 2014 under a NRF Postdoctoral Fellowship to work on the identification of host protective mechanisms against helminths, with a focus on schistosomes.

Dorit Hockman, a UCT alumnus, will be expanding her research in the field of vertebrate evolution in a collaboration between UCT, the Weatherall Institute of Molecular Medicine at the University of Oxford and the California Institute of Technology.
Images supplied.
---
This work is licensed under a Creative Commons Attribution-NoDerivatives 4.0 International License.
Please view the republishing articles page for more information.
---