History not only tells us where we come from, it also contains valuable lessons. Thus, the process of preserving history through the archive is vitally important. Recognising this, UCT recently launched Humanitec, which saw the digitisation of more than 14 000 objects from the 14 archival collections housed at UCT Libraries. Here is a snapshot of what is available through Humanitec, and in some of these collections.
1 – JACK AND RAY SIMONS COLLECTION
UCT is home to an archival collection considered to be one of the most heavily used primary sources on South Africa's liberation struggle. Consisting of numerous items, the Jack and Ray Simons collection is a testament to the academic, professional and political spheres of this activist couple, says UCT archivist Clive Kirkwood.
Jack Simons (1907-1995), a committed communist, was an associate professor of African Studies at UCT until 1967. His wife, Ray Alexander Simons (1913-2004), was a trade unionist and political activist. Simons was served banning orders in 1964, and together with his wife, went into exile in Zambia for 25 years. They continued their political activities and built up an archive of their political work there.
According to Kirkwood the collection's strength lies in the sections on trade unions and the women's movement, with valuable information on organisations such as the ANC, PAC and SACP.
"It also contains information on the liberation movements in other African countries; and a notable treasure is found in the struggle-era pamphlets, many of which were bound in false covers for clandestine use," he adds.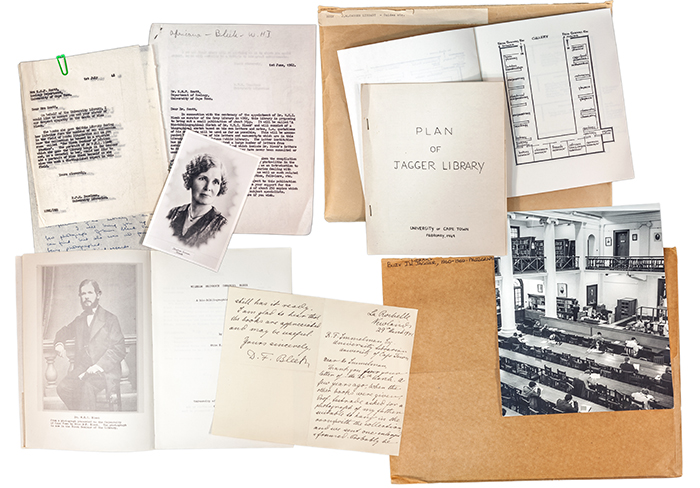 Documents from the Bleek Lloyd collection, with pictures of Dr Wilhelm Bleek and Lucy Lloyd.
2 – BLEEK LLOYD COLLECTION
At the heart of this collection, listed in UNESCO's Memory of the World Register, is a record of the life, language and folklore of some of southern Africa's first people.
Starting in 1870, German linguist Dr Wilhelm Bleek interviewed |xam prisoners, originally from the Northern Cape, who were incarcerated at the Breakwater Prison (today UCT's Graduate School of Business). Some of these prisoners were released into Bleek's custody and lived at his home in Mowbray, where he recorded their language and folklore with help from his sister-in-law Lucy Lloyd.
Lloyd taught Bleek's daughter Dorothea the |xam and !kun languages. Dorothea's record of vocabularies, genealogies and rock art from as far away as Tanzania is also contained in this archive. Her major achievement was the publication of a dictionary, in 1956. Other items in the collection, which spans the period from 1848 to 1956, include family records, diaries, obituaries, and albums of photographs.
Bleek arrived in Cape Town in 1856. He married Lloyd's sister Jemima in 1862, which was also the year in which Lloyd moved in with the newly married couple. He developed a phonetic script for transcribing the characteristic clicks and sounds of the |xam language, which linguists use to this day. Lloyd played a leading part in founding the South African Folklore Society, and established the Folklore Journal in 1879. Her major publication was Specimens of Bushman Folklore.
The collection was digitised by the Centre for Curating the Archive and can be accessed at lloydbleekcollection.cs.uct.ac.za.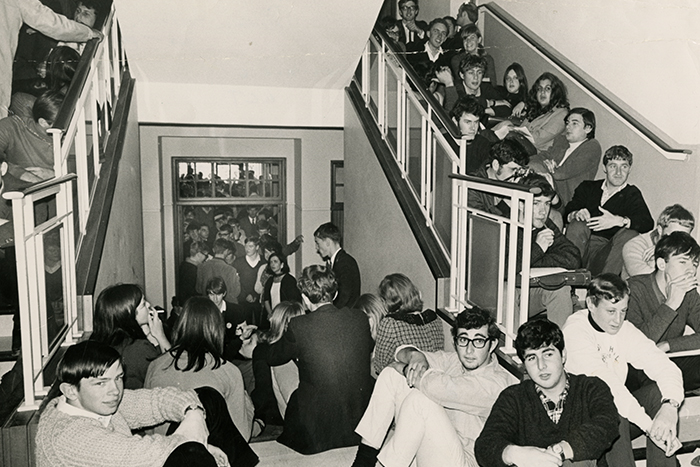 1968: Students protest against UCT's withdrawal of Archie Mafeje's appointment following pressure from the apartheid government.
3 – MONICA AND GODFREY WILSON PAPERS
Contained within this collection, which forms part of UCT's Special Collections, is correspondence between Monica Wilson, UCT's first female professor, and Archie Mafeje, her student.
Wilson, a social anthropologist who was also the first woman to become a professor in South Africa, met Mafeje in 1959 when he joined her class in social anthropology.
According to Andrew Bank, who wrote Archie Mafeje: The Life and Work of an African Anthropologist, theirs was a unique relationship. Mafeje was a regular visitor at Wilson's house in Rondebosch; he also befriended her two sons, who were fellow students.
Mafeje was a field worker in Langa for one of Wilson's research projects in the early 1960s. According to researcher John Sharp, "Mafeje's long hours in the field provided Wilson with the detailed case studies of life in Langa that had been sorely lacking before he came along." Folders containing the interviews and notes by Archie Mafeje from this time can also be found in the collection.
Mafeje was central to a very painful incident in UCT's past. In May 1968, the UCT Council unanimously approved his appointment as a senior lecturer in social anthropology. A month later, after pressure from the apartheid government, the council withdrew this appointment. The decision was met with vehement protest from student leaders and some academic staff. In August 1968, about 600 UCT students began an occupation of the Bremner Building which lasted for nine days, demanding that the council reconsider. Instead, the UCT Council agreed to establish an Academic Freedom Research Award in honour of Mafeje and placed a plaque in the library recording that the government had taken away its right to appoint lecturers at its own discretion.
Sources:
Archie Mafeje: The Life and Work of an African Anthropologist by Andrew Bank
Mafeje and Langa: The start of an intellectual journey by John Sharp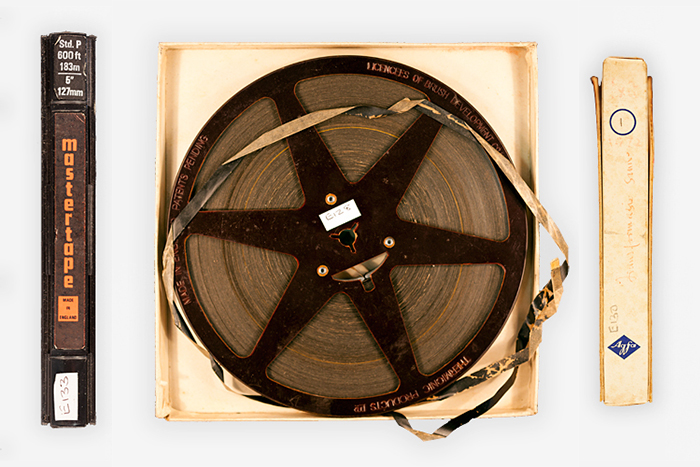 Some of the actual recordings made by Ernst Westphal contained in the Westphal collection.
4 – CALDI/WESTPHAL COLLECTION
A selection of rare audio recordings made by pioneering South African linguist Ernst Westphal is now available online, bringing several extinct and endangered African languages into public circulation again.
This digital archive is gleaned from UCT's Special Collections, and contains rare audio tapes recorded between the 1960s and 1980s. Westphal was professor of African Languages at UCT between 1962 and 1984, and is best known for his contributions to the studies of non-Bantu click languages, lumped together under the misleading cover term 'Khoisan' by other scholars.
Of exceptional importance are tapes of languages such as //Xegwi and Kwadi, which Westphal recorded with the last speakers. Several of the recorded languages have become extinct since then. Language diversity is one of Africa's most essential intellectual treasures, yet the majority of the approximately 2 000 languages on the continent are spoken only by small communities. Many of these languages are no longer acquired by children, and as a result are destined to vanish.
In southern Africa, several Bantu languages have borrowed clicks from non-Bantu click languages spoken by hunter-gatherers and pastoralists. Among the more than 500 Bantu languages spread over most of Africa south of the equator, only 12 southern Bantu languages have borrowed clicks.
Yeyi has been described as possessing the largest number of distinct clicks among the Bantu languages. Even though there is a rapid language shift underway, with younger people no longer acquiring Yeyi, it is a popular language in music. There are pop songs in Yeyi, and well-known artists sing in Yeyi – thus you may listen to Yeyi songs on the radio, but at the same time it is less and less spoken. The number of speakers usually cited is 20 000, but nobody really knows how many people in Botswana and Namibia still speak Yeyi.
Thanks to the Humanitec project, the Westphal recordings are freely accessible online in digital form, and can be accessed at www.digitalcollections.lib.uct.ac.za/humanitec/caldi.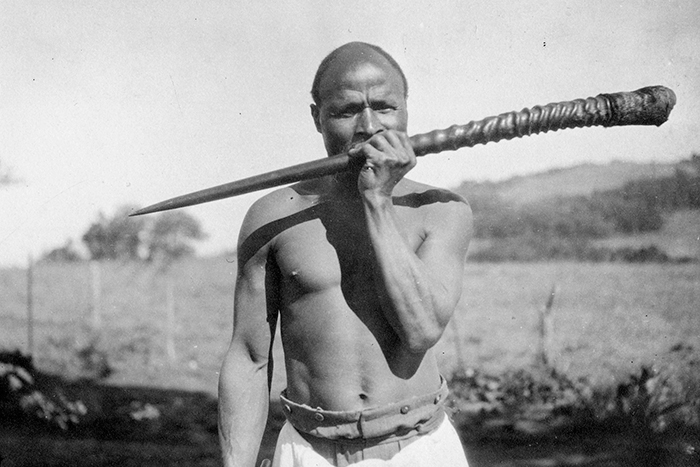 A Venda man blows on a traditional wind instrument known as a phalaphala, made from a gemsbok horn.
5 – KIRBY COLLECTION
Through the Humanitec project the Kirby Collection, a musical treasure, is now also available online.
The Kirby Collection is made up of rare musical instruments that pre-date urbanisation. Most of these 600 instruments were used in southern Africa before 1934. The physical collection is housed on the ground floor of the South African College of Music, but through meticulous documenting of every instrument, people all over the world now have access to this unique collection.
Scotsman Percival Robson Kirby arrived at Wits (then University College) in 1921 to found the Music Department. Shortly after his arrival he began travelling around southern Africa to research indigenous musical practices. Kirby almost achieved his goal of acquiring one of every indigenous instrument that was available in southern Africa, and took great care to preserve these instruments.
When he retired from Wits in 1954, he loaned his collection to the Africana Museum (now Museum Africa), where it remained even after his death. UCT purchased the collection in the early 1980s.
Curator Michael Nixon, a senior lecturer in ethnomusicology at UCT, says, "This historic collection's potential for understanding the history and complexity of Southern Africa's music – and indeed, the world's music – is inestimable. Our work is to care for the instruments as best we can, and to make them accessible to all."
To see and learn more about this unique collection go to www.digitalcollections.lib.uct.ac.za/humanitec/kirby.
Compiled by Abigail Calata.

Read more stories from the
September 2015 edition.
---
This work is licensed under a Creative Commons Attribution-NoDerivatives 4.0 International License.
Please view the republishing articles page for more information.
---