Neonatal nurse trainer, midwife, paraglider, animal lover and high‑mountain trekker Hilary Barlow of the Department of Paediatrics and Child Health is next up in our series of getting to know the people of UCT.
The walnut cake and cappuccino at Café de Hunza in Karimabad, a small settlement on the Karakoram Highway, almost surpasses the view of the Hunza Valley, 2 440m above sea level in Gilgit‑Baltistan, northern Pakistan.
To the south‑east is Nepal, where the Himalayas boast eight of the world's 10 tallest mountains.
Hilary Barlow has trekked in both countries. First was Pakistan, on the Biafo Glacier to Snow Lake, continuing over the Hispar Pass (5 150m) to the Hispar Glacier; and then to Karimabad, from where her group visited their guide Momin's family in the village of Shimshal.
"It's the best thing you can imagine after two weeks of trekking," says Barlow, remembering the walnut cake. The coffee‑and‑cake tip‑off had come from two students climbing in the Hispar Glacier region.
"The café is a bookshop – with maps, so you can sit there and just take your mind back on your journey."
The Hunza valley invites reflection; its beauty is thought to have to have inspired the Shangri‑La of James Hilton's novel Lost Horizon.
In 2013 Barlow and a friend returned to the region to trek in Nepal, a land of teahouses, yak caravans, Hindu temples and prayer wheels, mani stones and Buddhist stupas.
Dangerous and extreme
After three days in Kathmandu they flew to Lukla, whose unofficial title induces some misgiving: the World's Most Extreme and Dangerous Airport. Only small, fixed‑wing aircraft like the Dornier Do 228 manage the steeply‑angled drop onto a runway with no turning circle, and a sheer drop at its southern end.
Waiting for the mist to lift before the flight, Barlow, a seasoned paraglider, experienced some disquiet. Once they were airborne, the airhostess came around with a tray of cotton wool balls (for the noise) and sweets.
"I thought we were going to die!" Barlow recalls.
In Dingboche, altitude sickness put an end to her trekking partner's trip, and Barlow continued up the Khumbu Valley to Kala Patthar (5 550m), the 'black rock'.
"Here I had a perfect view of Sagarmatha [Everest, in Nepalese] and then trekked down the Khumbu and up the Gokyo valley for another more distant view of 'Mother Goddess of the Earth' from Gokyo Peak, at 5 360m. Then it was the downward trek back to Lukla, and Kathmandu."
In Kathmandu Barlow visited the local hospital to see its shipshape neonatal unit, and was delighted to find a young Tibetan mother and father providing kangaroo care for their newborn twins.
Canopy of delight
Paragliding started with her love of the mountains.
Her first training flight was in the Wilderness, now a favourite spot. Harnessed and running up the beach to pull the glider up, there was that first moment when her feet lifted off the ground.
"You're on the beach and there's a little dune, and beyond that a big dune. It's almost intuitive; once you've run down the beach and you've felt the weight coming off your feet, then you go a little higher, and you actually fly for a few seconds."
The next weekend saw her at Porterville, near Piketberg.
"That was quite scary, because that's about 450m above the landing."
But she lost her nerve for flying at Porterville after a friend died there, paragliding in strong winds.
"It wasn't flyable; conditions were horrible. He shouldn't have been flying, but he was on the crest of a wave. He'd got the award for the best flying that year..."
Hilary has lost two good friends to pilot error and bad weather conditions.
Outside the envelope
That said, she's philosophical about the dangers.
"One December we were in Porterville flying in a competition. There's a phenomenon known as 'valley release' that happens in the right conditions at the day's end. Warm, buoyant air from the valley is released as the sun's angle drops to the horizon, and you can have a really wonderful flight.
"We thought there would be a great valley release that afternoon, and went up to take off. But the valley release wasn't happening and I spent 45 minutes on an almost vertical zigzag climb in strong winds, flying away from the mountain, and then descending very slowly to land. In light conditions it should take less than 10 minutes, as it's a height of only 450m and a distance of only 1.4km.
"That's the reality of living life outside the envelope. I used to say to my children: if anything happens to me, I want you to know I died doing something that I absolutely love. And they just said, 'Ja, no, right, mom!'"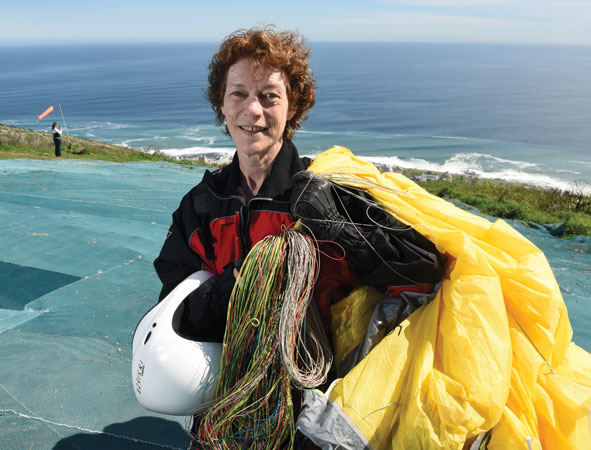 On high: Hilary Barlow on Signal Hill in Cape Town with her paragliding gear.
Her yellow 26m² paragliding canopy folds neatly into her backpack, making her very mobile. She's flown all over Europe: Austria, Switzerland, Slovenia, Norway and Germany in the Alps, and around Bassano in Italy.
"It gets you travelling. It's a close community, and we watch out for each other. We're all a bit like nomads."
Does she get scared? "If you don't get scared, then you should be worried. So, ja – I still get scared."
Out on a ledge
The heights that do scare her are ledges. Barlow has helped UCT ornithologist Dr Andrew Jenkins ring peregrine falcon chicks that nest on a ledge at the Red Cross War Memorial Children's Hospital, where she works.
Jenkins has been ringing 'peries' for some time. (There were peregrines nesting on the Athlone cooling towers; and only once the chicks had flown did Jenkins give the go‑ahead for demolition.)
At home Barlow has three feral cats, adopted from outside the hospital's oncology ward, and 11 common Cape angulate tortoises (yes, she has a permit to keep them).
The oldest, Josephine, has been with her since 1982, and has a penchant for gazanias.
Story by Helen Swingler. Photo by Michael Hammond.

Read more stories from the
September 2015 edition.
---
This work is licensed under a Creative Commons Attribution-NoDerivatives 4.0 International License.
Please view the republishing articles page for more information.
---