Between 1970 and 1980 UCT's student body would grow from 7 000 to 10 000 students – but the effect of 1959's Extension of University Education Act would remain in evidence, with 90% of UCT's student body being white (and male students still outnumbering female students two to one). It was during these two years that bookended a decade, 1970 and 1980, that the 2015 long-service award winners started working at UCT. Between 35 and 45 years later these individuals have collectively dedicated 495 years – almost half a millennium – to the University of Cape Town. Here are their stories.
45 years
The best of times, the worst of times ...
Manuel Fagan
Printing Co-ordinator, Student Governance and Leadership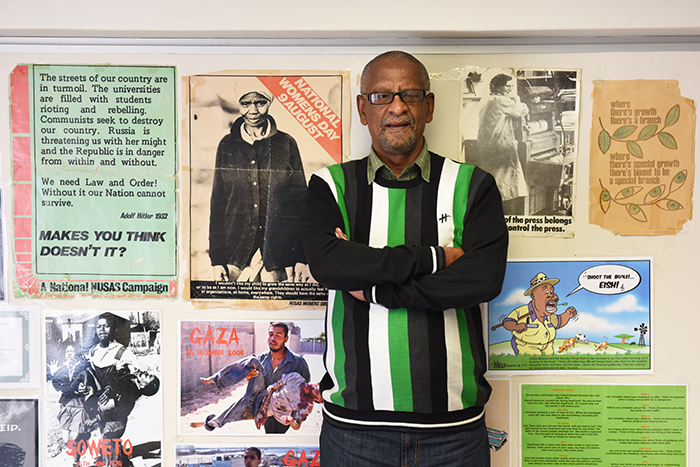 Manuel "Manie" Fagan has held 45 years' worth of UCT publications, posters, and pamphlets in his hands. He started in 1970 as a cleaner at UCT but was soon promoted to assisting in the print office. By 1976, in Manie's words, things were heating up. "At that time a lot of the stuff we printed was related to anti‑apartheid activity and so a lot of it was illegal and of great interest to the security forces." The police visited the printing office many times but to Manie's knowledge no student leaders were ever successfully prosecuted – as everyone involved was careful to discard the metal printing plates and remove the material "as soon as we were done". Looking back it was this time that he would point to as his most memorable years at UCT. "It was very nerve-wracking but it was also exciting, there was always something going on."
---
Stay young, stay adaptable
Peter Louw
SAP Purchaser, Department of Molecular and Cell Biology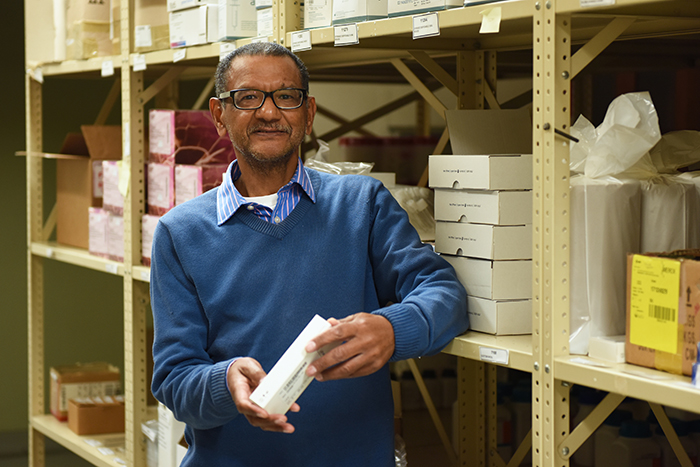 "The lesson I have learned from my time at UCT is that to stay young you must stay adaptable. There is the temptation to resent new ways of doing things but change is necessary. My father worked at UCT before I did and I think if he was around today he would be very proud of the commitment I have shown the university. For me, however, the proudest moment was in 1994, standing in that election queue as a South African citizen, especially because I saw a lot during the years of protests at the university. I started out as a youngster here in 1970, as a cleaner, when I had to leave school early. Through hard work and the support of my mentor Frank Warren, I climbed the ladder to become a storeman and then a SAP purchaser. I also continued my studies, first getting my matric and later studying theology to become a pastor for a community in Sir Lowry's Pass. When I retire I want to use whatever time is left to minister to that community."
---
Keeping UCT beautiful for 45 years
John Pagel
Properties and Services: Maintenance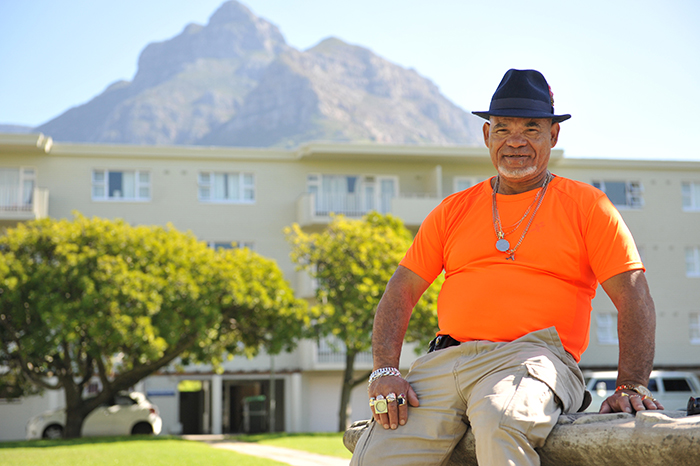 John Pagel has worked in the gardens and buildings of UCT for 45 years. "That's as long as I've been married," he laughs. "In a way it is a bit like a marriage, because when I started work here at the age of 17 in 1970 it was a bit like falling in love." The objects of John's affection turned out to be the buildings and especially the gardens of the university. "You know, there used to be a rose garden here that had every colour of rose you could imagine. In the summer you could smell that garden from far away." John also recalls how he cleared the land where the Baxter Theatre now stands. "Before it was built it was just a hillside covered in pincushion proteas," he explains. Is he ready for retirement? In his words, "Not yet. I worry about my pension and even though I now have 10 grandkids I still want to work for a bit longer."
---
From diamonds to dinosaur bones
David Wilson
Thin Section Technician, Department of Geological Sciences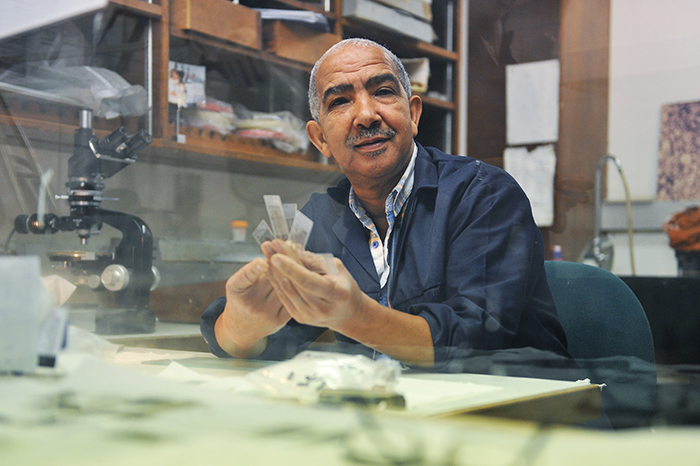 "I started at UCT in 1970 as an eager 18-year-old. Now, 45 years later I am very proud of my contribution. At first I was cleaning and driving but I showed an interest in rocks and a kind colleague started teaching me about them. Over the years my interest matured and now I do work for geologists around the world. My work has given me many interesting opportunities, from identifying rocks that contain diamonds to those that hold fossilised baby dinosaur bones. I remember I once accompanied some students and the then HOD Professor Anton Le Roux on a field trip to the Fish River Canyon. On our return my legs started to cramp while climbing out of the canyon and the next minute there was Professor Le Roux, ready to carry me the rest of the way! My proudest moments were probably when I won an award for a display I did for the De Beers Diamond Museum in Kimberley in 2006, and in 2014 when I won another for my contribution to diamond exploration. These days my body is tired but my mind is sharp; I hope to still make a contribution to teaching high school students about geology."
35 years
One of the family
Jill Artlett
Administrative Assistant, Department of Obstetrics and Gynaecology

Jill Artlett always wanted to work in academia. In 1980 she got her chance when she joined the Department of Obstetrics and Gynaecology at UCT as secretary to then HOD Professor Dennis Davey. "I still have my appointment letter," she recalls, "it states my salary would be R5 743 per annum!" She worked as Dennis Davey's secretary up until his retirement in 1990 and over the years found great fulfillment in seeing the development of young doctors. "I have known a number of the senior consultants, including the present HOD, since their registrar days," she says. "I was regarded as 'one of the family', a privilege I still enjoy today I am happy to say." When she started, all documents were typed on an IBM typewriter. "It was noisy and we used Tippex to correct typing errors, but we were also fortunate to have tea or coffee brought to our desks every morning and afternoon," she remembers. Her proudest moment? In 2012 the department celebrated its centenary and Jill helped to arrange a centenary dinner. "It was held on 22 November 2012 at the Hilton Hotel and it was a delightful ocassion."
---
Learning on the job
John Biggs
Groote Schuur Residence: Maintenance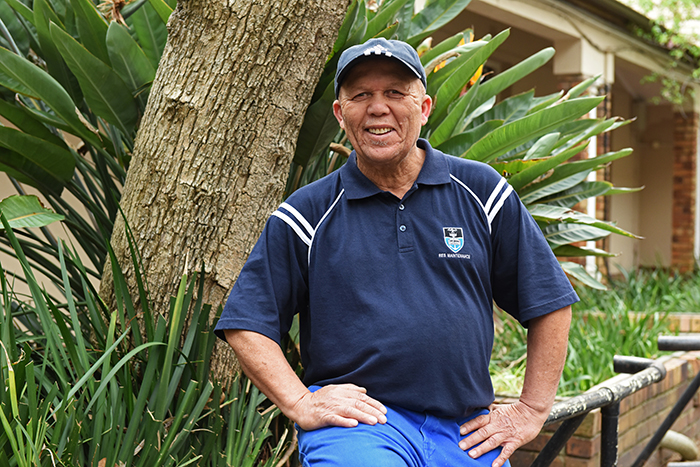 John Biggs' first job at UCT was not for the faint of heart. He was first employed to clean gutters on some of the tallest buildings on campus. "I remember thinking to myself, well, it's a good thing I don't have a fear of heights because I really need this job," he says. He was soon employed full time working on campus with bricklayers, tillers and other skilled artisans. "It was here that I got my training, they taught me everything I know and I would like to say thank you from the bottom of my heart." In 2001 John became a handyman for student housing, according to him, this is his favourite position yet as it allows him to interact with people. "That is what I will miss the most when I retire," he says, "having the chance to meet and communicate with so many different kinds of people."
---
The French connection
Madhu Chauhan
Principal Scientific Officer, Department of Molecular and Cell Biology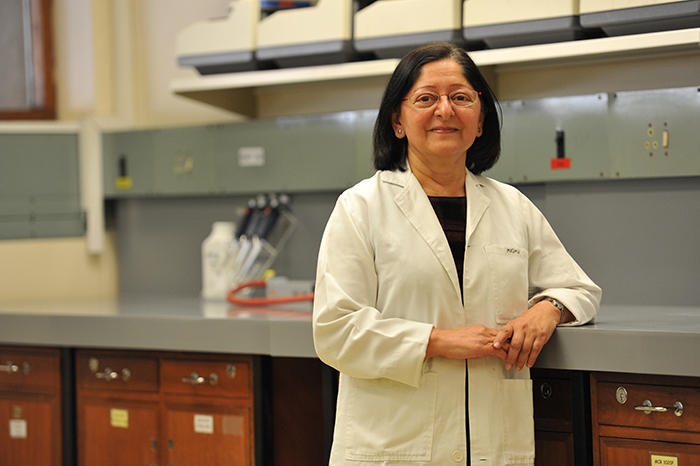 Madhu Chauhan started at UCT in 1981 as a technical officer in the Department of Biochemistry. "I came from a medical technology background and thought that working at UCT would offer more opportunities." She received hands-on training in biochemistry from the late Associate Professor Wolf Brandt, Emeritus Prof Klump and from Doctor Jerry Rodrigues. It was thanks to Prof Klump that Madhu got the chance to travel to Paris where she worked in a collaborators laboratory. "This was definitely one of the most memorable experiences for me at UCT," she explains. "In fact, on my return from Paris, I immediately enrolled as a part time student at the Alliance Française in Cape Town. I studied three years of French. So I learnt a new language as a direct result of the French connection."
For Madhu the best thing about being part of UCT is the variety of different people she is able to work with. "This is a stimulating environment because of the huge diversity in ages – from undergrad students to retired professors, as well as diversity in the background of staff and postgrads. It therefore provides a rich working experience."
---
The world at his doorstep
Gerhardus "Gerrie" Erasmus
Health Sciences: Support Services Unit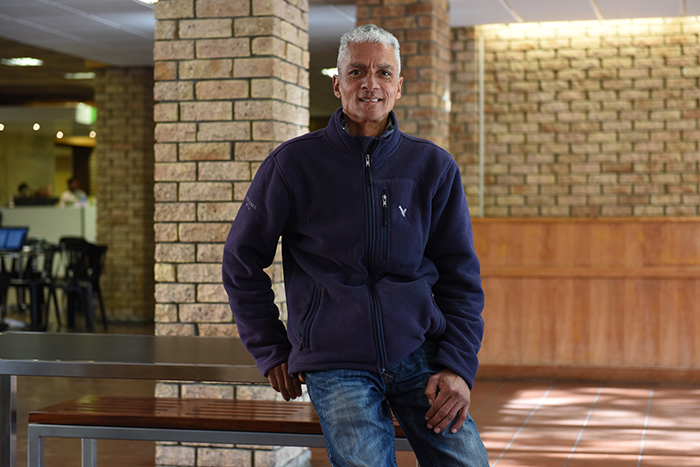 "When I first started at UCT I was 19 years old," remembers Gerhardus Erasmus. "I once went to do some work in a professor's office and he mistook me for a student, that's how young I was!" At first Gerhardus' job was to carry the toolboxes. "I wasn't allowed to even touch the power tools to begin with, but that soon changed as I learned more on the job." He credits his mentor and former maintenance manager, Mike McCarthy, for his training. Over the years his favourite part of the job has been meeting people from different countries. "I have never left South Africa," he says, "but because of my work here, other countries have come to me through the people at UCT."
---
"I've met generations of students"
Granville Faulman
Workshop Assistant, Department of Biological Sciences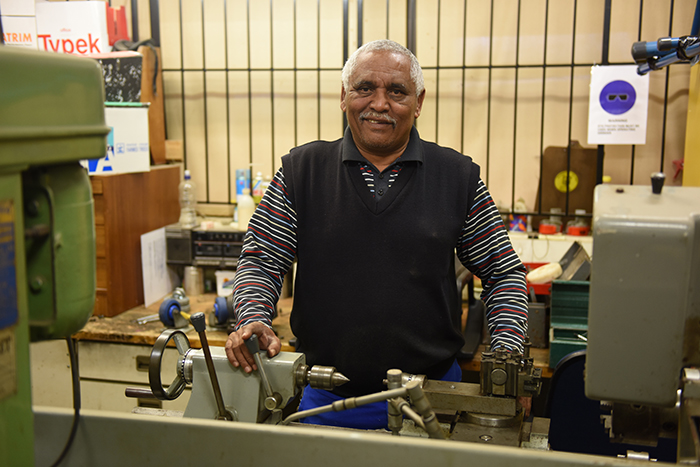 "Uncle Granville. That's what the students call me now. But I don't mind, I'm a people's person. I have met generations of students and I always learn something new from them and I help them too – I have cooked more than one potjie for students on a field trip. When I started working in maintenance at the sports centre in 1980, it was the older members of staff that took me under their wing and looked after me. After a decade I was stagnating at the sports centre so I was happy to move to biosciences. When I worked for campus security I also got to see many interesting events like Barack Obama's visit. I'm not a spring chicken anymore now though, so it is time for me to retire. My family tells me, it's enough now, time to put your feet up."
---
Drastic changes
Jasmine Ismail
Assistant, Libraries: Law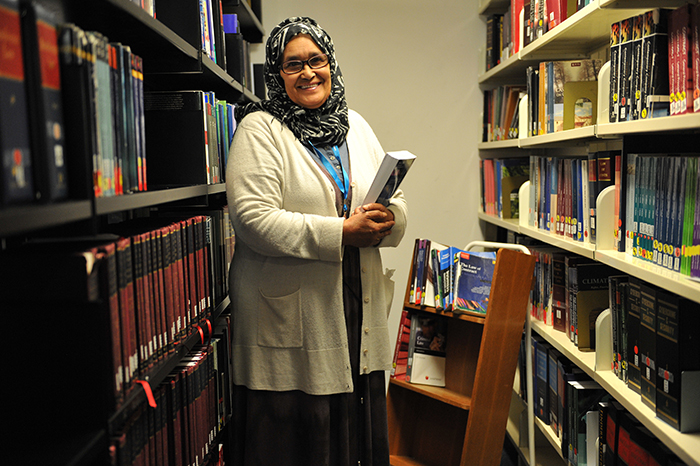 "I've seen drastic changes at the university since I started in 1980, even though it only feels like yesterday most of the time. Back then, there were only a handful of black and Indian students. I don't think parents realised their children could even attend UCT. Today of course everything is all mixed, and I am so happy to see that. I have always loved working with the students in the law library, especially if I can help them find cases or articles or journals. The last time I went to the courts to pay a fine I bumped into many law students from the 90s. They all wanted to know what aunty was doing there! When I retire I plan to make myself useful at our local schools helping the children in Grade R and Grade 1 to unlock the joy of reading."
---
Power lifting for UCT Sports and Recreation
Jeffrey "Mighty Mouse" Johnstone
Shift Supervisor, Student Sports & Recreation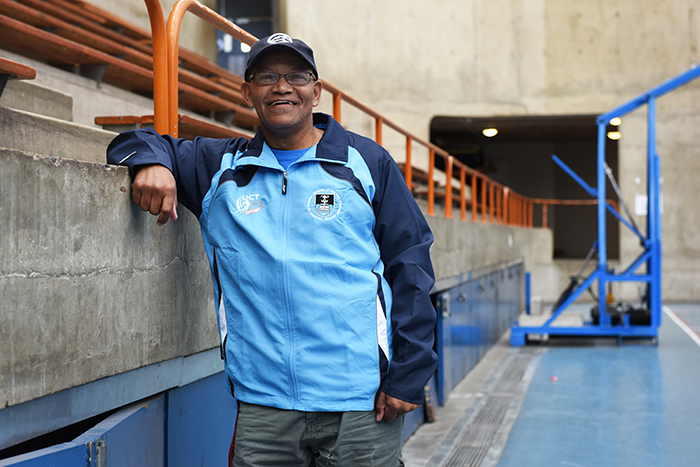 Jeffrey Johnstone joined the UCT staff on Valentine's Day in 1980 and after 35 years his affection for the university is still apparent. "I think I've stayed all these years because of the students," he says, "I have worked with so many good people and I am proud of the contribution I have made over the years. I think the most rewarding part of my job has been the acknowledgement I have received from students when I have helped them with their training." In 1983 Jeffrey discovered weightlifting after a colleague, Jonathan Cohen, showed him some powerlifting techniques. It was around this time he earned his nickname "mighty mouse". In 2006 he won a gold medal in the 75kg category at the National Weightlifting Championships. "After that we all had a celebration with the VC, Prof Ndebele. When he asked what kind of weights I lifted I replied, "Just the ones big enough for my body to handle!"
---
A journey from Scotland to Cape Town
Elizabeth Phillips
Administrative Assistant, Division of Lipidology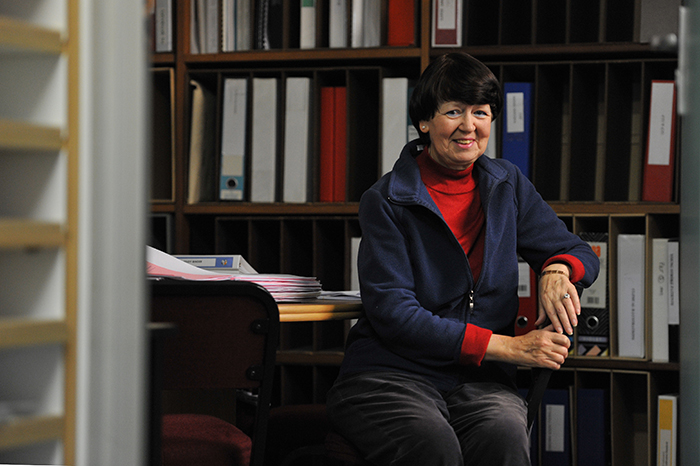 "I arrived in Cape Town on 16 September 1974, not knowing anyone. I had decided to leave Scotland and South Africa was where I happened to get a job. I was 22 years old, I arrived with one suitcase of clothes and it was very scary indeed. It was hard going at first but I soon got into the swing of things working as a medical secretary for radiologists. Between 1980 and 1982 I worked for Professor Piet Joubert in the Precambrian Research Unit, but I moved back to the medical side of things from 1983, working for Solly Benatar in the Falmouth Building and later under Professors Kirsch and Marais. Some of my happiest moments were in the Falmouth Building – we were a unique group of women with lots of different talents. It wasn't always easy though, this was in the days before computers, when we had to deal with 289 handwritten examinations. Prof Benatar always said he wouldn't be anywhere without us!"
---
"I'm your guy"
Abdul Smith
Properties and Services: Maintenance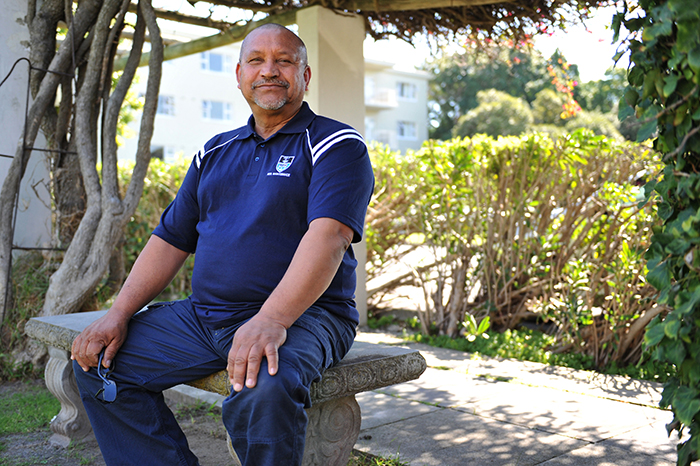 Abdul was first introduced to UCT in 1980 when he worked on campus as a painter for an independent contractor. When he saw a job advertised for a handyman at a residence he leapt at the opportunity for job security and told the matron of the residence: "I'm your guy". In 1991 he took a step up and joined the properties and services' maintenance team. Abdul went on to become a spokesperson for his fellow workers, a role he says his father helped prepare him for by giving him a sound political education. Looking back now Abdul says he never thought he would stay so long, especially since when he was young he used to, as he puts it, "fight with the bosses". Now he says the advice he would give to younger people is to understand that wisdom only comes with experience.
---
The stories shared here are from long-serving staff who attended a thanksgiving dinner on 17 September 2015.

Others include:

Stories collected by Ambre Nicolson. Photos by Je'nine May and Michael Hammond.
---
This work is licensed under a Creative Commons Attribution-NoDerivatives 4.0 International License.
Please view the republishing articles page for more information.
---