A capitalist critique of the Marikana massacre in August 2012 and UCT's place in the aftermath was the central theme at a panel discussion held at the Centre for African Studies gallery on 19 August, as part of the UCT Marikana Forum's commemorations of the miners who were gunned down by police while striking for better working conditions and pay.
The panel discussion was organised by the UCT Marikana Forum and featured law student Alex Hotz from the Rhodes Must Fall movement, Amanda Makolwa from Marikana in Lower Crossroads and Associate Professor Andrew Nash from UCT's Department of Political Studies.
Makolwa explained how the Marikana settlement came to be in 2012. An unused plot of land had become a haven for criminal activity – one young girl had been raped and her body dumped in a rubbish bin on the plot – so people decided to claim the space and build homes there.
Many political parties had come to Marikana promising to improve the conditions, reported Makolwa. The entire community shares a single toilet, for example. But nothing much has changed. "That's why there's no difference between us and Marikana in Rustenburg," she said.
Rampant poverty characterised both communities, with a lack of housing felt acutely. Nash pointed out that part of mining company Lonmin's licence application required that they build 5 500 houses for the Marikana community in Rustenburg. To date, only three "show-houses" had been built, which stood unoccupied, with the company citing a lack of funds.
Lonmin had effectively reneged on its legal agreement to provide those houses, he said. He and members of the audience suggested UCT "pay back the money" Lonmin had donated to the construction of the New Engineering Building – not to the mining company, but to the Marikana community to whom it was due. [Editor's note: Construction on the New Engineering Building on upper campus began in August 2011 and was completed in 2013. The total cost of the building was R209 million, the bulk of which was provided by UCT and the Department of Higher Education and Training. Lonmin did contribute a relatively small amount towards the building cost; this contribution was received before 2012. Read the UCT statement on RMF and investments in Lonmin]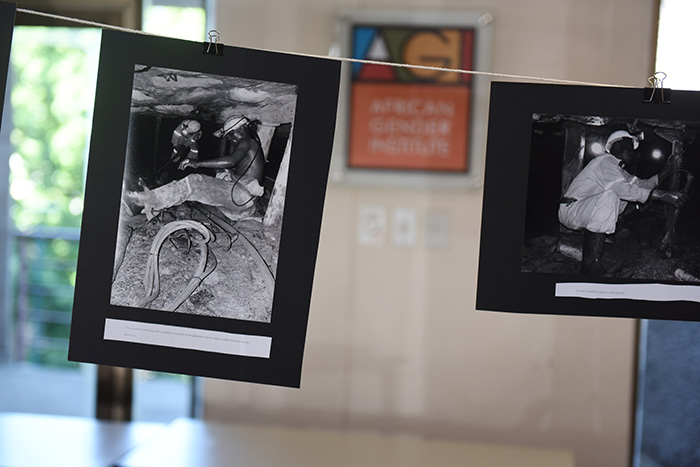 These photographs are on display outside the Centre for African Studies gallery, where the Marikana panel discussion was held, as part of an exhibition that showcases the lives of mineworkers from Marikana and their families.
"The reason Marikana is so important is because it is the most glaring symptom of the crisis, and what seems to me the disintegration, of the post-1994 project of trying to overcome apartheid on the basis of capitalism," said Nash.
This was a theme for the discussion. Mining's legacy of oppression in the capitalist economy came under particular scrutiny. Hotz referenced Herbert Baker, Cecil John Rhodes' architect, who gloated that UCT was meant to have been built on the taxes of mineworkers, who themselves would never be able to study there.
Hotz bemoaned that education had become a "side business" in an environment that commodified knowledge. Another law student commented on a "culture" in his faculty that encouraged a "corporate" mind-set, with students being heavily exposed to overtures from big law firms but rarely being offered information about careers in NGOs, for example.
There were repeated calls for Judge Ian Farlam – who presided over the Marikana Commission of Inquiry – to be removed from UCT's Council. Considering Farlam's membership of the university's audit committee from 2008 t0 2012, it was said that Farlam would have known about UCT's investment in Lonmin, leading Hotz to suggest there was potential for a conflict of interest. [Read UCT's response to the RMF statement on Judge Farlam]
One audience member wondered whether there was a "hunger" for the university to get money from "anywhere, anyhow". Another remarked that UCT, being a top-ranked university, could hold some clout if it decided to raise its voice against the state when it came to matters of national importance.
Story by Yusuf Omar. Photos by Je'nine May.
---
This work is licensed under a Creative Commons Attribution-NoDerivatives 4.0 International License.
Please view the republishing articles page for more information.
---