Applying and being accepted into UCT is the first big hurdle students face. Treading the minefield of big classes, massive campuses and an even bigger workload can trip up even the brightest freshers. This is where UCT's First-Year Experience (FYE) steps in.
Launched in 2012, UCT's First-Year Experience (FYE) aims to put new students on a firm footing, in the knowledge that a good grounding during their first year of study can prevent them going down a slippery slope when the going gets tougher later on. FYE has four main objectives: strengthening pre-admissions support and first-year careers advice; providing a welcoming and supportive environment for prospective and new students in all faculties; promoting a renewed focus on fi rst-year teaching; and promoting an integrated approach to student development, linking initiatives that respond to students' academic, affective, social and material needs, explains FYE director Dr Danny Fontaine.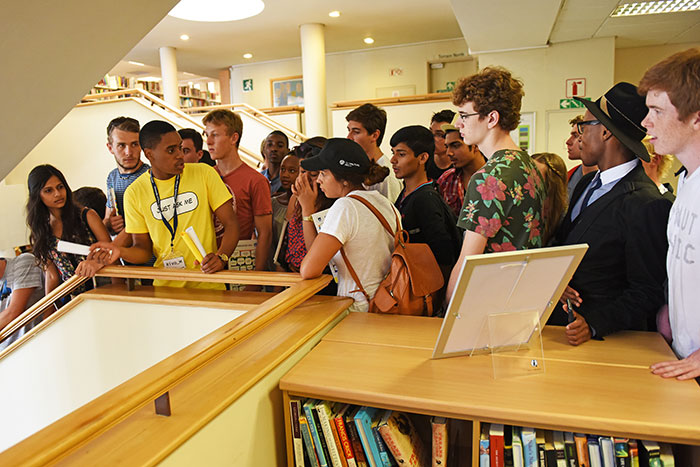 One of critical ports of call for new students is the library – in this case, the Chancellor Oppenheimer Library, as commerce first-years are guided along by their yellow-clad orientation leader.
The project has a four-pronged approach to realising these goals, and has launched pilot projects in the faculties that focus on early assessment of new students, specialised Vula sites, extended orientation programmes since 2014 (think essay-writing and timemanagement workshops) and nuanced digital literacy training for freshers. The latter two are particularly interesting, as they enlist the services of senior students to guide their new colleagues through the labyrinth of tertiary education.
"Every student entering higher education has a first-year experience," says Fontaine, who took over the directorship of FYE nine months ago. "For some it is a good experience that is characterised by independence, a growth in confi dence, intellectual and personal growth. But for others it can be an experience that is characterised by loss of confi dence, failure, and feeling despondent."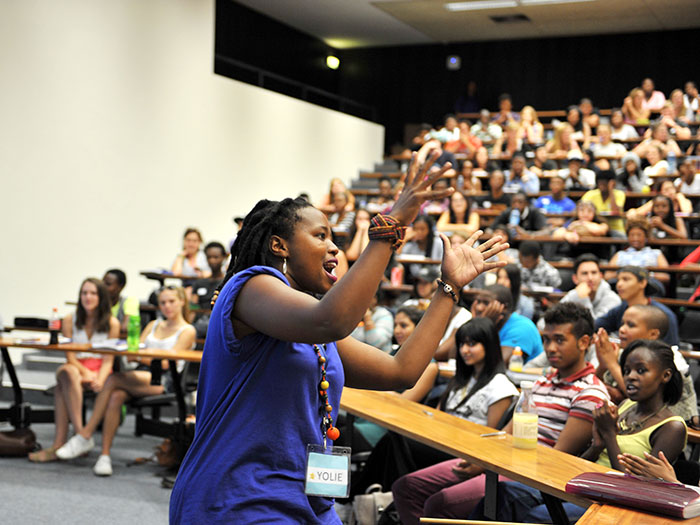 Noluyolo Ngomani, a 2014 orientation leader in the Faculty of Humanities, getting UCT freshers ramped up.
FYE is CHED's commitment to making new students' overall experience a positive one. It's work they can't do alone; to ensure a network of support for students, they partner with the university's faculties and support services. This means a student's experience is unique to their faculty and department.
"Since coming into this position, I've spent a lot of time listening (deliberately so) – really trying to get an understanding of what is already taking place in the faculties under the umbrella of FYE," says Fontaine. "The interesting (and sometimes frustrating) thing is that while the term First-Year Experience sounds like it refers to an experience that all first-year students are going to have when they arrive at UCT, the reality is that while there are certainly some common elements to the FYE for students across campus, a student's actual FYE can look very different depending on which faculty they're in," she adds.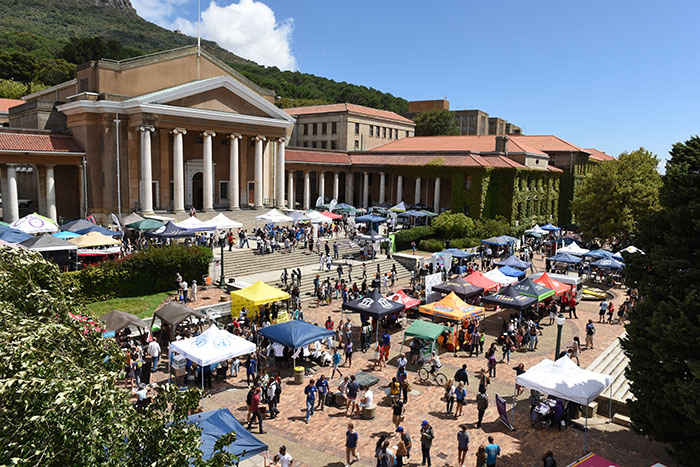 First-years are exposed to the social side of campus life during O-Week, for example, when sports clubs and student-run societies set out their stalls on Jameson Plaza.
Fontaine, a UCT alumnus, compares the last nineteen months of her life – in which she's moved back from the USA to take up her post at UCT, and had a baby daughter – to one's first year at university, a time of constant transition.
"But that said, it is exciting times for the FYE in SA," she says. "May saw the launch of the South African National Resource Centre for First-Year Students and Students in Transition at the inaugural FYE Conference in SA. This centre – while located at the University of Johannesburg – is a resource centre that is here to support institutions across the country with their FYE programmes."
The establishment of this resource centre – only the second of its kind in the world – suggests there's growing recognition of the importance of the first-year experience.
Story by Yusuf Omar. Photos by Michael Hammond and Raymond Botha.

Read more stories from the July 2015 edition.
---
This work is licensed under a Creative Commons Attribution-NoDerivatives 4.0 International License.
Please view the republishing articles page for more information.
---