Patrice Madurai is one of three UCT students honoured with the Queen's Young Leaders Award this year. What inspires her to keep making a positive change in the world around her? We chat to her about saying 'yes' and the role students can play in social development.
During your time abroad for the Queen's Young Leaders Award, you must've met other exceptional young people. How have you been inspired by them?
It's not every day that you meet 59 other young people who share your passions, concerns and sense of responsibility. Each one of [the recipients of the Queen's Young Leaders Award] are doing completely different projects to mine, however there was a distinct similarity between us all. It's like I've been part of a family that I never knew that I had and it's an incredible feeling. I've been inspired by the innate sense of resilience that they each possess. They're all crazy enough to believe that they can leave the world better than they found it and after a week of hearing their stories of struggle and victory I've been inspired, motivated and encouraged that I too can make a marked difference.
What inspires you to keep working for change – to be a 'yes' person?
Often we fall into being 'yes' people when we find ourselves in places in our lives that are characterised by uncertainty and discomfort. We are all 'no' people by virtue of the fact that the simple two-letter word keeps us in our comfort zones – it's seemingly safe. In order for someone to be a 'yes' person I think that it requires a shift in the way that we think. It speaks to a realisation that perhaps certainty can only ever be found in uncertainty. Let me not suggest that being a 'yes' person is for everyone, but rather I've found greater joy, fulfilment and all-round satisfaction in saying 'no' to my comfort zone and 'yes' to every other adventure that has presented itself thereafter.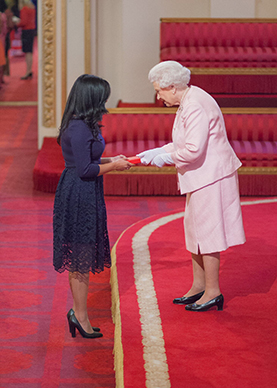 Queen's Young Leader, Patrice Madurai meets Her Majesty Queen Elizabeth II.
What has shaped you to be a 'yes' person?
Having had the privilege to meet with and learn from an array of people from varying social standings, I've grown to believe that wealth should never be a determinant of worth. There have been a series of moments where 'yes' – despite my personal reservations – was the right and thus only thing to say. The Cupcake ReSolution – which is one of my projects – began in honour of a little girl that I'd met in Addo just outside of Port Elizabeth. Her name was Joanne Solters and sadly she's no longer with us, but she had a heart of gold. I identified with her because she brought out the little girl in me. One thing that is synonymous with children is that they say more yeses than nos. There are millions of children who, like Joanne, for some social injustice or another, are not going to be able to say 'yes' – but I can, and as scary as it may be from time to time, for them, I will.
How has the Queen's Young Leaders experience changed you?
It's difficult to put into words what this experience has meant ... it's validated the work that I've been doing in ways that I never knew possible. But on a personal level, it's done for me what I hope The Cupcake ReSolution does and will do for all the people that it impacts. It has made me feel valued, cherished and good enough. You can be rich or poor, young or old, counted or not – but despite our differences, at some point in our lives we doubt ourselves and question our worth ... This experience has provided a much needed reminder. It's motivated me to not only want to do so much more but it's instilled the belief that I can and I will be the change that I want to see in the world.
What do you think UCT can do to build more leaders who are more conscious of social development?
I'm aware of the Global Citizenship courses and UCT UpStart initiatives that run on campus, and I think that they are brilliant – but what we need is more dialogue across faculty borders. We need to acknowledge that we are the thought leaders that are responsible for social upliftment. Curriculum and social clubs appeal to people's interests and thus limit our exposure to the difficult or seemingly irrelevant topics, depending on our major. Perhaps a compulsory social engagement course not specific to faculties that would provide a platform for dialogue and exposure would provide a greater sense of insight and also direction as we pursue our degrees.
What is the most rewarding part of taking The Cupcake ReSolution to people who need your help?
South Africa is a country that is alive with possibility, but how will we ever be able to tap into that possibility if we aren't even counted? Giving out cupcakes and seeing smiles on kid's faces is honestly priceless, but we get to do so much more – we're able to illuminate a path to a future that they would otherwise not have had. That for me is more rewarding than any accolade I could ever receive. It's a blessing.
How can people get involved with The Cupcake ReSolution if they want to help out?
There are countless ways for people to get involved in The Cupcake ReSolution, be it through volunteering, donating or even becoming part of the team. I'd suggest that it would be best to contact me at: patrice@thecupcakeresolution.co.za or like the Facebook page and message us from there. We run in Cape Town, PE, Durban and Johannesburg so there's huge scope for involvement.
---
This work is licensed under a Creative Commons Attribution-NoDerivatives 4.0 International License.
Please view the republishing articles page for more information.
---