Four UCT researchers and innovators were recognised for their great work and contribution to South African society on Thursday night at the 17th annual National Science and Technology Forum (NSTF) Awards, in partnership with South32.
Khilona Radia, of UCT spinoff company Antrum Biotech, was awarded the prize for research leading to innovation. Antrum Biotech developed an accurate rapid test for extra-pulmonary tuberculosis (TB that occurs outside the lungs). While diagnostics for conventional TB through DNA-based sputum tests are very effective, this is not the case in extra-pulmonary TB. The technology developed by Antrum Biotech fills an unmet need in TB diagnostics and will save lives as well as healthcare costs.
Dr Grant Theron, senior research officer in the Department of Medicine at UCT was awarded the TW Kambule-NSTF Award for an emerging researcher – also for his TB-related research. Theron has, among other things, developed a device to measure the level of a TB patient's infectiousness. His work has influenced global and national health policy.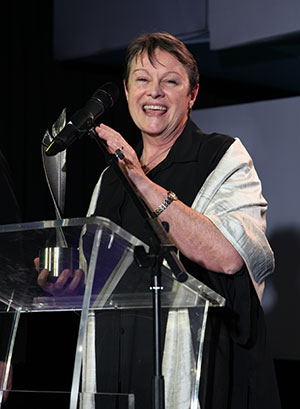 Professor Jennifer Jelsma, of the Department of Health and Rehabilitation Sciences, receiving her NSTF award for developing research capacity in her field.
Professor Jennifer Jelsma, of the Department of Health and Rehabilitation Sciences, was honoured in the research capacity development. Jelsma, one of the first physiotherapists in South Africa to obtain her PhD, has been at the forefront of developing a culture of research in the rehabilitation sciences. Jelsma's work includes the development of postgraduate courses and running research workshops in South Africa, Africa and Europe. She has also supervised or co-supervised 23 master's students and seven PhD students to completion.
Professor Dan Stein, head of Department of Psychiatry and Mental Health, and director of Brain and Behaviour Initiative and of the MRC Unit on Anxiety and Stress Disorders was awarded the TW Kambule Award for research. Stein's research ranges from laboratory research on animal models through to clinical investigations on neurobiology and the treatment of neuropsychiatric disorders, as well as epidemiological and public mental health research. Through his varied research, and contribution to health policy and understanding of mental health disorders, Stein has made a major contribution to advancing basic and clinical neuroscience.
In her welcome speech at the NSTF Awards gala dinner, Minister of Science and Technology Naledi Pandor made special mention of UCT for the institution's high number of finalists and contribution to research and innovation.
2015 is the UNESCO International Year of Light and Light Technologies, and this was the theme of this year's NSTF Awards, with a special focus on light and optical technologies in our lives. The NSTF Awards trophy too is a tribute to light-based technologies, created using additive manufacturing with South African expertise and state-of-the-art laser technology. The trophies are made from titanium, forged into a feather/fire design, created through 3D metal printing.
According to NSTF executive director Jansie Niehaus these trophies are the first of their kind in South Africa.
Niehaus, Pandor and other keynote speakers also emphasised the importance of the current generation of scientists and innovators lighting the way for the next generation. The awards have a strong focus on the dissemination of science and technology information to the public, which includes a year-long engagement with students through the NSTF's Share and Dare programme. The programme provides a platform for NSTF winners to act as ambassadors for science, engineering, technology and innovation (SETI), inspiring young people to pursue studies and careers in the SETI fields.
"While its very important to celebrate the top South African minds in SETI, we are also profiling role models and drawing attention to the various fields and opportunities within SETI," said Niehaus.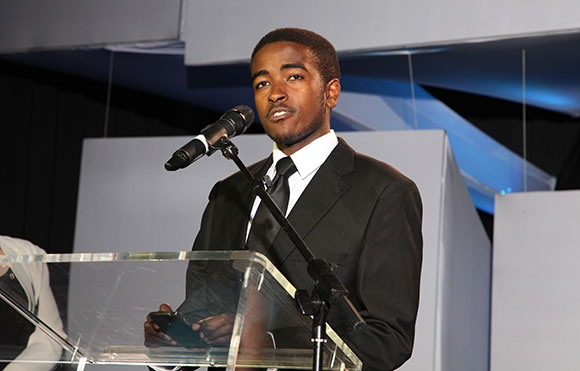 Washington Wachira, a chemical engineering student at UCT, was one of 18 first-year students in attendance – all of whom were top achievers in maths and science in their national senior certificates. He spoke at the ceremony about what inspired him to pursue a career in the sciences.
In attendance at the event were 18 matriculants from 2014, all top achievers in maths and science in their national senior certificates, and all students in their first year at various South African universities. A few of the students spoke of their ambitions and what inspired them to follow a career path in science.
Washington Wachira, a chemical engineering student at UCT, told the story of a school friend who was shocked to find out that humankind had placed a man on the moon. He emphasised the importance of sharing the great stories of science to inspire the next generation onto even greater feats.
In her address, Pandor was passionate about the potential of the next generation of South Africans: "I remain optimistic about the future of South Africa. I am optimistic because through my position I interact with so many young people," she said. "I believe it is possible for South Africa to do more, and it is in the hands of our young people to do better."
Story by Natalie Simon. Photos courtesy of the NSTF.
---
This work is licensed under a Creative Commons Attribution-NoDerivatives 4.0 International License.
Please view the republishing articles page for more information.
---