UCT professors Ed Rybicki and Kit Vaughan were top achievers at the annual innovation evening hosted by Research Contracts and Intellectual Property Services (RCIPS) recently to recognise UCT inventors and their achievements.
Vaughan and Rybicki share some career highlights. In 1985 they each received the National Research Foundation President's Award – the first of these awards to be made. Both went on to receive their NRF A-rating (Vaughan in 2009 and Rybicki in 2012), which acknowledged their status as leading international researchers.
Their research acumen aside, the scientists are also great innovators. Their accomplishments and contributions to the innovation space were acknowledged at the RCIPS innovation evening, where they became the first recipients of the Deputy Vice-Chancellor's Award for Achievement in Innovation. This award is a new addition to the event and is awarded for significant achievement in the innovation space by a UCT staff member, student or team. This achievement can range from commercialisation of a product through the creation of a spin-off company and the successful licensing of technology, to the promotion and support of innovation.
Professor Edward Rybicki was honoured for his innovative work in the area of biopharming. Rybicki's research unit helped pioneer the production of human and animal viral vaccine antigens internationally, mainly via the avenue of transient expression in plants. He is an inventor on numerous patents in the expression of pharmaceutically relevant recombinant proteins in plants and insect cells, and a large percentage of these patents have been licensed and are in the process of being commercialised.
Accepting the award, Rybicki commented, "I am humbled and honoured; innovation is something that has not been valued much outwardly at UCT in the past, so for me and my group to be so distinguished by the first such award is very satisfying."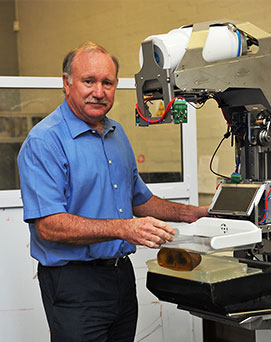 Emeritus Professor Kit Vaughan. (Photo by Je'nine May.)
Emeritus Professor Kit Vaughan, a world authority in biomechanics of human locomotion, is also considered one of the pioneers of the medical device industry in South Africa. He contributed to Disa Vascular, Acorn Technologies and Lodox Systems, to name a few. He is the founder and CEO of the start-up, CapeRay Medical, which are commercialising a new mammography system, incorporating the functions of a low-dose digital x-ray machine and breast ultrasound. Vaughan also serves on the boards of few other UCT start-ups and sits on advisory committees of the UCT seed funds and the UCT/TIA seed fund.
Also acknowledged was his ability to raise subsequent rounds of investment to continue the development of innovations within CapeRay while collaborating within a number of departments at UCT. Vaughan said he was grateful to UCT for enabling him and Prof Tania Douglas to spin out their company, CapeRay, five years ago. "The DVC's Award for Achievement in Innovation was a complete surprise, but a most welcome one. I am particularly chuffed to share the award with Ed Rybicki, whom I regard as one of UCT's great innovators."
Rybicki summarises his and Vaughan's careers as follows: "We both got involved in what could loosely be termed 'applied research', or research aimed at making useful products. We basically just got on with it for over 30 years to the point where you see us now, leaders of research/development groups with impressive patent and/or product portfolios."
Story by Alyx Casarin.
---
This work is licensed under a Creative Commons Attribution-NoDerivatives 4.0 International License.
Please view the republishing articles page for more information.
---