Early childhood development and urban activism may not at first glance have much in common. Nonetheless, it was the long-term commitment displayed by Stuart Hendry, director of the Faculty of Commerce's Development Unit for New Enterprise (DUNE), and Associate Professor Sophie Oldfield to projects within these fields that won them both the 2014 Vice-Chancellor's Award for Social Responsiveness. We ask what motivates them to go the extra mile.
A smart start for the children of Cape Town
In the Western Cape less than 25% of children have access to pre-school education, despite the fact that, overwhelmingly, research-based evidence shows the positive and long-term benefits of a quality early childhood education. This is the short answer as to why UCT's Faculty of Commerce and their Development Unit for New Enterprise (DUNE) have taken on a campaign for early childhood development (ECD) as their social responsiveness focus for the next five years. The campaign aims to create 30 centres of excellence for ECD around Cape Town.
DUNE Director Stuart Hendry, speaking at the launch of the 2014 UCT Social Responsiveness Report, said: "The reality for far too many of our children in South Africa is that they are living in appalling physical conditions, without any semblance of a decent education – many of them just a few kilometres away from children growing up in a very privileged environment. We are living in a fool's paradise if we think this is a sustainable situation."
So far five ECD centres have been built in three communities around Cape Town, including Wallacedene, Mfuleni and Philippi. Thanks to the collaborative efforts of students and staff from UCT, local and international donors and various community-based partners, the campaign aims to start building another five centres during the course of 2015.
"We have seen over and over at UCT how engaged scholarship can translate into an engaged life. When community service becomes community engagement that's when you start to change the hearts and minds of people – and students in particular," says Hendry.
Collaborating for urban change
For the last ten years Associate Professor Sophie Oldfield of the Department of Environmental and Geographical Science has collaborated with Gertrude Square and the Valhalla Park United Front Civic Organisation, formed in the 1980s to fight apartheid-era evictions. In the last 20 years, the organisation has gone on to campaign for adequate state housing and today continues to oppose evictions.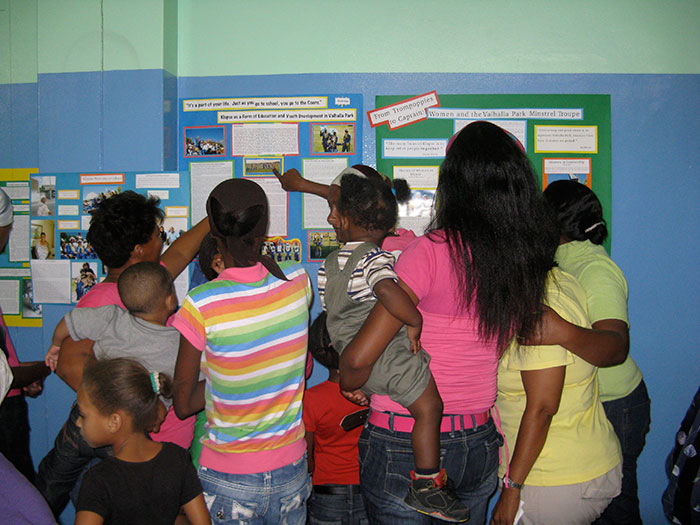 A celebration of research in Valhalla Park. (Photo supplied)
Oldfield first began working with the Valhalla Park civic organisation in 2002, when she was doing research on and for the social Western Cape Anti-Eviction Campaign. A deeper collaboration evolved out of a recognition that activists often needed more targeted information to help them challenge policy and service delivery issues, and could also bring a great deal of value to an academic setting.
"Together we have built a research-teaching partnership through which we have brought university-based research methodologies to activist research imperatives. Together we have taught hundreds of UCT students, sharing the imperatives of community mobilisation as well as the realities of township poverty," Oldfield explains.
"Building a collaborative research approach, projects have creatively mixed up boundaries between research, teaching, and notions of expertise across multiple sites in the neighbourhood and university."
Oldfield hopes that the project will continue to widen its scope and explore both how knowledge is produced and the boundaries between what it means to be a researcher, teacher and student:
"Many activists understand themselves as researchers now, drawing on this confidence to aspire to be the councillor, or to be nominated for a school board, for instance. On my side, this partnership has extended the curriculum too into terrain shaped by activism. This mix places activism across the city, in multiple registers, acts, spaces and practices central to the civic and to this collaborative approach. Sharing community-based knowledge and experience in this way has shifted notions of expert, teacher and learner, reshaping how we know and the knowledge itself. I hope in the future that there is an even greater institutional commitment to exploring and supporting these types of approach to research and teaching."
---
This work is licensed under a Creative Commons Attribution-NoDerivatives 4.0 International License.
Please view the republishing articles page for more information.
---