Professor Crain Soudien, UCT's deputy vice-chancellor, cautioned that with hundreds of students due to savour their "12 seconds" of glory on stage, proceedings at the Faculty of Humanities graduation ceremony on 16 December might take a while. But an electrifying rendition of O Sole Mio by Amagolang Lebete and Xolani Madalane, tenors at the South African College of Music, accompanied by pianist Francois Botha, ensured that the audience was lively throughout.
"Each time you think it can't get better – and it does," remarked Soudien once the applause for their performance of the Neapolitan classic eventually died down.
The ceremony was the second of four for the Faculty of Humanities this week, which will see 1 861 graduands capped, fifty more than last year. Minister of Home Affairs, Malusi Gigaba, as well as singer Yvonne Chaka Chaka were among those who attended the ceremony.
Soudien couldn't stress enough to the humanities graduands "how important [you] are to us here at the university and of course to the country".
"We talk about the humanities ... as a formative faculty," he said, referring to the distinctive way that the humanities formed its students.
"This distinctiveness is the very specific way [humanities] students are taught to think about the human condition ... about the challenges of being human."
Students were encouraged to become users of words, continued Soudien. As a result, their appreciation for the significance of what terms conveyed and what they might mean rendered humanities scholars perfectly placed "to make better sense of what is going on around them and us".
"The world cannot do without people like you," Soudien explained – it has become so much more convoluted and complex that common-sense is no longer enough.
"Everyday knowledge is just not good enough. In relation to this complexity, you are indispensable. You are our sense-makers. I say to you to, humanities graduates, rise: rise to the challenge that is in front of you. Our country, and it is difficult to say, is suffering from a critical lack of leadership. You must see yourself as filling that void."
Insights from a sense-maker
Then it was time for veteran journalist Alide Dasnois, described by Soudien as "a really important sense-maker", to share some advice with the young scholars.
"Today is the Day of Reconciliation," Dasnois began. Reconciliation Day was a bit of a nightmare for journalists and editors, she admitted, because as with other significant occasions on the country's calendar, the challenge was finding a fresh angle every year.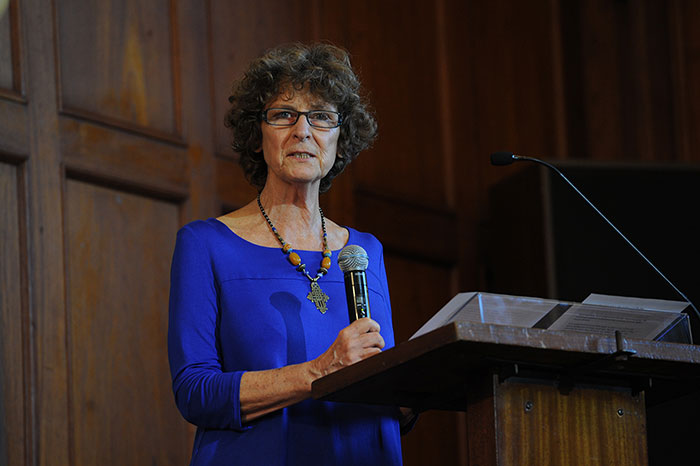 Veteran journalist Alide Dasnois urges the humanities graduands to cultivate an "outlaw mind", to continue questioning the world in which they find themselves, and to build a better world.
At the Cape Times, of which Dasnois is a former editor, a particular news meeting illustrated a challenge for which humanities graduates possessed the ideal skill-set.
At that meeting, a news editor pitched a story about a community that had been evicted from their homes by the City of Cape Town's anti-land invasion unit, Dasnois related. The story was accompanied by a picture showing the families and their possessions, the rubble of their shacks and a scruffy dog.
Dasnois and company joked about how the next day, a reader would call in and offer a home for the dog, and sure enough, it happened.
"The point I'm making is that the reader noticed only the dog, yet the families were all there.
"It takes effort and humility to see the world as others see it, yet this is what we have to do if we want to bring about justice, without which we can have no reconciliation."
The choice is yours
They could leave UCT, enter the "quaintly named 'real world'", settle down, make money, and not question anything, Dasnois offered the graduands.
Or they could insist on looking at the world with their own eyes, form their own opinions about it, and see things "as they really are, not as we expect to find [them]".
With research suggesting that a mere 5% of university-age people around the world actually registered for a degree, Dasnois reminded the graduands that they were part of a tiny and privileged minority.
"It seems to me that those of us who have been given this gift have a duty, and that duty is to be insubordinate, not in our manners of course, but in our thinking.
"Take with you your independence of mind," Dasnois continued. "Don't believe anyone who cannot convince you with argument. Take nothing for granted. Cultivate an outlaw mind."
It was a messy world that they inherited from previous generations, added Dasnois, one filled with injustice and disasters.
"It's a world where bankers earn more than presidents, where women fight for jobs cleaning other people's toilets, where in Rondebosch, men make a living waving yellow sponge hands pointing motorists to townhouse developments that they themselves will never be able to afford. We live in a world where there is a pile of plastic rubbish in the Pacific Ocean so large that it takes a day for an ocean-going liner to pass through it.
"I'm sure you can build something better than that. Congratulations and good luck."
Download Alide Dasnois' speech.
Share the excitement of #UCTGrad2014 with us on Facebook, Twitter and YouTube.
Story by Yusuf Omar. Images by Michael Hammond.
---
This work is licensed under a Creative Commons Attribution-NoDerivatives 4.0 International License.
Please view the republishing articles page for more information.
---