Three camphor trees along Stanley Road on middle campus have been stripped of their bark, or 'girdled', possibly for the bark, which can be sold for medicinal purposes, or because these are alien trees.
The camphor tree (Cinnamon camphora), endemic to Asia and introduced to South Africa as an ornamental tree, is a natural source of camphor gum, an important ingredient in liniments and medicinal oils.
"It's mainly herbalists who are interested in the bark, as the bark of the tree has become popular in the treatment of fevers, colds and flu," says UCT horticulturist Noelene le Cordier.
While medicinal bark can be collected in a responsible manner, ring-barking in this manner – stripping bark from around the circumference of the trees – is considered an act of vandalism because it causes tree death.
As Professor Timm Hoffman of UCT's Plant Conservation Unit explains, bark is not dead material. "It contains thin layers of living tissue, especially near the stem itself, which are essential for transporting the products of photosynthesis to the roots of trees. When these layers are removed, as happens when a tree is ring-barked, this transport system is destroyed and the tree dies."
According to Hoffman, bark is removed on an ongoing basis from these trees across the Cape peninsula, in places like the Newlands Forest.
Over the years, small sections of bark from the camphor trees in the Japonica Walk woodland area have been harvested, but fortunately the wounds were sealed and the trees survived.
Hoffman says it's difficult to say whether the ring barking of the trees on Stanley Road was done for the traditional medicine trade or as part of an active campaign (official or unofficial) to rid Cape Town of a category 3 invasive species.
"The recently published Alien and Invasive Species List published on 1 August this year lists the camphor trees as invasive. In the Western Cape it is a declared category 3 invasive species; which means it's okay if it's already growing (in your garden, for example), but you may not sell it to propagate new individuals."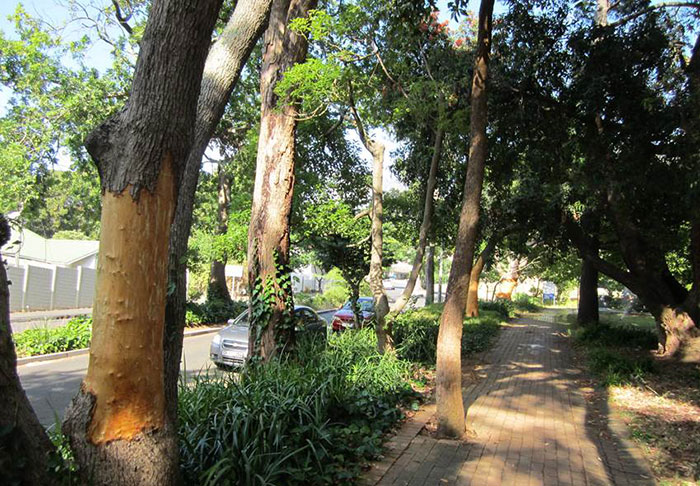 Ring-barking is a very effective way to kill very large trees, says Dr Adam West of the Department of Biological Sciences.
"It's efficacy is proportional to the extent of the damage. A tree can readily survive a partial ring-barking as the bark can regrow over minimally disturbed areas, or increase in size in the remaining healthy areas to supply the tree.
"If obtaining bark for the medicinal trade was their goal, then it's a shame they were so greedy as to remove the entire lower circumference."
UCT has called in a reputable arborist to ensure the necessary steps are taken to maximise the trees' chances of recovery.
"A specialist in arboriculture and urban forestry will be applying a biologically active tree paste to the trees to invigorate them and reduce pathogen infection," says Le Cordier.
A report from Tree Surgery and Forestry will say whether the cambium tissue has been destroyed.
"If the tissue is still alive there's still hope,' she says. "We intend taking all the necessary measures to save our trees. Fortunately, camphor trees have large macropores, which can remain active much longer in old trees."
Members of the campus community are encouraged to report any such incidents or suspicious activity to Campus Protection Services at Burnage on ext 2222.
Story by Helen Swingler. Image supplied.
---
This work is licensed under a Creative Commons Attribution-NoDerivatives 4.0 International License.
Please view the republishing articles page for more information.
---