Academic freedom holds a complex and contradictory place in post-apartheid South Africa; in that though the concept is acknowledged in the Constitution, this is not a guarantor of academic freedom in practice, says UCT's Professor John Higgins.
Higgins, a professor of English, was speaking at a seminar on 5 November, organised by UCT's Department of English and dedicated to exploring the relationship between academic freedom and the humanities as a discipline.
Higgins was joined on the panel by Professor Nithaya Chetty, a physicist from the University of Pretoria. Much of the content of the two's arguments stemmed from their recently published books - Higgins' Academic Freedom in a Democratic South Africa, and Chetty's Faculty and Freedom: The struggle for the soul of the University of KwaZulu-Natal (co-authored with Christopher Merret).
Constitutionally guaranteed?
While South Africa is rather uniquely placed in having the right to academic freedom enshrined in its Constitution - the USA, for example, doesn't go this far - the idea of academic freedom is officially severed from the location and condition of its practice: universities and institutions of higher learning.
This severing renders the right to academic freedom an individual right, "akin to artistic freedom of expression in public life in general", argued Higgins. While apartheid's legacy and the particularities of the negotiated settlement are the chief reasons for this anomaly, Higgins remarked that this means people have not, in practice, been able to turn to the Constitution for support on matters of academic freedom at universities.
In defence of curiosity-driven enquiry
"One of the constraints that academic freedom as a situated practice faces is constraints to funding and research support," said Higgins. "If, for example, the research practices essential to academic freedom are only possible in certain institutions, or in certain disciplines, or in certain areas of certain disciplines, then academic freedom is correspondingly weakened ... the material and institutional resources for the practice and exercise of academic freedom are absolutely crucial, yet fall out of the picture once it is regarded as a purely individual right, akin to freedom of expression."
Globally, research and enquiry in the humanities are "massively" sidelined when it comes to funding, because generally speaking, they are not seen as yielding the same visible results as 'applied research'.
The lack of support and funding for research dangerously undermines the real function of university education and its social functions, he argued, particularly if the bond between teaching and research is regarded as a defining feature of what it means for higher education to be higher.
In this way, many of the current policies supporting research - which tend to place teaching and research in opposition to one another - work to undermine academic freedom.
In addition, Higgins drew attention to President Jacob Zuma's recent statements that "students must emerge from our universities as patriotic citizens willing to participate both in the conceptualisation and the implementation of our progressive programmes to transform society".
Here he cautioned that it was absolutely crucial to understand the use of the pronoun 'our' in this formulation: was its force an inclusive one, or an exclusive one? Did 'patriotic' here mean following the ANC's lead, or being in a position to offer evidence- and theory-based criticisms of government policy? Minister Naledi Pandor's recent pronouncements that higher education should not encourage people to 'speak truth to power' strongly suggest the exclusive reading.
What's a university education for?
"The enabling of critical thought for the development of people: citizens who are equipped to speak truth to power, whatever its complexion." This is what Chetty sees as the fundamental purpose of the university.
"Its training of accountants, lawyers, physicists, pharmacists and a host of other specialists is a secondary matter. The best graduates are able to apply reasoning and judgement to contemporary problems and interrogate the way power is exercised."
This was crucial in the light of South Africa's history of intellectual conformism, inherited from colonialism and apartheid, Chetty said. "The university belongs to all its members including dissidents, and ceases to exist should these basic definitions of the academic process be abandoned," he added.
Universities are national assets deserving of careful custodianship. When tied to specific political agendas, by definition they restrict free thought and debate, Chetty argued.
Academic freedom's greatest threat
There are challenges to academic freedom from policy-makers, too.
"Legislation has enhanced the power of councils and effectively diminished those of senates, which constitutes a threat to university autonomy."
Authority had been transferred away "from the world of reason" to people "with a multiplicity of extraneous agendas, as we experienced at UKZN," Chetty contended.
The Protection of Information Bill, popularly known as the Secrecy Bill, also poses a threat to academic freedom.
He argued: "The greatest concern is the influence of a global trend of managerialism, imported from the commercial world. It has the capacity to turn universities into academic factories dominated by contracted vice-chancellors with short-term careerist or ideological agendas who believe they are the equivalent of CEOs, backed by a phalanx of executive managers and a hierarchy of lesser enforcers."
Managerialism has also led to enormous salary disparities - to the benefit of those "giving the orders", added Chetty.
This results in a mindset of power and obedience, line management, and other phenomena "all foreign to a real university".
Universities have become places of bureaucracy, assessed by measured outputs, where students are customers and staff are deployable human resources, Chetty lamented.
This also has implications for transformation; which, he said, is currently being driven along narrow, racist lines.
Call for a new civil rights movement
Chetty called for a new civil rights movement for universities "that seeks to re-establish the foundations of our institutions of higher learning in the democratic South Africa. This discourse should be led by academics."
For this to happen, South Africa's academics need to be at the forefront, leading society and addressing its challenges.
"We need to return to some very basic principles that govern transformation. Our first obligation at universities is to produce quality research and quality, thinking graduates in society, in the context of transformation."
Transformation at our universities also means that we need to affirm individuals who are underrepresented in our university system, and create an enabling environment for their success, argued Chetty.
"This is a deep-seated moral requirement, given our divided history."
Chetty also called for "the end of the professional university manager".
"We need to retrain our senior university managers back to the academic trenches."
It's a system failure
Higgins returned to the purpose of higher education.
"You have to think about what higher education is for, as a totality. If you start weighing off one discipline against another, it gets very complicated. Instead, it's best to broaden your perspective about what higher education is in the current dispensation.
"It does produce - no matter the particular discipline you're involved in - an improved capacity for critical reflection."
Speaking of totalities, Higgins emphasised that higher education was but one aspect of the education system. The near-dysfunctional primary-school system, for example, was not supporting academic freedom, he said.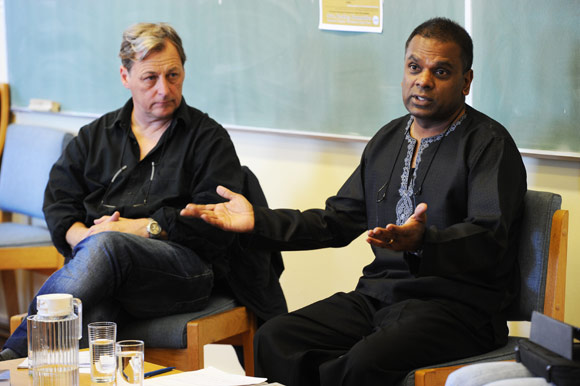 The seminar, held on 5 November 2014, was part of the Department of English's Africa, Reading, Humanities discussion series that was launched in February this year, and brings scholars together a few times a month to debate key issues of humanities research in Africa.
Story by Yusuf Omar.
---
This work is licensed under a Creative Commons Attribution-NoDerivatives 4.0 International License.
Please view the republishing articles page for more information.
---