Breaking the Silence
With cuts and bruises and wearing a torn petticoat, filmmaker and UCT lecturer Meg Rickards attracted curious stares – as well as the emotional embraces of well-wishers – as she walked from Cape Town City Hall to Muizenberg on Friday 8 August. The bruises may have been the work of a make-up artist and the petticoat an item from a film wardrobe, but the message on the eve of Women's Day was loud and clear: break the silence around child and woman abuse. Rickards' walk also aimed to draw support (via the online crowdfunding website Thundafund) to finance her new film, Whiplash, based on the award-winning novel by Cape Town author Tracey Farren.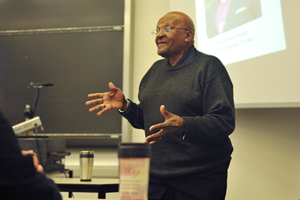 People are sacred, says Tutu
Religious teachings that demonstrate how God takes special care of the weakest and most marginalised people in society could guide how humans treat each other, said Archbishop Emeritus Desmond Tutu. A noted social activist and the first black Archbishop of Cape Town, Tutu was addressing religious studies students at UCT on 5 August. Introducing a module on the intersection of religion and ethical decision-making, he maintained that humans are "God-carriers". This should encourage people to approach each other with reverence, and failure to do so is essentially blasphemy, he said. "Can you imagine the revolution that would happen in the way that we treat one another [if we took this to heart]?" Tutu asked students.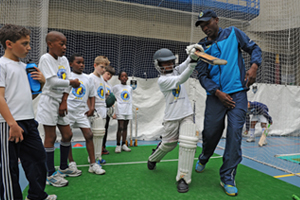 Winning wicket
Coach Patient Charumbira teaches Ntsikelelo Fisher good batting technique at a Holiday Clinic run by the Cricket School of Excellence (CSE) at UCT's Indoor Sports Centre in July. Twelve-year old Fisher, from Khayelitsha, was one of more than a dozen young cricketers who attended the coaching clinic. CSE was founded by UCT cricket's head coach, Ryan Maron, in 1999. Maron and colleagues run similar workshops across the country each year, the aim of which is to develop South Africa's cricketing superstars through a combination of fun and rigorous technical and behavioural training. More than 12 000 young cricketers have passed through CSE's coaching clinics since its inception.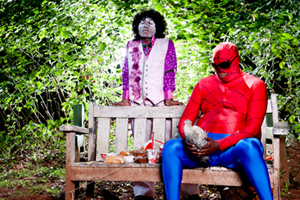 Art in the city's heart
Performers Bhekani Shabalala (left) and Bheki Khabela feature in a new work by renowned choreographer Boyzie Cekwana. They join a host of fellow artists to present performance artworks in the Gordon Institute for Performing and Creative Arts' 2nd Live Art Festival from 27 August to 6 September. Thirty-five collaborative works, incorporating visual arts, dance, theatre, music, architecture and literature, will be presented on Hiddingh Campus and other venues around the city. Audiences will be able to move from one work to another, viewing up to five works per evening. The 2014 Festival will premier several works that have been curated along six main themes: Framed, Republic, Body and Mortality, Abject Object, Femininities and The Periphery as Threshold.
---
This work is licensed under a Creative Commons Attribution-NoDerivatives 4.0 International License.
Please view the republishing articles page for more information.
---