Graduation season marks a moment to celebrate the students of UCT, and the personal determination, familial support and passionate teaching and mentorship it takes to see them through their degrees. And June 2014 was no different: many families, friends, staff and students gathered in Jameson Hall over two days and four graduation ceremonies to witness the conferral of 110 PhDs, multiple degrees and three honorary doctorates.
Three honorary degrees were conferred in June 2014. Social activist Dr William Carmichael, leading HIV researcher Professor Salim Abdool Karim, and the orchestrator of South Africa's winning bid to host the Square Kilometre Array (SKA) of radio telescopes, Dr Bernie Fanaroff, joined a company of honorary graduands that includes Miriam Makeba, Amartya Sen, David Goldblatt, George Bizos, Zakes Mda, Kader Asmal and Mark Shuttleworth.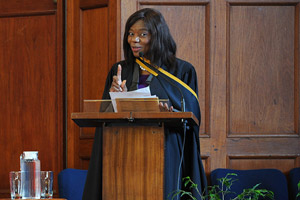 Public protector of South Africa Advocate Thuli Madonsela urged outgoing students of the Graduate School of Business to stay strong in times of adversity, and stay true to what they believe in.
"You will be planted into the unknown with many uncertainties. Some of the success will not come overnight, but the important thing is that you don't compromise ... Even if success doesn't come instantly, stay the course. Honour your dreams and your principles. Your time will come." Advocate Thuli Madonsela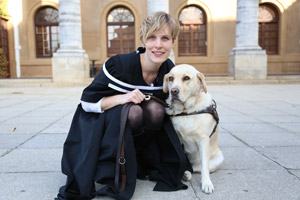 Meet one of June's graduates, Michelle Botha (and her guide dog, Panda, who was puppy-walked by Sheila Taylor from the South African College of Music). The classically trained singer, who already has a degree in music, was awarded an MSocSci in Gender Studies for her research into the ways in which people living with disability – women in particular – negotiate preconceptions of disability, and begin to redefine it. Botha plans to continue working as a vocal coach and singing teacher, mostly with children, while she searches for work in the disability sector.
"One of the most beautiful things about graduation is the proud and content look you see on the faces of parents and grandparents. For them, their finest hour will always be hearing your name being called, and watching you as you walk gracefully onto the stage. All they ever yearned for was this moment. It was not your first cheque, it was the satisfaction of a job well done by them as parents in giving you an education." Advocate Thuli Madonsela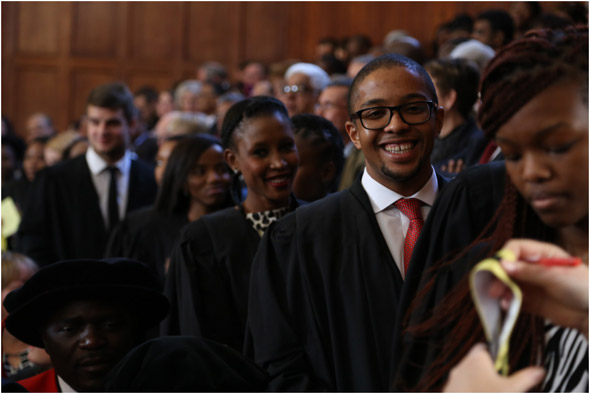 Students lining up for their moment on the platform, where they are first capped by the vice-chancellor, then hooded by the registrar, before receiving their certificates.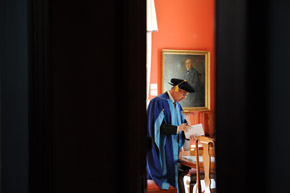 Vice-Chancellor Dr Max Price prepares quietly before the graduation ceremony.
Left: Siyakha Mguni gets a first look in at life as a doctor of archaeology. Right: Tracey Toefy, graduating with a PhD in linguistics, gets fitted for her red robe.
Left: Mace bearers on the steps of Jammie Hall, against the backdrop of a misty Cape Town morning. Right: Professor Don Ross, dean of the Faculty of Commerce, in the robing room before the graduation ceremony.
Left: UCT graduands at one of the many photo booths set up in Jameson Hall. Right: New graduands waving their degrees at family and friends.
Left: Professor Salim Abdool Karim's signature in the Golden Book. Right: 2014 winner of the UCT Book Award Professor Nicoli Nattrass and honorary graduate Professor Salim Abdool Karim share a light moment before the formal ceremony on 12 June.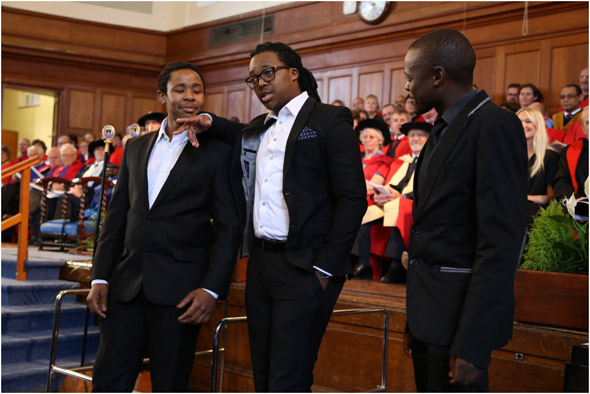 Three opera students from the South Africa College of Music РLevy Sekgapane, Makudupanyane Senaoana and Xolani Madalane Рdelighted two graduation audiences: first with Verdi's cheeky La Donna ̬ Mobile, then with a moving rendition of Capurro's O Sole Mio.
---
This work is licensed under a Creative Commons Attribution-NoDerivatives 4.0 International License.
Please view the republishing articles page for more information.
---