The LSE-UCT July School, which ran in Cape Town from 30 June to 11 July, provided students and staff with an opportunity not only to learn from each other over an intense two-week period, but also to plant the seeds for future collaborations, say the programme's co-ordinators.
The second LSE-UCT July School attracted 146 students, from around the globe, who gathered to grapple with subjects in the social sciences that speak to pertinent social issues facing Africa and the Global South.
"There is a lot of student interaction, so the diversity of experiences the students bring is very much part of the learning process," says Medeé Rall, director of UCT's Centre for Open Learning and the July School programme manager.
"The growth isn't only about the teaching that takes place," Rall adds. "It's about future collaboration. Lecturers are talking to each other and developing research collaborations."
Peter Campion-Spall, deputy head of academic partnerships at the London School of Economics and Political Science (LSE) and the LSE programme manager of the July School, echoes Rall's words: "Our aim, through these partnerships, is to build links at all levels, really, but particularly focusing on faculty-to-faculty links, which can result in research collaborations."
Year-on-year growth
The July School is only in its second year, but has already seen rapid growth.
"We ran the first programme last year and had 99 participants," says Campion-Spall. "They were from an enormously wide range of backgrounds, from lots of different countries all over the world, from a wide range of universities. About 25% were working professionals who saw this as a great opportunity to come and study with two leading universities, and study issues relevant to Africa.
"This year we've seen the programme grow by nearly 50 percent, which is amazing for just the second year of a new programme. We've seen it become ever more diverse; we've been able to introduce some new courses, but we really feel that we're delivering an even stronger programme than we did last year."
The 146 students who participated in the 2014 July School represent 44 different nationalities, and come from all continents, bar Antarctica. Many of the students are professionals looking to enrich their performance at work.
In addition to the relevant course content, the two institutions' stature was a major drawcard for students and staff, says Rall: "You're associated with two leading universities, two universities known for their high-quality research and teaching."
July School's unique offering
Building on LSE's foundation in the social sciences, courses allow students to tackle key issues during an intensive two-week period, "which really gives students an opportunity to gain a thorough understanding of the theory and ideas behind what they're studying," says Campion-Spall. "Being in Cape Town, we want to make sure that that theory and that background is very much applied in an African context. So the course gives them a real disciplinary background to studying issues that are relevant to Africa in the world today.
"We don't think that there's any other programme anywhere in the world, including at LSE or UCT, which manages to do that in quite the way we've managed," Campion-Spall continues. "We think that the institutions have put together something really unique, which is a really special opportunity for the students and faculty who join the programme."
Speaking at the July School launch on 29 June, UCT Vice-Chancellor Dr Max Price said he was pleased with the programme's "impressive growth": "We hope that we will entrench this as an annual programme that will attract people, as it does now, from around the world."
Also speaking at the launch, LSE Director Professor Craig Calhoun emphasised the need for students and faculty to network during the two weeks: "The chance to get to know each other in and out of class is a lot of what the July School is about – to take full advantage of your fellow students' presence here, and both to enjoy and at the same time to learn and build a network."
UCT and LSE signed an agreement to offer this programme for an initial period of three years. The arrangement is currently being reviewed.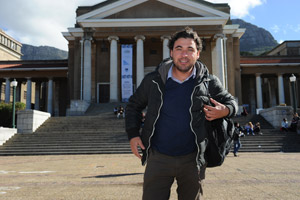 Adriano Timossi (Brazil)
"South Centre in Geneva, where I work, is kind of a think-tank for developing countries. We support developing countries in the negotiation process. In multilateral negotiations, we support developing countries with forming a position, and with issues like development, trade, climate change and the environment. The course topic is completely related to my work because ... developing countries, which we consider emerging economies, are having a more and more important role in global economics – I'm using July School as a way of complementing my [professional career] with my academic needs. I always see things from the political side, from the multilateral negotiations, so for me it's always good to have contacts in academia to see what they're doing that complements my work. But it is also to have an experience of emerging economies."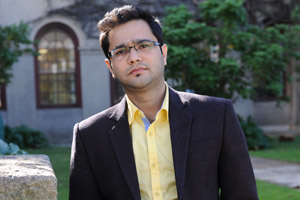 Dishant Kharbanda (Indian-born)
"I finished my master's in the UK at Birmingham City University in 2004. Six years ago I started my own company in the UK – we do data analytics of student behaviour and student decision-making – For me this course was a challenge, because I am a student with a non-economics or political science background. It's been a great experience so far, not just because of the course content, but also that you get to meet a lot of people from across the world – who understand not just the theoretical element of what we're trying to learn here, but also the application side of it."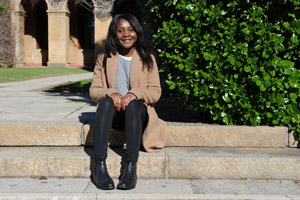 Bomi Okuyiga (England)
"I'm at LSE right now – I've just finished my third year, and I'm starting work in September. I'm joining the civil service as an economist. Some of my friends went to the LSE-UCT July School last year, so I thought I would try it this year. It's been really good so far – Our course is about the informal economy, so we are looking at things like street vendors in Cape Town, but it's also focusing on Africa in general as well. We went to one of the markets in the city and just asked people about what their experience is. Some of the things that you normally think about the informal economy – actually aren't true, like you are actually paying taxes all the time, which some people wouldn't expect. We also look at things like policy practices, what they're doing right now in South Africa, and things like how unemployment benefits affect them as well."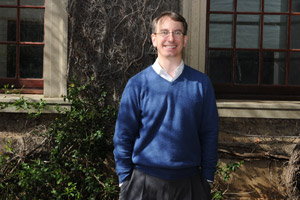 LSE Associate Professor Elliott Green (England)
"I like to think about the politics and economics of poverty, especially focused on Africa and including a lot of focus on South Africa. It's both theoretical and empirical, so we talk about theories of why poverty exists, what kind of poverties there are, how we measure it, and what the consequences of poverty are in terms of what kinds of policies we want to look at, and how poverty influences democratisation and other things. I taught it last year as well and I really enjoyed it. I'm happy to be back. It's been really interesting to see that the school in general has grown, but also that the students keep coming back. It's wonderful to get an opportunity to lecture to a variety of students."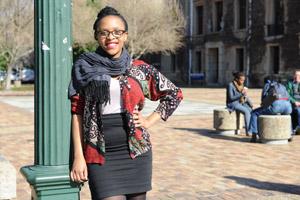 Lebogang Mahlare (South Africa)
"I decided to come to the winter school because I used to study here [at UCT]. I come from a chemical engineering background, so I did a very quantitative undergrad, and I wanted something that bridges the social sciences with the quantitative. I decided to do an economics course primarily because it's a way to understand social sciences, and the impact certain industries and the economy have on people and development as a whole – I've always had an interest in finance and economics, and [the course] has directed my interests a bit more. It's spurred an interest to do my master's."
---
This work is licensed under a Creative Commons Attribution-NoDerivatives 4.0 International License.
Please view the republishing articles page for more information.
---